16 JAN 2022
Join leaders to take climate action at the virtual ADSW Summit, part of Abu Dhabi Sustainability Week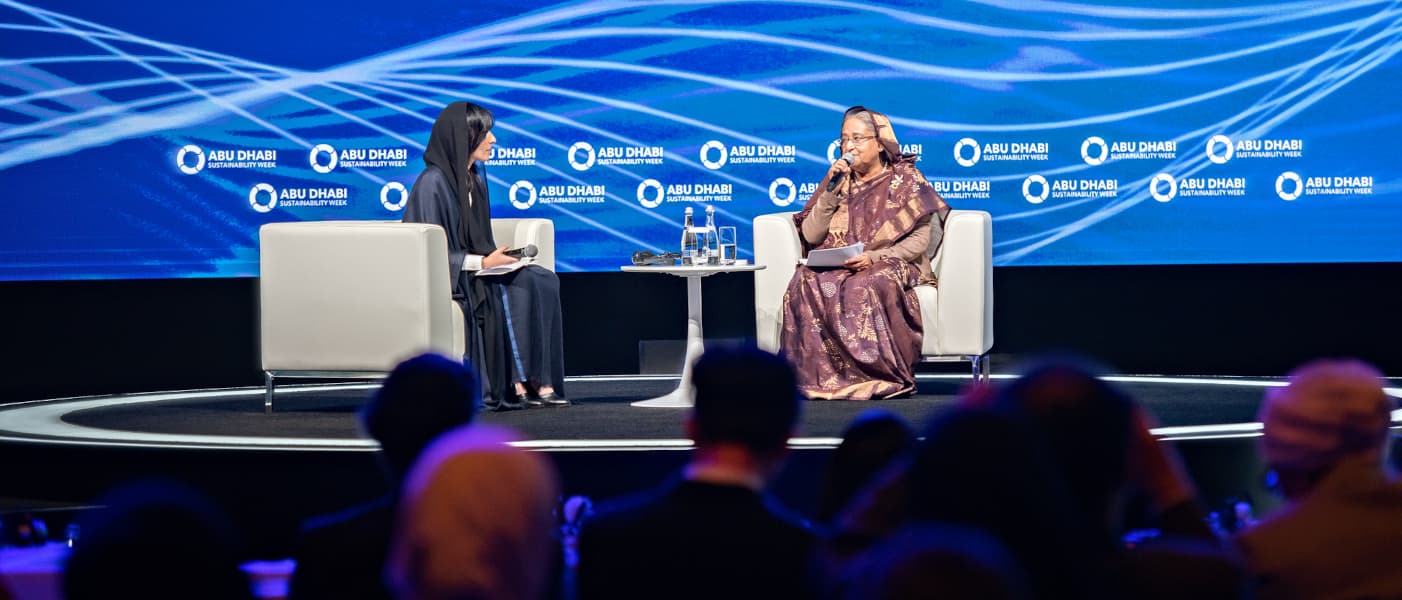 • The ADSW Summit will take the global sustainability agenda forward and outline pathways to net zero
• Taking place virtually from 1:00pm GST, the ADSW Summit will feature more than 80 global leaders
Speakers include; HE Iván Duque Márquez, President of the Republic of Colombia; HE Halimah Yacob, President, Republic of Singapore; HH Sheikh Nasser Bin Hamad Al Khalifa, Representative of His Majesty the King for Humanitarian Works and Youth Affairs of Kingdom of Bahrain, President, Bahrain Olympic Committee; HE Mark Rutte, Prime Minister of the Netherlands; John Kerry, U.S. Special Presidential Envoy for Climate; Dr. Tedros Adhanom Ghebreyesus, Director-General, World Health Organisation, and many more
The ADSW Summit, hosted by Masdar and part of Abu Dhabi Sustainability Week, will take place virtually tomorrow, January 17 between 1:00pm – 9:00pm GST. The ADSW Summit will convene more than 80 global leaders, including heads of state, policy makers, and international business leaders, as the United Arab Emirates aims to take the agenda global sustainability forward and accelerate pathways to net zero.
The opening sessions of the ADSW Summit will include a head of state address from HE Halimah Yacob, President, Republic of Singapore who will stress the importance of collective climate action and highlight the far-reaching impact climate change is already having on the lives and livelihoods of people all around the world.
ADSW 2022 is the first major sustainability event after the COP26 climate change conference, and acts as a global catalyst for COP27, which will be held in Egypt in 2022, and COP28, which will be hosted by the UAE in 2023.
The wider agenda for the ADSW Summit includes important sessions on the global energy transition, the future of transportation, the health energy nexus, carbon capture and storage, the blue economy, and the increasing importance of environmental, social, and governance criteria in making decisions.
The ADSW Summit will feature keynotes, fireside chats and panel sessions with other global leaders including; HE Mark Rutte, Prime Minister of the Netherlands; HH Sheikh Nasser Bin Hamad Al Khalifa, Representative of His Majesty the King for Humanitarian Works and Youth Affairs of the Kingdom of Bahrain, President, Bahrain Olympic Committee; Dr. Tedros Adhanom Ghebreyesus, Director-General, World Health Organization; H.E. Khaldoon Khalifa Al Mubarak, Group CEO & Managing Director, Mubadala; Ray Dalio, Co-Chairman & Co-Chief Investment Officer, Bridgewater Associates, LP; HE Mariam bint Mohammed Saeed Almheiri, UAE Minister of Climate Change and Environment; HE Thomas J. Vilsack, US Secretary of Agriculture; John Kerry, US Special Presidential Envoy for Climate; HE Sheikh Shakhboot Nahyan Al Nahyan, UAE Minister of State, Ministry of Foreign Affairs and International Cooperation.
Held annually since 2008, ADSW has become one of the latest sustainability platforms in the world, with more than 45,000 people from 175 countries participating in ADSW 2020. As a global platform supporting economic development, knowledge sharing and innovation, ADSW is aligned with the UAE's 'Principles of the 50,' which chart a course for the nation's prosperity over the next five decades.
As well as the ADSW Summit, events still to come at ADSW include the Opening Ceremony and the Zayed Sustainability Prize Awards Ceremony, the World Future Energy Summit, Innovate, Youth 4 Sustainability Hub, WiSER Forum, and the Abu Dhabi Sustainable Finance Forum.
To register for the ADSW Summit, please
adsw.ae
and join the conversation for a sustainable future.
Related News
11 APR 2022
ADSW Talks: Advancing Argentina's sustainability agenda
Argentina, which recently committed to a 2050 Net Zero target, has been implementing new regulatory frameworks and laws to advance the electrification of its mobility sector, expand electricity interconnectors, and ensure that environmental education is part of the curriculum across schools in the country.
In the latest edition of ADSW Talks, HE Santiago Cafiero, Minister of Foreign Affairs for the Argentine Republic, shares insight into how the second-largest country in South America is modifying regulation to advance its sustainability agenda.

The ADSW Talks series hosts influential figures from across the sustainability sector to share their perspectives on the most pressing sustainability challenges facing the world and the collective willpower and solutions needed to build a more sustainable future for all.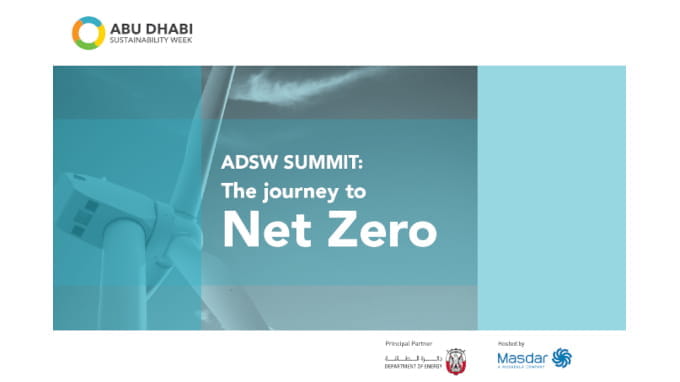 06 APR 2022
ADSW Summit white paper sets out pathway to Net Zero
Abu Dhabi Sustainability Week, the sustainability platform hosted by Masdar, has produced a white paper highlighting some of the key findings from the ADSW Summit 2022, held in January. The Journey to Net Zero reflects the key themes of the event: Global Collaboration & Leadership, Innovation and Technology, and Sustainable Finance.
Attended by more than 80 specialists, heads of states, policy makers, global CEOs and leaders of international organizations, the ADSW Summit 2022 tackled the vital energy conversation, as well as the transition to sustainable economies and societies.
"Today, world leaders have a responsibility towards the global population to act on climate," the white paper states in its conclusion. "This includes mitigation measures, phasing out coal, focusing on the energy mix to bring in green technologies and green jobs, and reducing emissions to set forth the net zero path. Investing in energy, connectivity, and food systems, while using the necessary resources to make the required sustainable changes and ensuring jobs are at the heart of it, will render such a path all-inclusive."
For more information on the ADSW Summit, its sessions and to download The Journey to Net Zero, please visit www.adsw.ae.
Abu Dhabi Sustainability Week will return from January 14-21, 2023.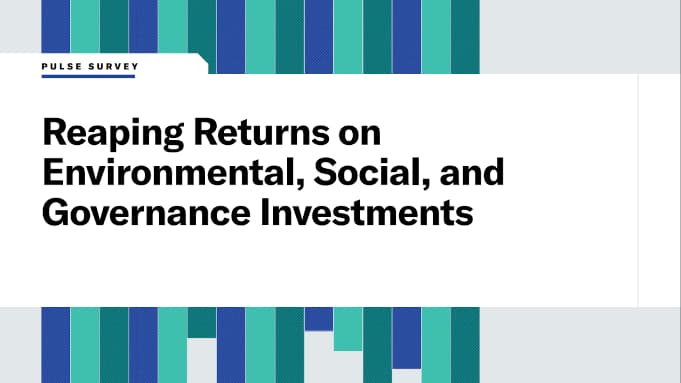 04 APR 2022
Masdar partners with Harvard Business Review to research ESG adoption
Abu Dhabi Sustainability Week, hosted by Masdar, partnered with Harvard Business Review to conduct survey-led research into issues around the adoption of environmental, social and governance (ESG) practices and try to understand just how businesses are implementing ESG strategies.
The report, Reaping Returns on Environmental, Social and Governance Investments, which surveyed 249 executives from global businesses across a range of industries, found that interest in ESG adoption is strong, with 83 percent of respondents indicating that their organization will increase investment in ESG initiatives over the next 12 months. While only 9 percent of respondents said they have already seen a financial return on their ESG investment, most organizations believe this will lead to future financial benefits, with 22 percent saying they will see this within a year, although 41 percent said it would take two to five years.
According to the report, "strong tailwinds of change are encouraging organizations to assume greater corporate responsibility for their impact on the world's natural resources, the well-being of employees, and ethical decision making in the boardroom." However, developing an ESG strategy, one that evaluates and addresses issues that affect an organization's operations and practices – and potentially its value – is still proving challenging, with 27 percent of respondents indicating that they have yet to put a formal ESG strategy in place, and 10 percent saying they are not currently working on improving their ESG performance.
To support the research, Abu Dhabi Sustainability Week recently hosted Alex Clemente, Founding Managing Director of Harvard Business Review Analytic Services who examined the report findings and discussed ESG in more detail. Moderated by Zainab Al Ali, Head of Outreach and Stakeholder Relations at Masdar, the virtual session can be watched here: https://www.youtube.com/watch?v=ebzyckDlASk
More information on the topic of ESG, including the full Harvard Business Review report can be found at adsw.ae.