About Speaker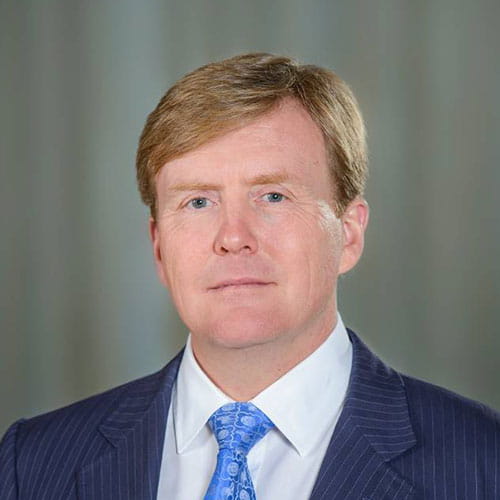 His Majesty King Willem-Alexander was born on 27 April 1967. He was the firstborn of Princess Beatrix and Prince Claus. The eldest son, Willem Alexander succeeded to the throne on 30 April 2013 and is now formally called His Majesty King Willem-Alexander.
After completing secondary school, the prince fulfilled his military service in the Royal Navy. In 1987 he enrolled at the Rijksuniversiteit Leiden, where he graduated in History in 1993. He obtained his military pilot license and attended courses at the Netherlands Defence College. An introductory programme compiled especially for Willem-Alexander improved his understanding of Dutch society, the government and justice systems.
He was married to Máxima Zorreguieta on 2 February 2002. Their first child Princess Catharina-Amalia was born on 7 December 2003. She was joined by her sisters Princess Alexia on 26 June 2005 and Princess Ariane on 10 April 2007. The family lives on De Horsten Estate in Wassenaar.
Prior to his accession to the throne, Prince Willem-Alexander fulfilled a number of specific functions as well as being committed to many aspects of modern society, such as water management, infrastructure and ICT, sports, and defence.
In his role as the King, he is the Head of State or in other words the inviolable part of the government. He performs government-related tasks, like signing acts, receiving oaths from government officials, and ceremonial tasks. This may involve receiving heads of state and paying state visits, attending jubilee events of important social institutions, or visiting and supporting the victims of national disasters.