In response to the changing global landscape, ADSW is taking a holistic approach to sustainability to align more closely with the UAE Vision 2021 and the United Nations Sustainable Development Goals (SDGs). The pillars of ADSW address Energy and Climate Change, Water and Food, Future of Mobility, Space, Biotechnology in Health, Tech for Good. Cutting across ADSW programmes and pillars include Artificial Intelligence, Youth and Community.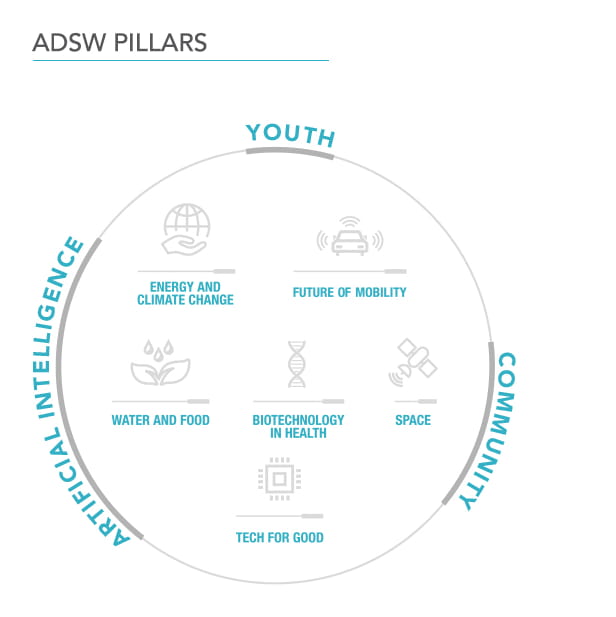 Energy industry needs to serve an increasing global population, while in parallel reducing its overall carbon emissions. Over the coming decades, new solutions like AI, Big Data, and IoT will play a crucial role in helping to address the energy trilemma.


Water and Food are central to life but their supply remains one of the world's biggest challenges. This has both propelled and inspired researchers, scientists and entrepreneurs to find more efficient ways to produce, use and preserve these valuable resources.




The increasingly mobilized world requires more efficient and sustainable forms of travel. Technology is redefining the landscape of the mobility sector through alternative fuels and powertrains to autonomous vehicles.




From supporting life on Mars to commercial space exploration, recent technological breakthroughs are bringing space exploration closer to fruition. Maintaining human life is now expected to stretch beyond our own planet within the next century.


Biotechnology is helping to tackle health's most pressing challenges including combating diseases. Biotechnology has offered modern medical devices for diagnostic and preventive purposes, which include diagnostic test kits, vaccines and radio-labeled biological therapeutics.




Digital technology has made it easier to tackle some of the world's toughest social and environmental challenges. ADSW will provide a platform to showcase real-world solutions to help relieve humanitarian crisis, eliminate poverty and transform daily lives.



ADSW's OVERARCHING TOPICS
Artificial Intelligence

Harnessing machine learning will make it easier and quicker to provide governments, companies and even the community with the information they need to achieve the UN's Sustainable Development Goals (SDGs) and address environmental disasters and climate change.
Youth

One in four people in the world today is aged between 15 - 29: that's nearly 1.8 billion in total. The world has an unprecedented opportunity today to lay the foundations to build a better future for young people and to develop their skills.
Community

Community is the foundation of a sustainable world. By engaging its members, we have the opportunity to educate, change mindsets and old ways of thinking and embed sustainable practices into people's everyday lives.