World Food Day was established by the United Nations in 1979 to mark the founding of the UN's Food and Agriculture Organization, which aims to tackle global hunger and ensure there is enough food for all.
World Food Day is held every year on October 16, with more than 150 countries joining in to mark the day with a variety of events and educational programmes.
This year's theme is "Our Actions are our Future; Healthy Diets for a #ZeroHunger World", which calls for action to make healthy and sustainable diets affordable and accessible to everyone.
Approximately 805 million people around the world are suffering from hunger and consume less than the recommended 2,100 calories a day.
More than 525 million hungry people live in Asia, while more than a quarter live in Sub-Saharan Africa.
However, most of the world's population now live in countries where obesity kills more people than hunger; there are more than 670 million adults and 120 million children considered obese worldwide.
Environmental damage caused by the food system could increase 50-90 percent due to the increased consumption of processed foods, meat and other animal-source products in low and middle-income countries.
The world produces enough food to feed all 7.7 billion people, those who go hungry either don't have the land to grow food or enough money to buy it.
Of the estimated 6,000 plant species cultivated for food throughout human history, today only eight supply more than 50 percent of our daily calories.
10. Climate change threatens to reduce both the quality and quantity of crops, lowering yields. Rising temperatures are also exacerbating water scarcity, changing the relationship between pests, plants and pathogens and altering the size of fish.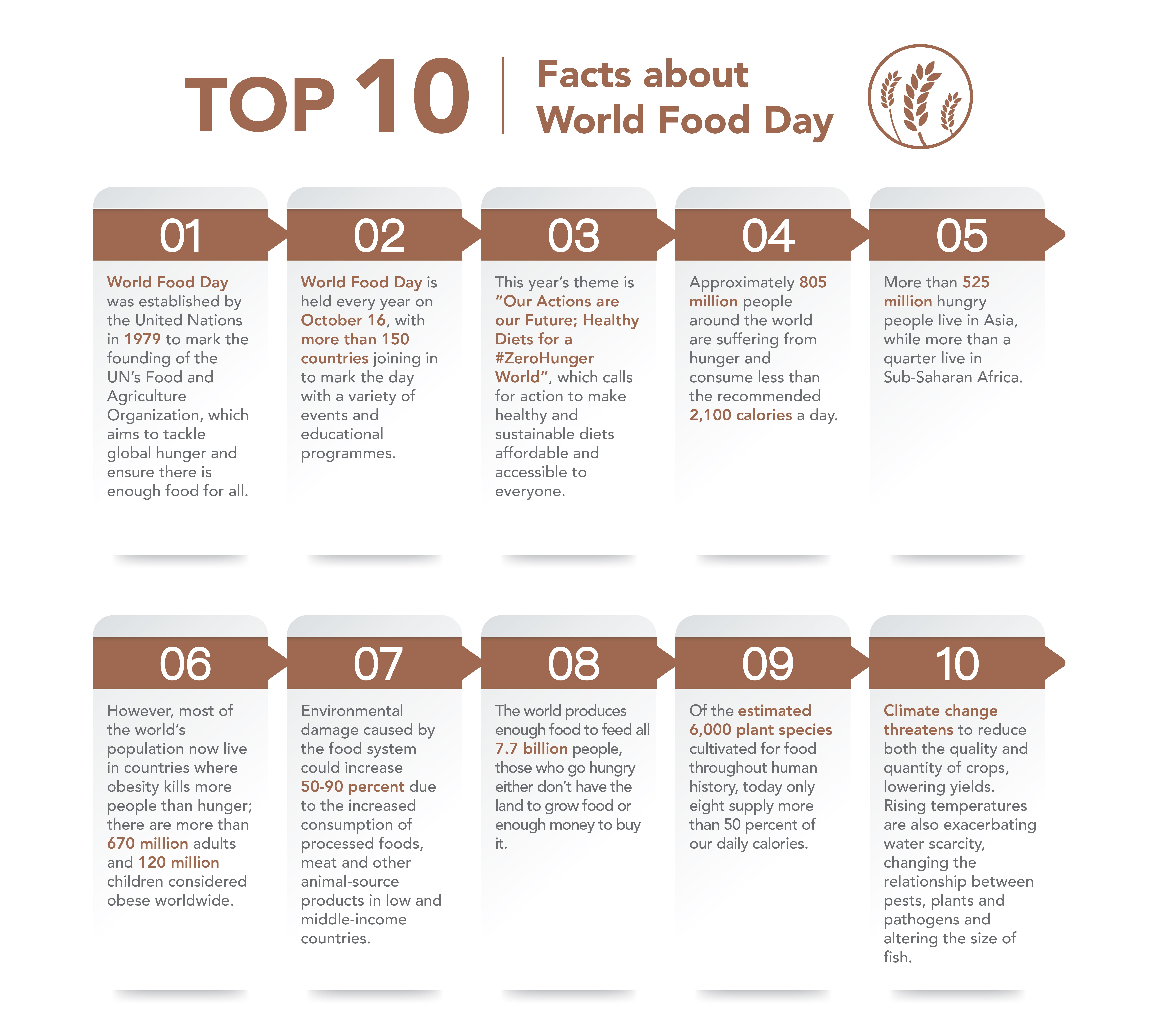 SOURCE: Food and Agriculture Organization of the United Nations