Featured
11 APR 2022
ADSW Talks: Advancing Argentina's sustainability agenda
Argentina, which recently committed to a 2050 Net Zero target, has been implementing new regulatory frameworks and laws to advance the electrification of its mobility sector, expand electricity interconnectors, and ensure that environmental education is part of the curriculum across schools in the country.
In the latest edition of ADSW Talks, HE Santiago Cafiero, Minister of Foreign Affairs for the Argentine Republic, shares insight into how the second-largest country in South America is modifying regulation to advance its sustainability agenda.

The ADSW Talks series hosts influential figures from across the sustainability sector to share their perspectives on the most pressing sustainability challenges facing the world and the collective willpower and solutions needed to build a more sustainable future for all.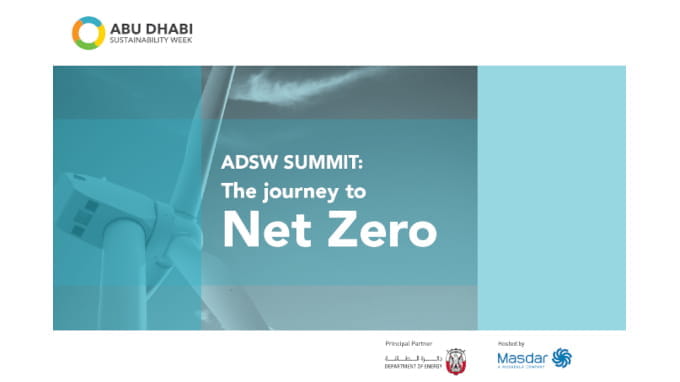 Featured
06 APR 2022
ADSW Summit white paper sets out pathway to Net Zero
Abu Dhabi Sustainability Week, the sustainability platform hosted by Masdar, has produced a white paper highlighting some of the key findings from the ADSW Summit 2022, held in January. The Journey to Net Zero reflects the key themes of the event: Global Collaboration & Leadership, Innovation and Technology, and Sustainable Finance.
Attended by more than 80 specialists, heads of states, policy makers, global CEOs and leaders of international organizations, the ADSW Summit 2022 tackled the vital energy conversation, as well as the transition to sustainable economies and societies.
"Today, world leaders have a responsibility towards the global population to act on climate," the white paper states in its conclusion. "This includes mitigation measures, phasing out coal, focusing on the energy mix to bring in green technologies and green jobs, and reducing emissions to set forth the net zero path. Investing in energy, connectivity, and food systems, while using the necessary resources to make the required sustainable changes and ensuring jobs are at the heart of it, will render such a path all-inclusive."
For more information on the ADSW Summit, its sessions and to download The Journey to Net Zero, please visit www.adsw.ae.
Abu Dhabi Sustainability Week will return from January 14-21, 2023.