18 JAN 2017
SWEET TASTE OF SUCCESS! Three school teams from Al Gharbia win "Solar Oven Challenge"
The winning teams in a school contest to build an electric oven powered by solar energy received their trophies and cash prizes at Shams Solar Power Company in Madinat Zayed yesterday.
Sixteen schools from Al Gharbia in Abu Dhabi's Western Region challenged themselves over four weeks to create a safe, working oven powered only by the sun.
Grade 11 and 12 students competed in teams of four, with at least two of the team-members UAE nationals, and a budget of AED500.
The three winning schools who will be showing off their students' solar-powered cooking technology at The Festival at Masdar City on January 20-21 are: Qatr Al Nada school from Madinat Zayed came in the 1st and 3rd place with two different teams; Al Baya school from Sila came in the second place.
Shams Solar Power Company, operator of the Shams 1 solar power plant, organised the "Solar Oven Challenge" to mark this year's Abu Dhabi Sustainability Week, which takes place from January 12-21.
The winning team received a cheque for AED10,000. Second-place earned AED5,000 and the school in third received AED2,000. At least half of the winnings must go towards a school project.
To win the challenge, teams had to build an oven that could reach temperatures of between 150 and 200 degrees Celsius for at least one hour. They also had to be able to bake a dish for the judges to eat, and explain how their cash prize would be spent to help their class or school.
"We were amazed at the ingenuity of all the competing teams and extremely impressed that so many school teams took part," said Abdulaziz Al Obaidli, General Manager of Shams Power Company.
"The Solar Oven Challenge was a fun way to raise awareness of the potential of renewable energy. And there was serious message too, because millions of people around the world don't have access to reliable and affordable sources of cooking fuel. Solar-powered cooking technology if applied on a wide scale could transform the quality of life of countless people."
Related News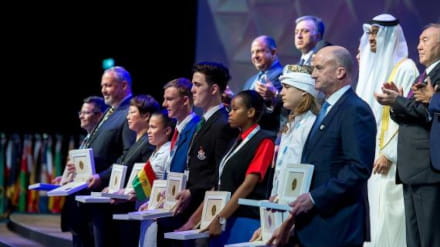 18 JAN 2017
His Highness Sheikh Mohammed Bin Zayed Al Nahyan Honours 2017 Winners of Zayed Future Energy Prize
His Highness Sheikh Mohammed bin Zayed Al Nahyan, Crown Prince of Abu Dhabi and Deputy Supreme Commander of the UAE Armed Forces, presented the Zayed Future Energy Prize to nine winners during the 2017 awards ceremony in Abu Dhabi today, in the presence of six heads of state.
Nine pioneers in renewable energy and sustainability across five categories became the latest awardees to join the prize's growing international community of winners. The 2017 recipients of the prize span a wide range of industry expertise, from breakthrough photovoltaic manufacturing to government policy advisory. The Zayed Future Energy Prize has so far recognised 57 individuals and organisations since it was founded in 2008.
His Highness Sheikh Mohammed bin Zayed Al Nahyan said: "The legacy of our founding father Sheikh Zayed bin Sultan Al Nahyan has led our nation on a path to sustainable development and prosperity. Through this prize, which bears his name, the UAE empowers others to embark on that same path. Today, we celebrate the success of this vision through improved access to energy, technology and water, which in turn presents opportunities for better education, health and employment for women, children and those in need."
His Highness continued: "Launched with the foresight of the UAE President His Highness Sheikh Khalifa bin Zayed Al Nahyan and with the direction of His Highness Sheikh Mohammed bin Rashid Al Maktoum, Vice President and Prime Minister of the UAE and Ruler of Dubai, the spirit embodied in the UAE's 'Year of Giving' is equally demonstrated in the Zayed Future Energy Prize, which encourages others to give on a global scale. These winning organisations, individuals and schools are giving with the impact, innovation, leadership and long-term vision that can overcome today's challenges and make the most of tomorrow's opportunities."
Li Junfeng, Director General of China's National Center of Climate Strategy Research, won the Lifetime Achievement award for his unwavering commitment to the adoption of renewable energy in China. In a career spanning more than 30 years, Mr. Li has been instrumental in advancing the country's renewable energy policies, which have spurred record levels of clean energy investment in China.
General Electric (GE) won the Large Corporation award for leadership in the wind and solar energy markets. GE's wind business alone has commissioned 41.3 GW of total generating capacity and installed more than 30,000 wind turbines to date.
Sonnen, the German smart home and commercial energy storage system manufacturer, was awarded the prize in the Small and Medium Enterprise (SME) category for leadership in providing battery storage technology solutions. In the Non-Profit Organisation (NPO) category, UK-based Practical Action was recognised for its work in providing deprived communities with clean energy in Africa, Asia and Latin America. Joining them were the winners in the Global High Schools category, five schools spanning five regions of the globe.
His Excellency Ólafur Ragnar Grímsson, Former President of the Republic of Iceland and Chair of the Zayed Future Energy Prize Jury, said: "Through the sustainable actions of its winners, the Zayed Future Energy Prize is a model example for how far the world has come in the last nine years. It is extraordinary that, through the impact of each winner and the lives they continue to improve, we now see a growing strength in being able to deliver a sustainable future."
Since its inception, the Zayed Future Energy Prize has received over 10,000 nominations and submissions from more than 100 countries. In 2016 alone, the prize received a record 1,676 entries from 103 different nations, a 22 per cent increase on the previous record set the year before.
His Excellency Dr. Sultan Ahmed Al Jaber, UAE Minister of State, said: "The Zayed Future Energy Prize continues to honour the legacy of sustainability advocated by the UAE's late founding father Sheikh Zayed bin Sultan Al Nahyan. With each awards ceremony, the UAE leadership accelerates the pursuit of innovation, reinforces the significance of sustainability at the top of the global agenda, and gives opportunities and far-reaching benefits to communities around the world."
Now in its ninth cycle, the Zayed Future Energy Prize continues to empower winners that are delivering significant impact across the world. These winners are providing the means for women to be social entrepreneurs delivering sustainable solutions in South-East Asia, for communities to be given new, sustainable, ways to receive and use electricity in Europe, for cities in Asia and Africa to be reshaped around new sustainable-transport innovations, and for people and communities to have a voice in shaping sustainable energy policies across the globe.
His Excellency Dr Al Jaber continued: "During the last nine years, the Zayed Future Energy Prize has been a demonstration of the UAE's commitment to encouraging and rewarding innovation on a global scale. By recognising pioneers in the renewable energy and sustainability sectors, the prize has positively impacted the lives of more than 280 million people through its winners."
In 2012, the Global High Schools category was launched as part of the UAE leadership's commitment to the Sustainable Energy for All (SEforAll) initiative and educating future generations about sustainability. Completing its fifth year, the category has empowered 24 schools to incorporate renewable energy and sustainability into their schools and curricula.
The five winners in the Global High Schools category are: Starehe Girls' Center, Kenya for the Africa region; Green School Bali, Indonesia for the Asia region; Bolivia's Unidad Educativa Sagrado Corazón 4 for the Americas; Belvedere College in Ireland for Europe; and Huonville High School, Tasmania for the Oceania region.
The awards ceremony was witnessed by His Excellency Horacio Cartes, President of the Republic of Paraguay; His Excellency Luis Guillermo Solís, President of the Republic of Costa Rica; His Excellency Filip Vujanović, President of Montenegro; His Excellency Nursultan Nazarbayev, President of the Republic of Kazakhstan; and His Excellency Danny Faure, President of the Republic of Seychelles; and His Excellency Pushpa Kamal Dahal, Prime Minister of the Federal Democratic Republic of Nepal.
The prize will open again for submissions and nominations for its landmark 10th year later this month. For more information go to www.zayedfutureenergyprize.com.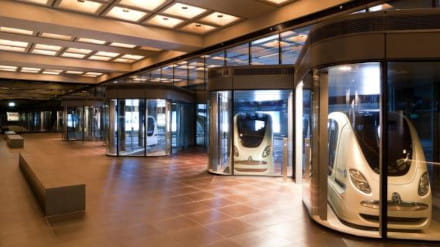 18 JAN 2017
Competition to design sustainable mobility solutions serving Masdar City launched at ADSW 2017
The city's iconic PRT system has carried more than 2 million passengers emissions-free since 2010
Next phase of Masdar City's complex urban mobility plan calls for a 100% electric and driverless system
Abu Dhabi, United Arab Emirates; January 14, 2017 – Masdar, Abu Dhabi's renewable energy company, is inviting selected industry specialists to develop the next phase of the driverless vehicle transit network serving Masdar City, Abu Dhabi's flagship sustainable urban development.
The competition was announced today during (ADSW), which runs from January 12-21. The competition is seeking viable mobility solutions that respect the economic, social and environmental pillars of sustainability on which Masdar City is based.
A Review and Advisory Committee of leading clean-tech companies and experts will help select the winning developer.
Emissions-free vehicular transport within Masdar City has, since November 2010, been provided by a pilot driverless Personal Rapid Transit (PRT) system which links the development's northern carpark with Masdar Institute (MI).
"We have been a pioneer for driverless vehicles since 2010 and the PRT system has become an iconic feature of Masdar City," said Yousef Baselaib, Executive Director of Masdar's Sustainable Real Estate division, the developer of Masdar City. "More importantly, in carrying more than 2 million passengers, it has generated an immense volume of data to guide the future development of driverless vehicle solutions, both within the city and in other urban settings."
He added: "We are now pleased to invite leading transport solution providers to help devise the future mobility roadmap for Masdar City, in line with the anticipated growth of the development over the coming years. This will enable us to benefit from the rapid evolution of driverless vehicles in recent years, while staying true to our vision for low-carbon mobility."
Formal entry and evaluation criteria for the competition will be announced by the end of February. The selected solution must be driverless, autonomous and emissions free. An ability to operate outdoors in the arid, desert climate of the Gulf is essential, and the winning entry must also follow Abu Dhabi safety regulations, integrate with Masdar City's pedestrian areas and with other types of vehicle transport. It will cover a 1-kilometre route linking Masdar Institute, the headquarters of the International Renewable Energy Agency (IRENA) and the recently announced My City Centre Masdar retail development.
"By introducing today's commercially viable sustainable transportation solutions, such as electric and hybrid vehicles, into Masdar City, we can demonstrate their capabilities and play an important role in driving their widespread adoption," added Baselaib.
According to IRENA, headquartered in Masdar City, transport accounts for around a third (30%) of total global energy consumption. Carbon emissions from transport have also increased 28 per cent since 2000, according to the International Energy Agency (IEA).
Meanwhile, the size of the global electric and hybrid vehicle market will account for 35% of global car sales by 2040, according to IEA estimates. This is 90 times more than the 2015 baseline.
The adoption of commercially viable sustainable transport solutions is a key focus of this year's ADSW. A variety of products and solutions will be on show within the Sustainable Transport Zone at the 10th World Future Energy Summit at Abu Dhabi National Exhibition Centre.
Further illustrating the importance of mobility solutions at ADSW, Takeshi Uchiyamada, Chairman of the Board of Directors of Toyota Motors Corporation, will deliver a keynote speech at Abu Dhabi Global Action Day on January 16.
Sustainable mobility is a core component of Masdar City's expansion. Besides pedestrian walkways and cycling paths, its master plan accommodates Light Rail Transit (LRT) and General Rapid Transit (GRT) systems. It also integrates with a metro service currently in the planning phase, linking Abu Dhabi International Airport with downtown Abu Dhabi.
A low-carbon urban development and economic free zone, Masdar City serves as a "greenprint" for cities of the future. It seamlessly blends traditional Arabic architecture with state-of-the-art technology to maximise energy and water efficiency. Masdar City will host 50,000 residents and a working population of 40,000 people by 2030.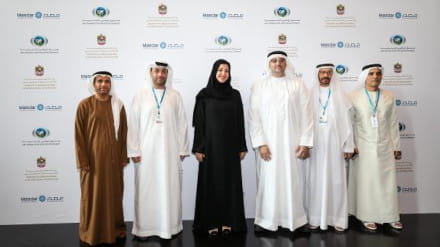 18 JAN 2017
UAE launches US$50 million renewable energy fund for the Caribbean
UAE development assistance for renewable energy is now approaching $1 billion since 2013
The United Arab Emirates (UAE) today announced a landmark new US$50 million grant fund for renewable energy projects in Caribbean island countries. Launched by HE Reem Al Hashimy, Minister of State for International Cooperation, the UAE-Caribbean Renewable Energy Fund represents one of the largest-ever single investments in the region's clean energy sector, as well as a significant deepening of bilateral relationships between the UAE and Caribbean countries.
Grant funding is provided by the Abu Dhabi Fund for Development (ADFD), with the UAE Ministry of Foreign Affairs managing the initiative and Masdar, Abu Dhabi's renewable energy company, leading implementation.
The announcement, which brings UAE development assistance for renewable energy to almost $1 billion since 2013, was made on the sidelines of Abu Dhabi Sustainability Week, as part of the annual General Assembly meeting of the International Renewable Energy Agency (IRENA).
"We are honoured to open this new chapter in the growing relationship with Caribbean countries," said Minister Al Hashimy. "The two oceans between us are not the barrier they once were, and we are bringing fresh eyes and enthusiasm to each other's markets and aspirations. We're especially pleased to join forces under the UAE-Caribbean Renewable Energy Fund, which can simultaneously drive achievement of the Paris climate agreement and the Sustainable Development Goals."
His Excellency Mohammed Saif Al Suwaidi, Director General, Abu Dhabi Fund for Development (ADFD), reflected: "The renewable energy sector stimulates economic growth and employment, it underscores innovation and it capitalises on resources – all leading pillars in improving day-to-day living standards. ADFD's steady and unwavering vision is to underpin developing countries in achieving their goals by forging new partnerships and funding multiple key sectors; notably, the renewable energy sector – the main catalyst for sustainable long-term growth.
He added: "In the Caribbean island countries, securing a stable and efficient supply of energy is a pivotal policy of each nation's growth strategy. ADFD is proud to have partnered with Masdar and share its expertise to support the Caribbean nations as they unlock their underutilised wind and solar potential to drive energy security, job creation and socio-economic development."
Mohamed Al Ramahi, Masdar CEO, added: "Renewable energy is an extremely competitive option for communities in the Caribbean, where there is tremendous natural potential a number of technologies. Caribbean islands typically face high costs for power generation, so unlocking this potential offers opportunities for both savings and growth, providing a powerful catalyst for sustainable social and economic development. Masdar is proud to be a trusted partner for this important project, which will draw on our deep experience deploying solutions for island communities."
The UAE-Caribbean Renewable Energy Fund represents a new pillar of expanding cooperation and exchange between the UAE and Caribbean. A number of Caribbean countries have appointed ambassadors to the UAE in the last year to develop trade and investment links, as well as prepare for the 2020 World Expo in Dubai. For the first time in the Expo's history, each country will be enabled to host its own pavilion, allowing Caribbean participants to showcase projects and plans to potential partners from across the globe.
The new fund will seek to conclude project agreements with several countries per year. Designed for flexibility, it can support renewable energy projects as both as a minority or full financier, as well as engage with both the public and private sectors. With Masdar as the technical lead, all sources of renewable energy can be considered, including solar, wind, geothermal and waste-to-energy.
"The Caribbean offers one of the most compelling business cases for renewable energy in the world, and a public finance push can be a critical factor in driving action," said Ali Al Shafar, the UAE's Permanent Representative to IRENA. "Renewable energy has been a powerful relationship-builder for the UAE, and we look forward to partnering with Caribbean countries on this common interest that can in turn lead to new opportunities."
UAE development assistance for renewable energy is now approaching $1 billion since 2013. Recent projects, implemented by Masdar, include eight solar plants in rural Mauritania, which power about 39,000 homes and save 27,850 tonnes of carbon emissions per year, and the provision of 6.5 megawatts (MW) of capacity across 11 Pacific Islands, enabling the saving of 3.2 million litres of diesel fuel annually.
On Sunday Abu Dhabi Fund for Development -ADFD- in collaboration with Irena have announced during the Seventh Session of the IRENA Assembly, funding four renewable energy projects within the fourth funding cycle . Projects produces about 32 megawatts of renewable energy, worth AED 163.4 million ($ 44.5 million) in four countries, namely, the Seychelles Islands Marshal, Niger and the Solomon Islands.