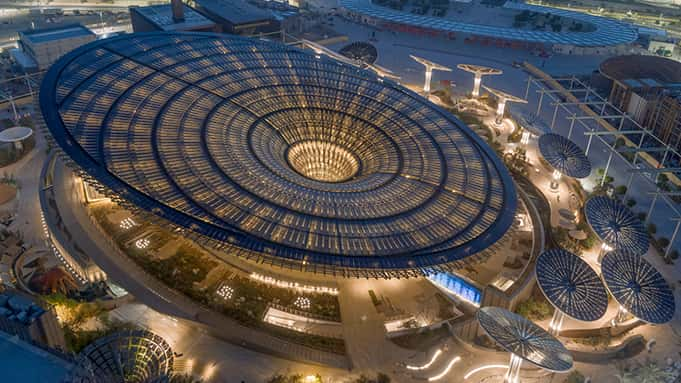 Featured
09 OCT 2021
ABU DHABI SUSTAINABILITY WEEK LAUNCHES COLLABORATION WITH EXPO 2020 DUBAI
Abu Dhabi Sustainability Week Opening Ceremony and Zayed Sustainability Prize Awards Ceremony will take place at Expo on Monday January 17, 2022
All other Abu Dhabi Sustainability Week events will take place in Abu Dhabi or will be hosted virtually
Announcement took place during Expo 2020's Climate and Biodiversity Week
Abu Dhabi, United Arab Emirates; October 9, 2021: Abu Dhabi Sustainability Week (ADSW), the global platform for accelerating sustainable development, hosted by Masdar, has today announced a new collaboration, which will bring elements of the Week to Expo 2020 Dubai. The ADSW Opening Ceremony and the Zayed Sustainability Prize Awards Ceremony will take place at the Dubai Exhibition Centre on Monday 17 January 2022.

The announcement was made during Expo 2020's Climate and Biodiversity Week (the first of 10 Theme Weeks that anchor the Programme for People and Planet) which aims to mobilise the world to take decisive action for the health of our world. Bringing ADSW's vital platforms to Expo 2020 will further demonstrate the UAE's leading role in driving action on climate change, at home, in the region, and throughout the world.

ADSW is one of the largest of gatherings of its kind, which welcomes each year more than 45,000 participants from more than 170 countries. The week will return between 15 – 19 January 2022 and feature a series of high-level in person and virtual events.

H.E. Dr. Sultan Ahmed Al Jaber, UAE Minister of Industry and Advanced Technology, Special Envoy for Climate Change, and Chairman of Masdar, said: Hosting the opening of ADSW together with the ZSP award ceremony at Expo 2020 Dubai will serve to reinforce the UAE's commitment to climate action and sustainability, as key drivers of the UAE's progressive model for economic growth. The combination of ADSW's experience as a convenor with Expo 2020 Dubai's global reach will help expand partnerships, drive innovation and open up new economic opportunities. As the UAE marks 50 years of progress, with the Principles of the Fifty, sustainability will remain a cornerstone of plans for future growth, creating new knowledge, new skills, new industries and new jobs."

The ADSW Opening Ceremony and the Zayed Sustainability Prize Awards Ceremony, will bring together more than 600 VIPs from around the world, including heads of state, government ministers, industry leaders and country ambassadors. During the Opening Ceremony, H.E. Dr Sultan Al Jaber will deliver a keynote speech.

Her Excellency Reem Al Hashimy, UAE Minister of State for International Cooperation and Director General of Expo 2020 Dubai, said: "As one of our three subthemes, Sustainability is integrated across the entirety of Expo 2020 Dubai. We aim to be one of the most sustainable World Expos in history, supporting the UAE's continued efforts to build cleaner, safer, and healthier communities for its people. As a long-standing platform for sustainability, Abu Dhabi Sustainability Week has a legacy of bringing together the global community, facilitating dialogue and accelerating sustainable development. These qualities align with the aims of the Programme for People and Planet at Expo and our goal of catalysing a one-of-a-kind movement to shape the legacy that Expo 2020 leaves the world.

"For the six months of Expo 2020, the world's gaze will be on the UAE. Holding the opening of Abu Dhabi Sustainability Week and the Zayed Sustainability Prize Awards Ceremony at Expo 2020, when the world's gaze is on the UAE, exemplifies how we can all work together to mitigate climate change."

Since 2008, Abu Dhabi has provided a sustainable platform for the global community that has grown through its initiatives and events to emerge as a thought leader and catalyst that accelerates sustainable development around the world.

The week will bring together policy makers, industry specialists, technology pioneers and the next generation of sustainability leaders to engage in dialogue and take action to advance the global sustainability agenda.

The 2022 program will include the ADSW Opening Ceremony, Zayed Sustainability Prize Awards Ceremony, ADSW Summit, IRENA Assembly, Abu Dhabi Sustainable Finance Forum, Atlantic Council Global Energy Forum, Women in Sustainability, Environment and Renewable Energy (WiSER) Forum, Youth 4 Sustainability Hub, and the World Future Energy Summit – Exhibitions and Forums.

Launched at the 2008 World Future Energy Summit by H.H. Sheikh Mohamed bin Zayed Al Nahyan, Crown Prince of Abu Dhabi and Deputy Supreme Commander of the UAE Armed Forces, the Zayed Sustainability Prize is a tribute to his father, the late Sheikh Zayed bin Sultan Al Nahyan, and his sustainability legacy.

Over 352 million people have been directly or indirectly impacted by the sustainability solutions and school projects of the 86 recipients of the Zayed Sustainability Prize winners since the first awards ceremony in 2009.

The Prize's US$3 million annual fund rewards winners US$600,000 in each category; the Global High Schools category is split into six world region winners, with each school able to claim up to US$100,000 to start or further expand their project. The six world regions of the Global High Schools category are The Americas, Sub-Saharan Africa, Middle East & North Africa, Europe & Central Asia, South Asia, and East Asia & Pacific.

All ADSW events other than its Opening Ceremony and the Zayed Sustainability Prize Awards Ceremony will take place in Abu Dhabi or will be hosted virtually.

Learn more about Abu Dhabi Sustainability Week at www.adsw.ae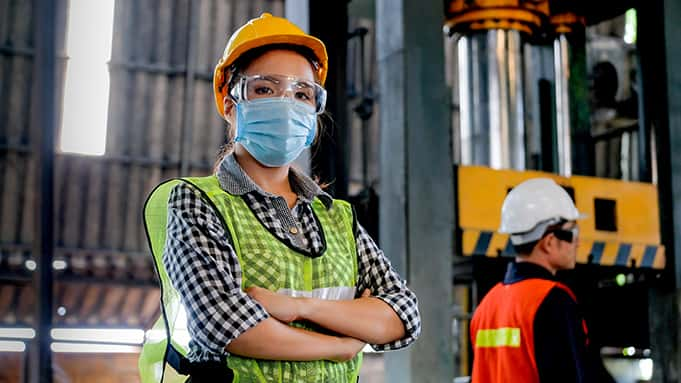 Featured
28 APR 2021
New Research Indicates Pandemic as Tipping Point for Investment in ESG and Sustainability
85 percent of respondents saw the COVID-19 pandemic as a 'wake-up call' on sustainability
65 percent expect to realize financial benefits of ESG investment within the next two years
Half of all respondents say they are prioritizing ESG because it is important to investors
Balancing profit with sustainability is easier for some sectors than for others, with technology leading and transport lagging
Abu Dhabi, United Arab Emirates; April 28, 2021: Abu Dhabi Sustainability Week (ADSW), the global platform for accelerating sustainable development and its host Masdar, have today released the results of a global survey, which explores how businesses around the world are responding to Environmental, Social and Governance (ESG) in the wake of COVID-19.

ESG Beyond Tipping Point surveyed 525 executives from global businesses that deliver annual revenues of $250 million USD or more, suggests that the COVID-19 pandemic is having a profound impact on businesses' perceptions of ESG issues.

The research found that 87 percent of respondents indicated that ESG performance is now one of their organization's core strategic objective, while 85 percent saw the COVID-19 pandemic as a wake-up call on sustainability.

Many businesses anticipate that the pay-offs from strengthening ESG activities in their organization, or in the case of financial services companies incorporating ESG data into their decision-making, will accrue quickly. The research found that, 65 percent of respondents expect to realize the financial benefit of ESG investment within the next two years, including 35 percent who expect it within the next 12 months.

Yousef Ahmed Baselaib, Executive Director, Strategy & Corporate Development at Masdar, said, "ESG has always been part of the Masdar's DNA and continues to be as the company delivers on its mandate of seeking quality investments in renewable energy and sustainable technologies. Fifteen years on since Masdar was formed, ESG has reached enough of a critical mass across all sectors that it is unlikely that we will see a return to the old profits-above-all models of the past. As we explored during Abu Dhabi Sustainability Week earlier this year, the opportunities presented by the Green Recovery will further fuel investor appetite for backing smart, sustainable companies. Those companies that ignore ESG will lose their relevance in the post-COVID era."

Shareholders are a driving force for ESG investment across sectors and regions. Nearly half of all respondents (49 percent) say they are prioritizing ESG because it is important to investors.

The research also provided deep insights on how different geographical regions and industry sectors are responding to the demand for greater ESG commitments. The research found that 70 percent of respondents from Asia-Pacific agreed that their company is committed to achieving net-zone emission, while only 33 percent of respondents from the Middle East agreed when asked the same question.

At a sector level, the research found that balancing profit with sustainability is easier for some sectors than for others, with 68 percent of respondents from the technology sector agreeing they were able to balance customer demands for sustainability with shareholder expectations for profits. However, responses from the transport sector were much lower, with only 38 percent agreeing that the sector was able to balance customer demand and shareholder expectations.

The ESG research was supported by a series of high-level interviews with industry leaders, including Dietmar Siersdorfer, Managing Director of Middle East and UAE at Siemens Energy, who said, "It is extremely gratifying to see the topics around ESG and sustainability draw more mainstream recognition," said Dietmar Siersdorfer. "These issues need to recognized not just as a showpiece of corporate strategy but as a fundamental necessity of doing business. As a company founded to drive the energy transition and promote ESG and sustainability values, Siemens Energy has set an ambitious target of net zero emissions by 2030. We are dedicated to energizing society in line with the UN's Sustainable Development Goals, to ensure the highest impact on societal development."

At an employee level, businesses cannot overlook the growing role of sustainability in the battle to recruit and retain high quality talent at all levels of the company. The extent to which a company embraces ESG is becoming a crucial factor in whether people want to work for them – even more than remuneration policies for some. Strikingly, 52 percent of respondents say they would be prepared to take a pay cut to move to a company with a better ESG performance.

More than half of the respondents (51 percent) intend to create new ESG-focused management positions in the next 12 months, with organizations based in Asia-Pacific and the Middle East & Africa leading the way in this area.

Even before the pandemic, sustainability was rising up the corporate agenda, but this trend has accelerated dramatically during the crisis: improved ESG performance is now a core strategic objective for most organizations.

Crucially, the determination to embrace ESG principles is shared by all stakeholder groups, including investors, employees, customers and suppliers. And those organizations that are rising to the challenge are already beginning to see returns.

With business leaders now recognizing that we have moved past the tipping point: ESG is now a key battleground in the competition for investment and talent – and, ultimately, to attract and retain customers.