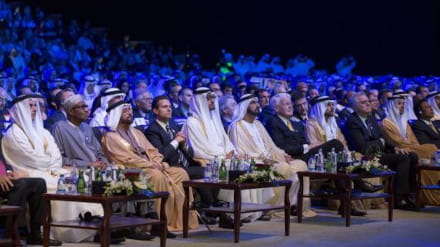 24 NOV 2016
Abu Dhabi Sustainability Week 2017 to convene first Advisory
Abu Dhabi Sustainability Week (ADSW), the Middle East's largest gathering on sustainability, will host an elite group of industry experts to advise on the event's continued success in translating the global mandate for renewable energy and clean technologies into concerted policy and business action.

Held every January, ADSW welcomes heads of state, government ministers and international trade delegations – among a diversity of other stakeholders – to address the world's most critical sustainability issues on the themes of Policy, Leadership, Business, Academic Research, and Community Awareness.

The first ADSW Advisory Council will take place on January 17, the day after the event's formal opening ceremony, and every year thereafter. It will also follow Global Action Day, a high-level event aimed at translating global aspirations for sustainability into practical and innovative policy, investment, technology and partnership solutions.

The Council's membership comprises both international and Middle East-based opinion leaders, all long-standing supporters of and speakers at ADSW and in many cases, passionate advocates of the Zayed Future Energy Prize, which distributes an annual prize fund of US$4 million to exceptional companies, individuals and schools implementing renewable energy and sustainability solutions.

The Council members are Adnan Amin, Director General of the International Renewable Energy Agency (IRENA); Rachel Kyte, Chief Executive Officer of Sustainable Energy for All (SEforALL) and Special Representative of the United Nations Secretary-General for SEforALL; Her Excellency Razan Khalifa Al Mubarak, Secretary General of the Environment Agency – Abu Dhabi; Dr Fatih Birol, Executive Director, International Energy Agency; Marie Jose Nadeau, Chair of the World Energy Council; Michael Liebreich, Founder and Chairman of the Advisory Board, Bloomberg New Energy Finance, and Board Member, Transport for London; David Sandalow, Inaugural Fellow, Columbia University; Professor Jeffrey Sachs, Professor of Sustainable Development, The Earth Institute, Columbia University; Dr Saif Al Sayari, Acting Director General, Abu Dhabi Water & Electricity Authority; Dayae Oudghiri, Management Board Member of the Moroccan Agency for Solar Energy (MASEN); Jonathon Porritt, Founder Director, Forum for the Future; and His Excellency Dr Nasser Saidi, Chairman of the Clean Energy Business Council.
ADSW 2016 received nearly 36,000 attendees representing 170 countries, 382 exhibiting companies, more than 200 high-level speakers and 80 government ministers.

"As a global platform for addressing the interconnected challenges of clean energy, water and sustainable development, Abu Dhabi Sustainability Week has developed lasting partnerships with many of the world's most admired experts and opinion formers on sustainability issues," said Mohamed Jameel Al Ramahi, Chief Executive Officer of Masdar, Abu Dhabi's renewable energy company and the host of ADSW.

"As we mark ten years of the World Future Energy Summit in 2017 and embark on the next decade of our expansion at Masdar, it is an honour to bring together some of our must trusted associates in charting the future evolution of the MENA region's largest sustainability gathering.

"The guidance of the ADSW Advisory Council, representing the broadest cross-section of the sustainability domain, will ensure that ADSW continues to set the action-agenda from both a policy and business perspective – this is particularly important now that the clean energy sector has moved from the margins into the mainstream as a dynamic, commercially viable growth market," Al Ramahi added.

ADSW 2017 takes places on the theme 'Practical Steps Towards a Sustainable Future' from January 12-21. The opening ceremony will initiate four days of presentations, discussions and workshops on a range of pressing topics across energy, water and waste. These include strategies to drive investment, implementation of the Paris Agreement, and the challenges of adapting existing infrastructure to the new market reality of small-scale, distributed power.

"As a long-standing supporter of ADSW and a keen advocate of the UAE's efforts to advance the clean energy agenda, I am delighted to deepen my involvement in ADSW, and to help chart the course of its continued success," said Michael Liebreich, Founder and Chairman of the Advisory Board, Bloomberg New Energy Finance, and Board Member, Transport for London.

"Bloomberg New Energy Finance's research has shown developing countries are overtaking the wealthiest economies in attracting clean energy investment, with the Middle East & North Africa playing a growing role. The global profile of ADSW is valuable in bringing emerging market opportunities to a wider stage, thereby enabling greater cooperation between developed and developing economies."

ADSW 2017 will be the first global platform to debate practical approaches to the outcomes of COP22, the first UN climate summit to be held in the MENA region, with the agenda informed by the challenges of both emerging markets and developed economies, as well as the practical lessons they have learnt.

ADSW 2017 will also be an opportunity to reflect on the response to the Masdar Gen Z Global Sustainability Survey, unveiled at COP22, the first international study on the attitudes of 18-25-year-olds, the demographic cohort known as Generation Z, towards climate change, sustainability and renewable energy.
15 JAN 2016
World Future Energy Summit Launches Future Cities Forum for Global Insights on Middle East's Urbanization
Delivering global insights and best practices for Middle East cities to sustainably manage their long-term urbanization, the World Future Energy Summit announced today the launch of the new Future Cities Forum.

The Future Cities Forum, on Wednesday, 20 January 2016, will be held on the theme of "Shaping the Urban Future Together: Creating Sustainable and Resource Efficient Communities". Attendees can hear from leading global government experts on best practices in managing complex, long-term urban challenges and the latest innovations across energy, water, transport, urban planning, and mitigating climate change.

Sixty six percent of the world's population is projected to live in urban areas by 2050, up from 54 percent in 2014, according to the United Nations. To meet the challenges of urbanization, governments around the world are using advanced technology to develop Smart Cities, with Frost and Sullivan predicting a USD1.56 trillion marketplace by 2020. The Middle East and North Africa hosts among the world's most ambitious smart city plans, including Abu Dhabi's Masdar City, Qatar's Lusail City, The Kingdom of Saudi Arabia's four Economic Cities, and Morocco's largest city of Casablanca. Thanks to smart buildings, a pedestrian-focused layout and technology cluster, Masdar City consumes 40 percent less energy and water than built-up areas of a comparable size.

Masdar City recently inaugurated a solar power storage system with Energy Nest, and signed an agreement with Chinese real estate firm Vanke on a research and development project. "Masdar City is a 'green-print' for sustainable urban design – and what we will focus on at the Future Cities Forum is the need for global cities to integrate both environmentally friendly policies and commercial opportunities to drive sustainable development," said Anthony Mallows, Director of Masdar City.

Smart Dubai is working with the United Nations' International Telecommunications Union to develop the world's first smart city key performance indicators, and the Dubai Clean Energy Strategy 2050 aims to generate 75 percent of power from clean energy over the next 35 years. "Dubai is undergoing a seismic shift in developing and encouraging smart city solutions – and at the Future Cities Forum we will focus on the power of public private partnerships, government innovation, and data-based analytics for smart buildings, transportation, and utilities that will support Dubai as a leading global smart city," said Dr Aisha Bin Bishr, Director General, Smart Dubai Office.

Atkins, the international design, engineering and project management consultancy, will share best practices from supporting the future-proofing of cities in the GCC, China, the United States, and the United Kingdom. "With the population of the MENA region expected to double by 2050, at the Future Cities Forum we'll be sharing our expertise which is helping to maximize the value of our clients' built assets by ensuring they're holistically planned, sustainable, resilient and appropriate for the long term, taking careful consideration of the drivers for change across the region, and how the resulting opportunities can be harnessed and risks can be mitigated," said Simon Moon, chief executive officer, Middle East of Atkins.

"The tools and insights which are accessible to us today mean we're able to develop a much better understanding of how buildings, infrastructure and their environment really do interact and perform, and to make well informed decisions to support their lifecycle – it's essential that we apply this knowledge today for the benefit of our future urban and social environments," added Simon Moon.

Many Smart Cities across the region are diversifying their energy mix to include renewables, especially solar power. "An approach to Smart Cities involves many aspects that will result in more sustainable urban living. From water and energy conservation to better use of public transport, more efficient air conditioning solutions and renewable energy generation are all part of a holistic plan to optimize the use of resources," said Roberto De Diego Arozamena, CEO, Abdul Latif Jameel Energy and Environmental Services, which will be one of the key sponsors of the World Future Energy Summit 2016 in Abu Dhabi, UAE.

"A good example of such a plan is the Dubai Clean Energy Strategy 2050, announced by HH Sheikh Mohammed bin Rashid Al Maktoum, Vice President of the UAE and Ruler of Dubai, which includes the intention to have solar energy in every rooftop in Dubai by 2030," added Roberto De Diego Arozamena.

Global consulting, design and program management firm C2HM, a WFES sponsor, will showcase its vision for smart, sustainable cities and infrastructure, and share best practices from its recent delivery experiences in the Middle East, India, and Europe. "At CH2M, our vision for future cities is based on creating vibrant, accessible, financially sound communities that attract business and provide a rich social fabric and environment where people want to live and work. As the competition between global cities increases, the need for talent, investment and resources will become critical," said Neil Reynolds, Senior Vice President and Regional Managing Director, MENA and India.

"More than ever, cities will need to focus on enhancing their economics, as well as the environment and the quality of life they can offer. Smart infrastructure is the key – whether transportation, water, energy or waste – and CH2M has the smart city solution that can help," added Neil Reynolds.

The Future Cities Forum will also host the Habitat III Sustainable Energy Thematic Meeting, determining the policy agenda for the United Nations New Urban Agenda. Hosted by Masdar, The World Future Energy Summit 2016 is held at the Abu Dhabi National Exhibition Centre from 18-21 January 2016, co-located with International Water Summit and EcoWASTE.