The world will need to feed some 10 billion people by 2050 while achieving the Paris Agreement and Sustainable Development Goals – a high bar given that food systems already account for over 25% of global greenhouse gas emissions and 30% of energy consumption and are vulnerable to climate change. At the same time, the world must ensure universal modern energy access for the 800 million people currently without electricity and the 3 billion without clean cooking solutions, most of whom live in agriculture-based economies.
The United Nations (UN) Food Systems Summit and the summit-level UN High-level Dialogue on Energy will be held in September 2021 in New York, two months before COP26 in Glasgow. These three milestones will be vehicles for new solutions and commitments that capture synergies across the 2030 Agenda for Sustainable Development and decouple food and energy systems from greenhouse gas emissions.
Based on this nexus, a joint Ministerial Meeting in support of the UN Food Systems Summit and summit-level High-Level Dialogue on Energy preparatory processes will take place in partnership with the International Renewable Energy Agency (IRENA) and the United Arab Emirates as part of Abu Dhabi Sustainability Week and the IRENA Assembly. The Ministerial Meeting is intended to raise awareness of the summits and identify potential outcomes – such as initiatives, targets, policies, and other concrete deliverables – with simultaneous food, energy, and climate benefits that can be considered for both Summits, as well as COP26.
The ministerial leverages the IRENA Assembly's and Abu Dhabi Sustainability Week's stakeholder and public reach. Abu Dhabi Sustainability Week typically attracts 45,000 delegates from over 170 countries and is the world's largest annual sustainability event. The IRENA Assembly is the largest annual meeting of energy ministers.
Summits Background
Food Systems Summit: During the 76th session of the UN General Assembly in September 2021, UN Secretary-General António Guterres will convene the Food Systems Summit to drive progress on all 17 Sustainable Development Goals (SDGs) and the Paris Agreement through the lens of food systems. The Summit will launch new actions to transform food systems, making food healthier, sustainable, more affordable, more resilient, less wasted, and better-distributed. The preparatory process includes thousands of dialogues at the global, national, local, and entity levels, as well as a formal pre-Summit meeting in Rome in July 2021. Further information is available at https://www.un.org/en/food-systems-summit
High-level Dialogue on Energy: Mandated by General Assembly resolution 74/225, the Secretary-General will convene a High-level Dialogue on Energy at summit level during the 76th session of the UN General Assembly in September 2021 in New York, to accelerate SDG 7 action for the achievement of the 2030 Agenda for Sustainable Development and the Paris Agreement. The Dialogue represents the first summit on energy under the UN General Assembly since the UN Conference on New and Renewable Sources of Energy in 1981. It is preceded by a preparatory process involving a number of thematic and regional forums. Further information is available at https://www.un.org/en/conferences/energy2021.
Event Format
The Ministerial Meeting will be held virtually on Zoom, with around 30 ministerial and executive participants (including 5 youth delegates) "seated" at the virtual table, in addition to hundreds of audience members who will be listening in. Following brief opening remarks by the co-hosts, the moderator will invite participants to propose a specific potential outcome for the Summits under their preferred agenda item. The format will not use written statements, as it is meant to be conversational and fastpaced.
Agenda
13:00 to 13:15
Welcoming remarks

• H.E. Mariam Almheiri, UAE Minister of State for Food and Water Security
• H.E. Amina Mohammed, Deputy Secretary-General of the United Nations

Opening remarks

• H.E. Agnes Kalibata, Special Envoy for the 2021 Food Systems Summit
• H.E. Damilola Ogunbiyi, Special Representative of the Secretary-General for Sustainable Energy for All, and CoChair and High-level Champion for the High-level Dialogue on Energy



13:15 to 13:20
Overview of the food-energy-climate nexus • H.E. Francesco La Camera, Director-General, IRENA
13:20 to 13:40
Potential action and initiatives related to primary food production
13:40 to 14:00
Potential action and initiatives related to food drying, storage, and agro-processing
14:00 to 14:20
Potential action and initiatives related to biofuels and electrification
14:20 to 14:40
Potential action and initiatives related to clean cooking
14:40 to 14:45
Wrap-up and next steps by moderator
Outcome
A list of the proposed actions and related initiatives discussed in the roundtable will be compiled and circulated to participants, as well as all IRENA missions and UN missions in New York and Rome. The organizers of the Food Systems Summit and High-level Dialogue on Energy – as well as of COP26 – will also share the outcomes as inputs into the preparatory processes of the summits during the course of 2021. IRENA Member States will evaluate progress in the action areas in the 2022 Assembly.
Registration
Registration is now open via: https://forms.gle/5XTjikp9rtEEFwmQ8.
Annex – Background on the food-energy-climate nexus
According to the FAO, global food systems account for over a quarter of global emissions, with the majority owing to livestock and fisheries (31%), crop production (27%), land use (24%), and supply chain involving processing, transport, packaging and retail (18%). Energy use in the food system – which is estimated at 30% of the world's total final energy consumption – is based on fossil fuels and traditional use of biomass for cooking. The agriculture sector also supports the livelihoods of over 2.5 billion people globally, making it central to poverty eradication.
Renewables offer the opportunity to displace existing fossil fuel use along the various stages of the food system. They also enable the mechanization of farms and processes, particularly in emerging economies, that presently rely on manual labor, limiting yields and inhibiting value-addition and income growth. The figure below illustrates some examples of renewable energy applications along each segment of the food chain, from primary production to food preparation and cooking.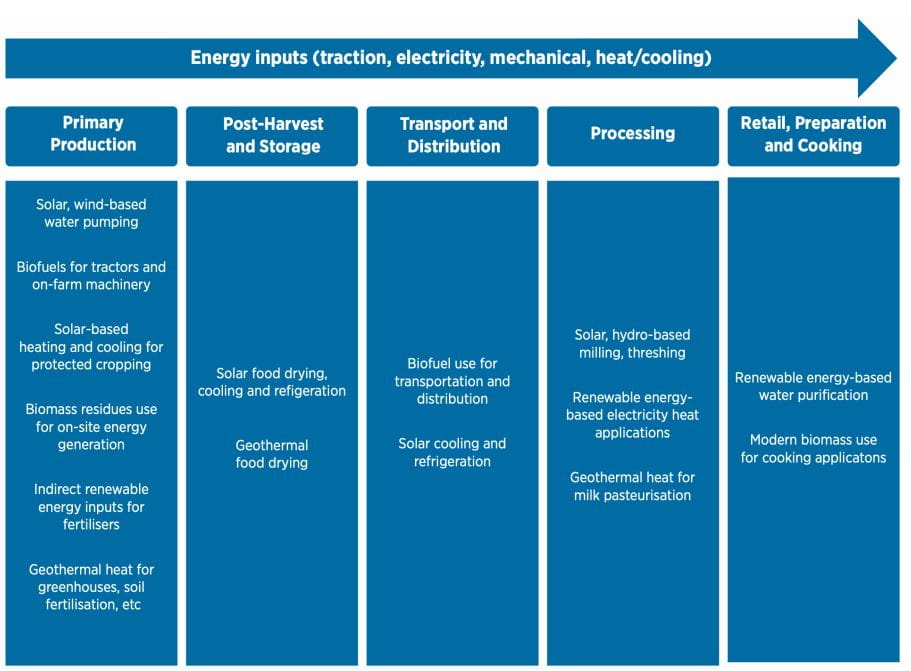 Low and medium temperature geothermal resources are widely available and suitable for direct use applications like aquaculture, greenhouse heating, food drying, pasteurization, and sterilization. Those services, and many others in the agri-food chain, can also be achieved with other renewable sources of heat including electricity with off-grid renewables (mini-grids and standalone), biogas, sustainable solid biomass, and the direct use of solar thermal heat
Key factors for scaling up renewables use in food systems also include sectorally integrated decision-making and financing (e.g., co-designing energy, water, food, and climate programs and policies), capacity-building, and improved data on energy use and flows.
To facilitate identification of potential food-energy-climate solutions that can inform outcomes for the Summits and COP26, participants are invited to consider sustainable energy solutions in four major segments of the food chain with high greenhouse gas house emissions and socio-economic implications. The food chain covers plants and animals for human consumption, as well as livestock feed. The four segments constitute the four agenda items and are:
• Renewable energy for primary production. In addition to carbon savings, application of renewable energy for food production represents one of the most far-reaching opportunities for socio-economic gains given the billions of people who work in labor-intensive agriculture. Two of the most promising applications are:

• Greenhouses, vertical production, and aquaculture. Indoor food production and types of aquaculture have in some cases seen much higher yields per unit of energy consumed than "traditional" food production – and can be paired with renewable energy either directly (as part of the food production system, including agrivoltaics) or through a renewables-heavy power supply from a local provider. Solar and geothermal heat are among the most widely-available technologies
• Solar pumping for irrigation. Renewable energy – especially solar – is poised to enable more sustainable irrigation at scale, which can improve yields, reduce vulnerability to changing rainfall patterns, and enable multiple cropping practices, all combining to reduce poverty. Currently less than 10% of land in Africa and 40% in Asia is irrigated, representing huge potential. Yet in many countries, notably "Green Revolution" pioneers, irrigation is diesel-powered and often represents over 10% of total electricity and carbon footprints. Replacing these systems with solar and ensuring solar for future systems represent tremendous cost-saving and GHG avoidance opportunities.

• Renewables for food drying, storage, and agro-processing. In developing countries, roughly 40% of food loss occurs after harvest and early in the supply chain – mostly because of lack of processing, inadequate refrigeration, and unreliable and expensive energy supply. Renewables-based solutions offer a reliable way to tackle the energy dimension of food loss, enabling producers to both dry and store for food for greater yields and revenues – and at a cost lower than diesel. Similarly, much value-add is lost for foodproducing countries and communities because of insufficient or overly expensive energy for agro-processing. The lower cost profile of renewables- powered agro-processing enables higher socio-economic development closer to food production.
• Biofuels and electrification. Biofuels are among the promising levers for decarbonizing transport – including the ships, planes, and trucks that move and collect food – and are often used as power and other energy sources, but also sometimes require land that could be used for food production. Electrification is also a growing ambition, though its decarbonizing benefit depends on having renewables as the power source.
• Clean cooking. Food preparation is a pillar of food systems, yet some 2.8 billion people are without access to clean-cooking, down only marginally from 3 billion people in 2010. Indoor air pollution from traditional stoves paired with charcoal, coal, crop waste, dung, kerosene, and wood is estimated to contribute to millions of preventable illnesses and deaths per year, with disproportionate impacts on women and children. Access has improved in Asia, but Sub-Saharan Africa has moved in the opposite direction. Expansion of cooking with electricity, solar, and biogas stoves would accordingly have significant health and development impacts within food systems.