14 JAN 2017
ADSW and Festival at Masdar City Come to the Corniche
It's been a weekend of family fun on the Abu Dhabi Corniche, as Masdar and Abu Dhabi Municipality teamed up to bring ADSW and Festival at Masdar City to local residents. The past two nights, children have been treated to an activation, or sneak preview, of what's in store for the 20-21 January Festival at Masdar City. On the East Plaza, where Khallej Al Arabi and Corniche Steets meet, a large Masdar booth greeted guests who were strolling upon the Corniche.
Children can color and design t-shirts with sustainability messages; or have a smoothie, which they would mix themselves by peddling on a stationary bicycle; or assemble, and then race, a model solar-powered car while they learn the basics of renewable energy. Younger children also had a corner where they could color and draw images of solar panels and wind mills. "I'm so glad we came by during our walk this evening," said Nigel, a United Kingdom national who has lived with his family in Abu Dhabi for three years. "I've heard the adverts on radio and have seen some signs, but having this area right in the middle of the Corniche ended up making this an even nicer evening for us.
Now we definitely are keen come to Masdar City next weekend and explore the Festival." The activation at Masdar City has its final evening tomorrow, 14 January, from 4:00 p.m. to 10:00 p.m. Festival at Masdar City will occur Friday, 20 January, from 10:00 a.m. to 10:00 p.m., and Saturday, 21 January, from 10:00 a.m. to 8:00 p.m. Activities include a do-it-yourself crafts zone, arcades and carnival games, a bazaar selling foods and handicrafts, science experiments as well as arts and entertainment. We look forward to hosting you there!
Related News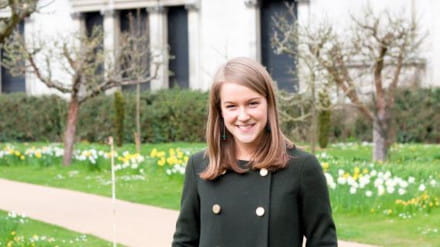 17 JAN 2017
If You Want to Understand its Mission Visit Masdar City
It's a brisk Abu Dhabi afternoon. We are greeted by Chris Chi Lon Wan, who is the Head of Design at Masdar City, and who has been instrumental in bringing this urban development project to life since its inception in 2006. His beaming smile and energetic, passionate manner quickly capture our full attention. As he walks with us around the city, we are increasingly immersed in an interactive tale about the future of urban life.
Here we are, standing in the middle of the inner courtyard of Siemens Middle East Headquarters, and we are introduced to the general idea behind the city, which is charmingly simple. It seeks to utilize passive design strategies and clean technology to optimize sustainability. The city has 6,700,000 square foot allotted for diverse industries and projects, including research and education center, shops, restaurants, community spaces, mosques and residential areas. The master plan designates the allocation of the buildings and businesses in a way that their development complements the goal of a pedestrian-friendly, ecological and comfortable urban environment.
Every element of Masdar City is held to the highest environmental standard and has to cut energy demand and water consumption by 40%, while also reducing embodied carbon by 30% compared to business as usual. Many architects and developers gasp and tell that it is impossible to achieve such standards, when they first hear about the requirements for executing a development project here, as Mr Wan tells us. However, the existing buildings tell a different story. The one we stand in front of, the Siemens building, has not only won 11 international awards, but also achieved a 63% saving of energy consumption and a 52% saving of water consumption when compared to a standard Abu Dhabi office building.
The city utilizes a plethora of strategies for achieving its environmental ambitions. For one, the entire city is oriented on a southeast-northwest axis, because for most of the time the air movement in this location moves from this direction and because such orientation provides shading at street level throughout the day. Moreover, the buildings are positioned exactly 9 meters from each other in order to maximize shade. They also have smartly designed façades for shading and cooling purposes. As a result, the temperature can be up to 15C degrees cooler in the city than elsewhere in Abu DHabi. This can mean a great difference in comfort, especially during Abu Dhabi's summer, when the air temperature is around 40-45C.
"The modern architecture movement was founded on the idea that form follows function. What I'm saying here is that we should take this idea one step further. What if we have buildings that follow the environment? The height, shape and shading devices in these buildings are a way of how we react to a given environment," Mr. Wan explains. He ardently believes that the future architecture will use the environment to drive the design. Different architectural typologies have been driven by historical-economic developments. With growing urban populations and environmental pressures, people need to do more in order to be more sustainable and cost-effective. This will eventually lead to a new typology in architecture. This idea also explains how Masdar City is transferrable, despite being so embedded in Abu Dhabi's geographic, climatic and cultural environment. In Mr. Wan's words, one must simply answer the question: "If you were to build in a way that complements the environment, what would you do?" He explains that this will certainly lead to different outcomes, but the approach for sustainable cities will be universal giving rise to a modern regional environmentally friendly typology. The core definition of this typology revolves around the three pillars of economic, environmental and social sustenance. Mr. Wan tells us that they have been able to achieve sustainability, comfort and social aims without spending extra money over what we would in a business-as-usual office construction process.
As we climb into the personal rapid transit (PRT) vehicles (I have to say, I find them exceedingly cute) about to leave the city, I feel hopeful and excited to see this nexus of the development of sustainable urbanism and clean technology to spread around the globe. And such a movement is critically important: The number of people who live in cities is projected to rise to nearly 6 billion by the year 2050, up from the current 3.5 billion people (which is around 50% of the world's population). Cities, concentrated urban environments, account for only 2% of the planet's landmass, but contribute 75% of its carbon emissions and are responsible for almost 80% of the world's energy consumption (U.N. Habitat Research). In the light of climate change and rapid urbanization, it is glaringly obvious that Masdar City is a crucial element of our ability to have a sustainable future.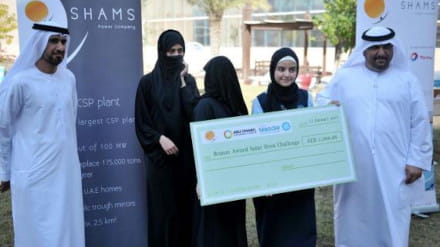 18 JAN 2017
SWEET TASTE OF SUCCESS! Three school teams from Al Gharbia win "Solar Oven Challenge"
The winning teams in a school contest to build an electric oven powered by solar energy received their trophies and cash prizes at Shams Solar Power Company in Madinat Zayed yesterday.
Sixteen schools from Al Gharbia in Abu Dhabi's Western Region challenged themselves over four weeks to create a safe, working oven powered only by the sun.
Grade 11 and 12 students competed in teams of four, with at least two of the team-members UAE nationals, and a budget of AED500.
The three winning schools who will be showing off their students' solar-powered cooking technology at The Festival at Masdar City on January 20-21 are: Qatr Al Nada school from Madinat Zayed came in the 1st and 3rd place with two different teams; Al Baya school from Sila came in the second place.
Shams Solar Power Company, operator of the Shams 1 solar power plant, organised the "Solar Oven Challenge" to mark this year's Abu Dhabi Sustainability Week, which takes place from January 12-21.
The winning team received a cheque for AED10,000. Second-place earned AED5,000 and the school in third received AED2,000. At least half of the winnings must go towards a school project.
To win the challenge, teams had to build an oven that could reach temperatures of between 150 and 200 degrees Celsius for at least one hour. They also had to be able to bake a dish for the judges to eat, and explain how their cash prize would be spent to help their class or school.
"We were amazed at the ingenuity of all the competing teams and extremely impressed that so many school teams took part," said Abdulaziz Al Obaidli, General Manager of Shams Power Company.
"The Solar Oven Challenge was a fun way to raise awareness of the potential of renewable energy. And there was serious message too, because millions of people around the world don't have access to reliable and affordable sources of cooking fuel. Solar-powered cooking technology if applied on a wide scale could transform the quality of life of countless people."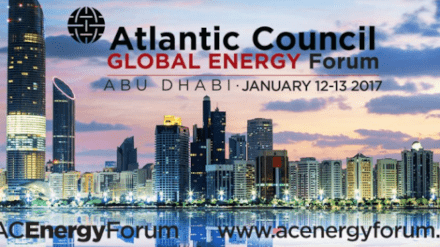 15 JAN 2017
Atlantic Councils Global Energy Forum Brings a Fast Start to ADSW 2017
For the first time, the Atlantic Council held its annual Global Energy Forum in Abu Dhabi. And quite frankly, there was no better place to discuss geo-economics, energy trends, the U.S. election and its affect on energy markets than this two-day forum that is wrapping up today in Abu Dhabi. At 10:00 a.m. yesterday, this event kicked-off the Abu Dhabi Sustainability Week (ADSW) 2017, the Middle East's largest sustainability gathering, which is hosted by Masdar.
Several high-level policy discussions included perspectives from H.E. Khalid Al-Falih, Saudi Arabia's Minister of Energy; H.E. Dr Sultan Al Jaber, UAE Minister of State and Chairman of Masdar; H.E. Suhail Al Mazrouei, UAE Minister of Energy; and former Utah governor Jon M. Huntsman, who is Chairman of the Atlantic Council - some of whom the staff at Masdar has had the pleasure to interact or work with. The meeting of this minds strengthens Abu Dhabi's reputation as a global energy hub.
Sure, this country has long been a leader in hydrocarbons; but over the last several years, the UAE has emerged as a major player within the world's renewable energy sector. Through projects including those funded by the Abu Dhabi Fund for Development and implemented by Masdar, some of the world's most remote nations have embarked on a path towards securing more secure and safer energy for their citizens. Meanwhile, more countries are investing in offshore wind and massive solar projects as they have become proven to become more efficient and cost effective in recent years. And all this is happening at a time when oil prices have been very low. But that could change at any time. As Fatih Birol, Executive Director of the International Agency told the Global Energy Forum audience, "We are entering a time of oil price volatility." Mr. Birol surmised that declining oil industry investment could actually lead to greater oil prices soon. In any event, more governments and businesses are making the decision to invest in renewables so that they can stabilize energy prices; and that in turn, these trends could only make these sources of energy more price-competitive in the long run. In sum, it was a dynamic gathering of leaders and professionals, with a diverse point of view, who attended this event on Abu Dhabi's Al Maryah Island.
And it was the perfect launch for ADSW 2017, where once again civil society, corporates and government leaders are exchanging ideas and making deals to advance the cause of clean energy and technology solutions.