17 JAN 2017
Masdar signs cooperation agreement with Qatar Electricity & Water Company and Nebras Power
Abu Dhabi, United Arab Emirates, January 17, 2017: Masdar, Abu Dhabi's renewable energy company, has signed a Cooperation Agreement with Qatar Electricity & Water Company (QEWC) and Nebras Power at Abu Dhabi Sustainability Week to develop renewable and sustainable energy projects.
The agreement was signed by His Excellency Fahd bin Hamad Al Mohannadi, General Manager and Managing Director of QWEC; Khalid Mohammed Jolo, CEO of Nebras Power and Mohamed Jameel Al Ramahi, CEO of Masdar. Also present were Abdul Sattar Mohammed Rasheed, Director of Business development at QEWC.
The agreement aims to strengthen mutual cooperation between Masdar, QEWC and Nebras in the development of commercially viable renewable energy projects in the UAE, Qatar, and international markets. It will also promote collaboration on research & development, education and raising awareness of the importance of sustainable development.
Mohamed Jameel Al Ramahi, CEO of Masdar, said: "Our cooperation agreement with QEWC and Nebras Power provides a valuable opportunity for collaboration and knowledge sharing among regional partners who share common goals. This will lead to closer ties, investment and value creation, and ultimately support the wider deployment of renewable energy."
Fahd Al Mohannadi, General Manager and Managing Director for QEWC, said: "This Agreement will make an important contribution to the evolution of Qatar Electricity and Water Company, which seeks to be a leader in the field of power generation and water desalination in the Middle East. It also supports sustainable development and energy diversification in the State of Qatar, which has set a solar power target of 1.8GW by 2020.
"Since its inception, QEWC has worked to meet Qatar's energy and water needs through the development of efficient electricity and desalination projects that utilise modern technologies in collaboration with key partners," he added. "These activities support the community and contribute to the development of Qatar's industrial and commercial sectors."
Khalid Mohammed Jolo, CEO of Nebras Power, said: "We hope this Agreement will further the aim of Nebras Power to invest in regional and international utilities markets. It will enable all three parties to exchange knowledge and experience and help them to expand their activities in renewable energy and sustainability.
"Through such partnerships, Nebras aims to consolidate its global position in the energy sector, especially in renewable energy, which is one of the most growth important areas for Nebras in line with the national vision of the State of Qatar. We support the vision of Qatar's leadership to compete globally and to excel in sustainable development, research and long-term investment."
Qatar Electricity & Water Company is one of the largest electricity and water desalination companies in the Middle East and North Africa. It's production capacity is 11,098MW for electricity and 535.5 MIGD for desalinated water.
Nebras Power is mandated is to invest in international power generation, water desalination, water treatment, cooling and heating projects. The company also invests in liquid natural gas (LNG) projects and power plant-related fuel loading and unloading facilities.
Nebras Power has a proven track record in developing projects based on the Independent Power Producers (IPP) model, and in financing, developing and operating projects around the world. The company also has long-standing partnerships with regional and international developers, investors and banks.
Masdar, Abu Dhabi's renewable energy company, is at the forefront of the development, commercialisation and deployment of clean technologies – as a link between today's fossil fuel economy and the energy economy of the future.
Masdar's clean energy division is a leading developer and owner of utility-scale, grid-connected projects; remote applications providing energy access to communities away from the electricity grid; and carbon abatement projects. Since 2006, Masdar has invested in renewable energy projects with a combined value of US$8.5 billion; Masdar's share of these projects is US$2.7 billion.
Masdar's renewable energy projects span the UAE, Jordan, Mauritania, Egypt, Morocco, the UK, Serbia and Spain. The electricity generating capacity of these projects, which are either fully developed or under development, is 2.7 gigawatts (GW) gross.
Related News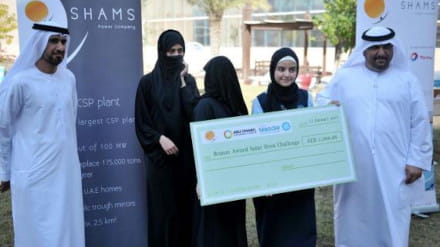 18 JAN 2017
SWEET TASTE OF SUCCESS! Three school teams from Al Gharbia win "Solar Oven Challenge"
The winning teams in a school contest to build an electric oven powered by solar energy received their trophies and cash prizes at Shams Solar Power Company in Madinat Zayed yesterday.
Sixteen schools from Al Gharbia in Abu Dhabi's Western Region challenged themselves over four weeks to create a safe, working oven powered only by the sun.
Grade 11 and 12 students competed in teams of four, with at least two of the team-members UAE nationals, and a budget of AED500.
The three winning schools who will be showing off their students' solar-powered cooking technology at The Festival at Masdar City on January 20-21 are: Qatr Al Nada school from Madinat Zayed came in the 1st and 3rd place with two different teams; Al Baya school from Sila came in the second place.
Shams Solar Power Company, operator of the Shams 1 solar power plant, organised the "Solar Oven Challenge" to mark this year's Abu Dhabi Sustainability Week, which takes place from January 12-21.
The winning team received a cheque for AED10,000. Second-place earned AED5,000 and the school in third received AED2,000. At least half of the winnings must go towards a school project.
To win the challenge, teams had to build an oven that could reach temperatures of between 150 and 200 degrees Celsius for at least one hour. They also had to be able to bake a dish for the judges to eat, and explain how their cash prize would be spent to help their class or school.
"We were amazed at the ingenuity of all the competing teams and extremely impressed that so many school teams took part," said Abdulaziz Al Obaidli, General Manager of Shams Power Company.
"The Solar Oven Challenge was a fun way to raise awareness of the potential of renewable energy. And there was serious message too, because millions of people around the world don't have access to reliable and affordable sources of cooking fuel. Solar-powered cooking technology if applied on a wide scale could transform the quality of life of countless people."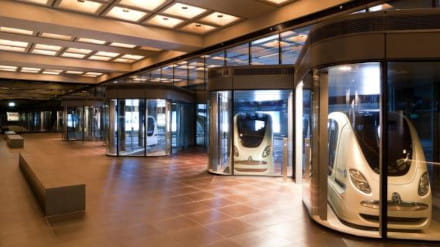 18 JAN 2017
Competition to design sustainable mobility solutions serving Masdar City launched at ADSW 2017
The city's iconic PRT system has carried more than 2 million passengers emissions-free since 2010
Next phase of Masdar City's complex urban mobility plan calls for a 100% electric and driverless system
Abu Dhabi, United Arab Emirates; January 14, 2017 – Masdar, Abu Dhabi's renewable energy company, is inviting selected industry specialists to develop the next phase of the driverless vehicle transit network serving Masdar City, Abu Dhabi's flagship sustainable urban development.
The competition was announced today during (ADSW), which runs from January 12-21. The competition is seeking viable mobility solutions that respect the economic, social and environmental pillars of sustainability on which Masdar City is based.
A Review and Advisory Committee of leading clean-tech companies and experts will help select the winning developer.
Emissions-free vehicular transport within Masdar City has, since November 2010, been provided by a pilot driverless Personal Rapid Transit (PRT) system which links the development's northern carpark with Masdar Institute (MI).
"We have been a pioneer for driverless vehicles since 2010 and the PRT system has become an iconic feature of Masdar City," said Yousef Baselaib, Executive Director of Masdar's Sustainable Real Estate division, the developer of Masdar City. "More importantly, in carrying more than 2 million passengers, it has generated an immense volume of data to guide the future development of driverless vehicle solutions, both within the city and in other urban settings."
He added: "We are now pleased to invite leading transport solution providers to help devise the future mobility roadmap for Masdar City, in line with the anticipated growth of the development over the coming years. This will enable us to benefit from the rapid evolution of driverless vehicles in recent years, while staying true to our vision for low-carbon mobility."
Formal entry and evaluation criteria for the competition will be announced by the end of February. The selected solution must be driverless, autonomous and emissions free. An ability to operate outdoors in the arid, desert climate of the Gulf is essential, and the winning entry must also follow Abu Dhabi safety regulations, integrate with Masdar City's pedestrian areas and with other types of vehicle transport. It will cover a 1-kilometre route linking Masdar Institute, the headquarters of the International Renewable Energy Agency (IRENA) and the recently announced My City Centre Masdar retail development.
"By introducing today's commercially viable sustainable transportation solutions, such as electric and hybrid vehicles, into Masdar City, we can demonstrate their capabilities and play an important role in driving their widespread adoption," added Baselaib.
According to IRENA, headquartered in Masdar City, transport accounts for around a third (30%) of total global energy consumption. Carbon emissions from transport have also increased 28 per cent since 2000, according to the International Energy Agency (IEA).
Meanwhile, the size of the global electric and hybrid vehicle market will account for 35% of global car sales by 2040, according to IEA estimates. This is 90 times more than the 2015 baseline.
The adoption of commercially viable sustainable transport solutions is a key focus of this year's ADSW. A variety of products and solutions will be on show within the Sustainable Transport Zone at the 10th World Future Energy Summit at Abu Dhabi National Exhibition Centre.
Further illustrating the importance of mobility solutions at ADSW, Takeshi Uchiyamada, Chairman of the Board of Directors of Toyota Motors Corporation, will deliver a keynote speech at Abu Dhabi Global Action Day on January 16.
Sustainable mobility is a core component of Masdar City's expansion. Besides pedestrian walkways and cycling paths, its master plan accommodates Light Rail Transit (LRT) and General Rapid Transit (GRT) systems. It also integrates with a metro service currently in the planning phase, linking Abu Dhabi International Airport with downtown Abu Dhabi.
A low-carbon urban development and economic free zone, Masdar City serves as a "greenprint" for cities of the future. It seamlessly blends traditional Arabic architecture with state-of-the-art technology to maximise energy and water efficiency. Masdar City will host 50,000 residents and a working population of 40,000 people by 2030.
18 JAN 2017
High level discussions on energy collaboration between UAE and Kingdom of Saudi Arabia hosted at Masdar City
Saudi delegation led by Energy Minister His Excellency Khalid Al-Falih
VIP guests participated in bilateral talks aimed at expanding energy knowledge-sharing during Abu Dhabi Sustainability Week 2017
His Excellency Khalid Al-Falih says Saudi Arabia will collaborate with UAE and leverage on their experience in optimizing potential of renewable energy in driving mutual sustainable development agenda
Abu Dhabi, United Arab Emirates; January 14, 2017 – A delegation of senior government and business leaders from the Kingdom of Saudi Arabia was yesterday given a tour of Masdar City, before taking part in high-level discussions aimed at supporting knowledge transfer and collaboration on energy programmes.
The delegation was led by His Excellency Khalid A. Al-Falih, Minister of Energy, Industry & Mineral Resources of Saudi Arabia and Chairman of Saudi Aramco.
The visit was a part of Abu Dhabi Sustainability Week, the Middle East's largest gathering focused on addressing the interconnected challenges of energy and water security, climate change and sustainable development.
The delegation was welcomed by HE Dr Sultan Ahmed Al Jaber, UAE Minister of State and Chairman of Masdar, and a number of Masdar's executives.
"On behalf of the Kingdom we appreciate your spirit of collaboration and your willingness to support the growth and development of new and critical industries," said HE Khalid A. Al-Falih.
"We are in Abu Dhabi because we have a great deal of admiration for the work this nation has done to deploy renewable energy and apply clean technologies. Through this dialogue, we will achieve mutual benefit in terms of process improvisation in together reaching the ultimate goal of positioning renewable energy prominently within the energy mix."
He added: "Saudi Arabia is incredibly close to launching its National Renewable Energy Program's first round of tendering, and believes this to be an ideal opportunity at the perfect time for the Kingdom to gain insights from UAE's renewable energy experiences."
HE Dr Al Jaber, UAE Minister of State and Chairman of Masdar, said: "The UAE and the Kingdom of Saudi Arabia have a deep-rooted and long-standing relationship built on collaboration and economic partnership. Among our many areas of common interest, we share the same ambitions for delivering a diversified energy mix that offers the most compelling commercial proposition for our economies. Today's meeting during Abu Dhabi Sustainability Week was a valuable opportunity for us to discuss our goals, exchange ideas and explore avenues of collaboration that will enable us to achieve our objective."
In a panel discussion the Saudi delegation outlined the Kingdom's clean energy roadmap as part of the Vision 2030, which includes installing a number of renewable energy projects.
The panel also heard a presentation on the UAE's recently-announced unified 2050 Energy Strategy.
Attracting more than 38,000 attendees representing 175 countries, including more than 80 government ministers, and 880 exhibiting companies from 40 countries, ADSW is the Middle East's largest gathering focused on addressing the interconnected challenges of energy and water security, climate change and sustainable development.