Top 10 Facts about the Amazon
Need to Know: Top 10 Facts about the Amazon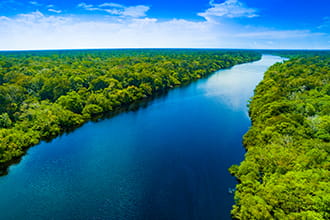 At 5.5 million square kilometres, the Amazon is the biggest tropical rainforest in the world.
It is located on the north side of South America and is shared by nine countries: Brazil, Bolivia, Ecuador, Peru, Colombia, Venezuela, Suriname, French Guiana and Guiana.
More than 200 indigenous groups live in the Amazon; about 50 of those communities have never made contact with the outside world.
The Amazon River is 6,400km long, making it the second-longest river in the world and the largest by volume.
Climate-change scientists have warned that a three-degree rise in temperature will destroy 75 percent of the Amazon rainforest within 100 years.
The current fires raging through the Amazon rainforest in Brazil have reached record levels, with NASA saying they are the highest in any year since 2010.
According to experts, the Amazon is depleting at a rate of 1.5 acres every second because of deforestation for cattle grazing and crop production.
The Amazon is home to more than 16,000 different species of trees, 2.5 million insect species, 1,300 bird species, 427 mammals, 430 amphibian species and 380 reptile species.
Known as the "lungs of the planet", the Amazon is like a giant air machine; it draws in and recycles carbon dioxide into oxygen before releasing it into the air.
More than 80 per cent of the types of food the world consumes originated in the Amazon, including avocados, coconuts, vegetables and spices.