08 AUG 2022
Focus on technology to solve "energy trilemma" GE's Habayeb tells ADSW Talks
Greater technological innovation is required to solve the "energy trilemma," Nabil Habayeb, GE Senior Vice President and President & CEO of GE International Markets, said in the latest edition of ADSW Talks.
The "energy trilemma" is the term coined by the World Energy Council referring to the need to ensure that energy is affordable, secure, and sustainable. "I'm committed to the sustainability effort and to making a difference around the energy trilemma," Habayeb said. "The energy trilemma is about three parts. It's about affordability, reliability, and sustainability. There are millions and millions of people that have no access to electricity, let alone affordable electricity, and let alone making it sustainable. Those three elements have to come together."
Addressing that challenge, as well as others, requires technological innovation. "[What is really] important is the focus on technology, building upon the existing technologies to reduce emissions, for the purpose of reliability, affordability, and sustainability of energy in the future, but also investment into new technology -- renewable, nuclear, grid, and digital. I think this is where it all comes together," he explained.
When asked how GE was supporting the global climate change agenda, Habayeb shared details on the company's sustainable aviation fuel projects and added: "GE has made a commitment that by 2030 we will be net zero in our operations and by 2050 we have the ambition to achieve net zero in scope 3 with our products that we provide our customers. GE also made a commitment last year to exit new coal plants and to focus more on improving the emissions from gas turbines and combined cycle applications."
In climate change mitigation, scope 1 refers to direct emissions from a company's owned or controlled sources, scope 2 refers to indirect emissions from the company's purchased electricity, steam, heating and cooling, and scope 3 is all other indirect emissions that occur in a company's value chain.
The GE leader explained that another important way to accelerate climate action is through meaningful dialogue and collaboration, which is being facilitated through events like the Abu Dhabi Sustainability Week (ADSW). "ADSW is a great forum... We feel it is important because it brings the different stakeholders that can really make a difference together, with diverse and different ideas, thoughts, debates, commitments, and this is what the world needs. We need the decision-makers in the countries, the technology providers, the experts, the suppliers, we need everyone to come together toward a common goal," Habayeb revealed.
Related News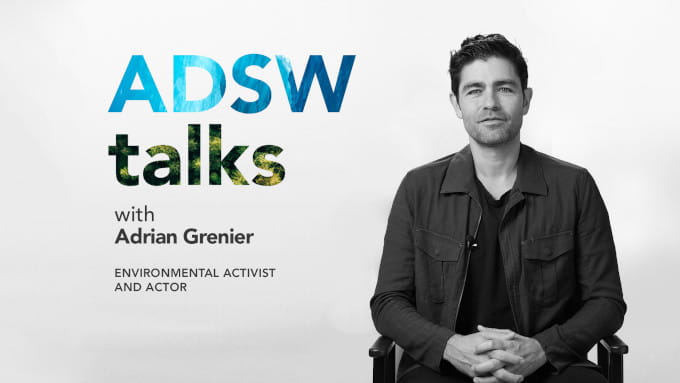 30 JAN 2023
COP28 will be stage for 'big deals,' actor and conservationist says on ADSW Talks
Hollywood actor and environmental activist Adrian Grenier believes the COP28 climate change conference, to be held in the UAE later this year, will go down in history for securing 'big deals.'
"I'm excited about the Emirates Climate Conference, COP28. I find it's going to be a very promising COP. "I think it will go down in history," Grenier - who starred in 'Entourage' and 'The Devil Wears Prada' - said on the latest edition of ADSW Talks. The former United Nations Goodwill Ambassador shared his views while attending Abu Dhabi Sustainability Week in the UAE capital this January.
Grenier, who is also Chief Earth Advocate for space tourism firm World View, added that he believed the right leadership and vision were in place to achieve results at COP28.
"The stage is set for countries around the world to come together and really make some big deals," he said. "Based on my experience here, so far, it feels like there is the right vision and the right leadership to set the stage."
The actor also said that he was beginning to hear different people using "similar rhetoric" at ADSW 2023, which indicates a growing willingness to work toward the same goal.
"So, I'm very much encouraged," he said. "People are starting to talk in the same direction. So, it's now just a matter of how to start implementing the programs and putting the money in the right place, so that we can make the changes that we as a collective, united planet want to see."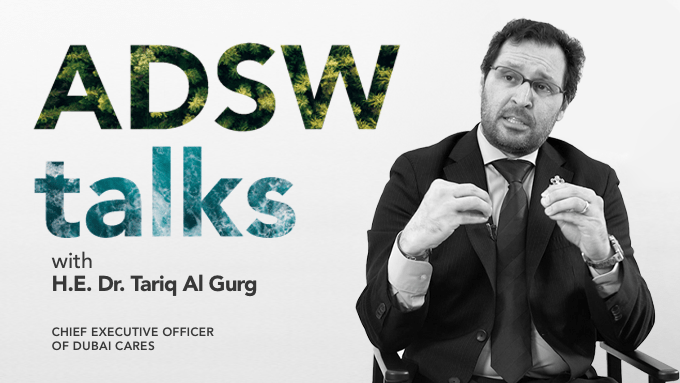 12 JAN 2023
Education - key to tackling climate change, HE Dr Tariq Al Gurg, CEO of Dubai Cares tells ADSW Talks
Climate change is a largely man-made problem, and can be solved through education, HE Dr Tariq Al Gurg, CEO of Dubai Cares, said on the latest edition of ADSW Talks. Education is a "core pillar" running through strategies to tackle climate change, he said, and education programs should have climate change lessons "embedded" within them.
"Climate issues are man-made, the majority of them," said Dr Al Gurg. "And if problems are man-made, then solutions can be man-made too. With the right education, we can make that happen. And vice versa, education, and the future of our children, and the prosperity of humanity cannot happen without having a clean planet and without saving the Earth."
Dr Al Gurg said he hoped future generations would look back at our efforts to tackle climate change with pride. "I always dream that in the future, children will look back at us and say that we were the generation that actually changed education (in order) to secure a better and more prosperous, sustainable future," he said.
Dubai Cares was founded in 2007 under the patronage of HH Mohammed bin Rashid Al Maktoum, Vice President and Prime Minister of the UAE and Ruler of Dubai. The philanthropic organization focuses on education and the UN Sustainable Development Goals. It connects its large network of allies together to secure maximum benefits for children, said Dr Al Gurg.
"It's only via partnerships that we can achieve the goal that has been set for us, which is global education," he said. "We have a very big voice in the education sector, globally. And we have a connection with climate through our other networks. So, we decided to play that convening role."
He added that connecting different organizations allows them to share knowledge about best practice. As a result, they can design education programs that deliver the best results for children around the world.
Dr Al Gurg said Abu Dhabi Sustainability Week also plays a crucial role in connecting important agencies. "The beauty of Abu Dhabi sustainability week is that it's about sustainability," he said. "Education is about sustainability; the climate is about sustainability and health is about sustainability. So, these long-term goals need a platform that connects them together. Because these goals cannot work in isolation."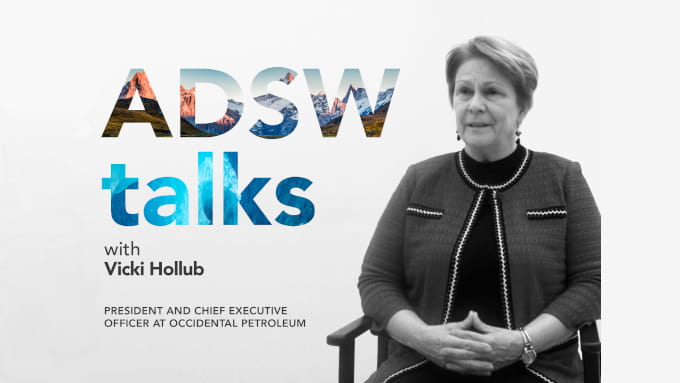 14 DEC 2022
"Don't leave people behind" in global warming fight, US oil chief tells ADSW Talks
Measures to tackle global warming should not "leave people behind" – and the oil & gas industry needs to play a role, the first woman to head a major American oil company told ADSW Talks.
"While we have to eliminate as much as we can of global warming – and the CO2 emissions that cause that – we also have to remember, that we have to do it in a way, that we don't leave people behind, that people aren't unnecessarily damaged as a result," Vicki Hollub, President and CEO of Occidental Petroleum (OXY), said in her edition of ADSW talks.
She added that the oil & gas industry, with its vast experience in logistics, could play a key role in the energy transition.
"That's the part we think we can play in the climate transition, because that's going to require a lot of building of equipment, a lot of logistics, a lot of planning," she said. "And that's what we are really good at."
Climate change can only be tackled successfully if all countries and corporations work together, she added. That's what makes events such as Abu Dhabi Sustainability Week so critical.
"Without venues like this, we can't get it done," she said. "Because it's going to require us all working towards the same goal."
Ms. Hollub added that OXY's net zero plans include carbon capture, sequestration and eliminating methane emission from all operations.