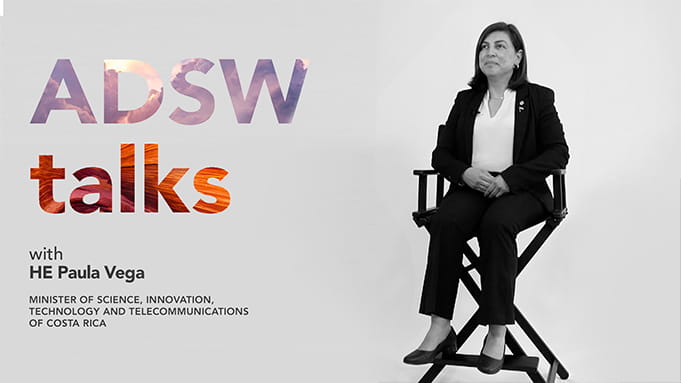 Featured
18 MAY 2022
Decarbonizing Transportation is Key Sustainability Challenge, Costa Rican Minister tells ADSW Talks
In Masdar's most recent episode of ADSW Talks, a recurring video series in which influential global sustainability figures share their perspectives, Her Excellency Paola Vega Castillo, Costa Rican Minister of Science, Technology, and Telecommunications, said transportation is one of the biggest issues facing Costa Rica in its decarbonization journey.
Like the UAE, Costa Rica is already considered a global sustainability leader, named the second-most sustainable country in the world by the World Energy Council in 2017, and 'UN Champion of the Earth' in 2019.
Today, "about 98 percent of the energy we produce comes from renewable resources," HE Castillo said. "The problem is that, when it comes to transportation, we have strong carbon emissions that we want to decrease. That's why decarbonization is very important for us as a country."
Last November, Costa Rica joined the UAE in adopting its own plan to achieve net-zero carbon emissions by 2050. To do that, the Central American nation has prioritized "strong progress" in electrified transportation by the end of the decade to both dramatically reduce its carbon footprint and support the United Nations' Sustainable Development Goals.
Innovation will remain critical, HE Castillo said: "By means of innovation, we must find ways to be more effective in terms of productive, in terms of consumption, and also think about the new product and services that will help us face our current challenges without taking from nature what is not necessary to take from it."
In addition, HE Castillo emphasized the importance of global initiatives like Abu Dhabi Sustainability Week, which "are very important in order to, on the one hand, raise awareness of the consequences of our way of living, and also to provide these opportunities for networking—because we need all the knowledge and talent worldwide."
Featured
11 APR 2022
ADSW Talks: Advancing Argentina's sustainability agenda
Argentina, which recently committed to a 2050 Net Zero target, has been implementing new regulatory frameworks and laws to advance the electrification of its mobility sector, expand electricity interconnectors, and ensure that environmental education is part of the curriculum across schools in the country.
In the latest edition of ADSW Talks, HE Santiago Cafiero, Minister of Foreign Affairs for the Argentine Republic, shares insight into how the second-largest country in South America is modifying regulation to advance its sustainability agenda.

The ADSW Talks series hosts influential figures from across the sustainability sector to share their perspectives on the most pressing sustainability challenges facing the world and the collective willpower and solutions needed to build a more sustainable future for all.