22 JUL 2017
Eco-Villa prototype opens its doors at Masdar City
UAE national family to move into the property in April 2017
Masdar to monitor building's energy, water and waste performance
Abu Dhabi, United Arab Emirates, January 19, 2017 – Masdar City's Eco-Villa , a pilot project incorporating water and energy-saving technologies, has been completed and a UAE national family will soon live in the prototype sustainable dwelling, it was announced today at Abu Dhabi Sustainability Week 2017.
The Eco-Villa was launched in the presence of His Highness Sheikh Dhiyab bin Mohamed bin Zayed Al Nahyan; His Excellency Suhail Mohammed Al Mazrouei, UAE Minister of Energy; His Excellency Dr Sultan Ahmed Al Jaber, Minister of State and Chairman of Masdar; His Excellency Sheikh Abdullah bin Mohammed Al Hamed, Head of the Energy Council and Member of Abu Dhabi's Executive Council; and Mohamed Jameel Al Ramahi, Chief Executive Officer of Masdar, Abu Dhabi's renewable energy company.
The 405 square-metre Eco-Villa is the first villa to achieve a 4 Pearl rating according to the Abu Dhabi Urban Planning Council's Estidama Pearl Building Rating System. It will use around 72 per cent less energy and 35 per cent less water than a typical comparably sized villa in Abu Dhabi, displacing an estimated 63 tonnes of carbon dioxide annually.
The cost of construction is similar to that of a conventional home of the same size; its energy and water efficiency will also reduce running costs substantially. The four-bedroom property is expected to consume just 97 kilowatt hours (kWh) of electricity per square metre.
Fully equipped with 87 rooftop solar panels, the prototype is capable of supplying as much as 40,000 kWh of electricity to the national grid. A suite of passive energy and water-saving design features further reduce its impact on the environment.
"People expect a sustainable design option to be more expensive, but our Eco-Villa concept challenges this misconception," said Yousef Baselaib, Executive Director of Sustainable Real Estate at Masdar.
"The Eco-Villa stays true to Masdar City's principles of sustainable urban development in that it is cost-efficient, environmentally sensitive and culturally appropriate in both its design and function. Because of its energy and water-efficient design, residents of the Eco-Villa will receive significantly reduced power and water bills."
Related News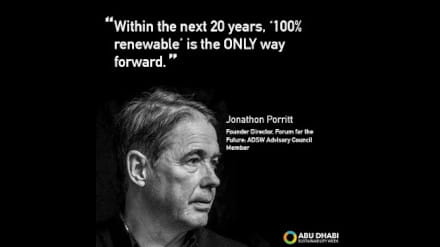 10 AUG 2017
Viewpoint from Jonathon Porritt, ADSW Advisory Council
Is 100% renewable energy the best way forward?
We asked our ADSW Advisory Council members, and here is what Jonathon Porritt, Founder and Director, Forum for the Future, had to say:
"Within the next 20 years, '100% renewable' is the ONLY way forward. And this is the most exciting revolution unfolding in the world today!"
We look forward to carrying on the debate at #ADSW2018 in January.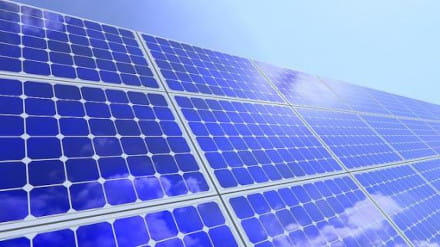 10 AUG 2017
JP Morgan goes green and other trending stories of the week
We look at the UK's plans to ban diesel and petrol cars by 2040, JP Morgan going green, the world's first floating wind farm and Google's salt play.
Here are some of the top trending energy stories from the past week:
The latest country to announce fuel ban plans: UK
The UK government announced plans to ban new diesel and petrol cars by 2040:
https://www.theverge.com/2017/7/26/16031214/uk-diesel-petrol-car-ban-clean-air
The world's largest clean financing commitment from a global financial institution was announced
@jpmorgan announced plans to facilitate US$200 billion in clean financing through 2025. They are also aiming to have renewable energy provide 100% of their global energy needs by 2020: https://www.jpmorganchase.com/corporate/Corporate-Responsibility/environment.htm
The world's first floating wind farm set sail for its destination off the coast of Scotland
The joint project between @Statoil and @Masdar is a revolutionary technology that will allow for wind turbines to operate in deep waters where conventional turbines cannot:
https://www.bbc.com/news/business-40699979
Salt storage is heating up
Bloomberg reported that Google's famed X skunk works team is evaluating grid-scale energy storage via salt technology
We look forward to convening discussions on these topics and more at ADSW2018 in January.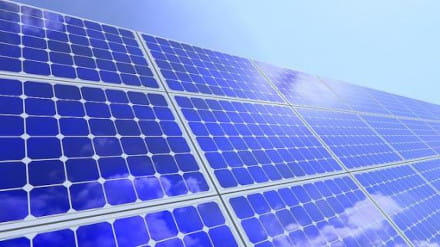 31 JUL 2017
Financing big energy and other trending stories of the week
Here are some of the top trending energy stories from the past week:
Siemens Financial Services CEO, R. Chalons-Browne talks big energy finance:
The East vs. West renewables race – who's winning? According to CNN, it's China by a lot:
Africa is unplugging, with off-grid solar leading the way:
Africa is a continent that, more than any other, is rich in sunshine. Off-grid solar can help fill the grid's gaps st/2u4Ualw
VIDEO: The surprising state where solar energy is flourishing:
From rooftop solar to…everything. Check out SunRun via GreenTechMedia:
We look forward to convening discussions on these topics and more at ADSW2018 in January.