19 JAN 2017
Lessons from So Paulo on integrating sustainability and economic growth
João Carlos de Souza Meirelles, Secretary for Energy and Mining to the State Government of São Paulo, Brazil
The Brazilian energy matrix is predominantly renewable due to the major participation of hydropower in electricity supply and the importance of ethanol as an alternative fuel to gasoline for light engines. In the state of São Paulo, besides biofuel production, sugar cane biomass has a meaningful role in electricity cogeneration dispatched to the national grid. The share of renewable sources in the state's energy matrix –hydropower included – in 2015 was roughly 58% while the national figure was about 41.8%.
At this month's Abu Dhabi Sustainability Week, I will be sharing the many lessons we have learnt in São Paulo and my country as a whole as we move towards a low-carbon economy.
From 1970 to 2014, the national power capacity increased from 11 gigawatts (GW) to 133.9GW, with a growth rate of 5.8% per annum, higher than the GDP growth rate of 3.8% pa[1]. The participation of hydropower prevailed, ranging from 87.4% in 1996 to 67% in 2014. Nuclear generation began in 1985 and wind generation in 1992. Hydro began to retreat from 1999. The São Paulo state's participation in national hydropower supply, besides that of Minas Gerais state, underpinned the national industrialisation process from the 1950's to the 1970's.
While the state's relative participation in national hydropower decreased, its participation in biomass generation and biofuels – basically ethanol – dramatically increased. The total capacity of electricity generation in São Paulo (2016) is approximately 22.7GW, corresponding to about 15.2% of the 149.7GW national capacity. For hydropower, the São Paulo state's capacity is roughly 14.5GW or 15.9% of the 91.5GW nationally available. For biomass co-generation, the present capacity in São Paulo is 5.8GW, or 41.1% of the 14.1GW national capacity.
For biofuels – essentially ethanol – São Paulo produced around 6.4Mm3 of anhydrous and 8.15Mm3 of hydrated ethanol in 2015, against approximately 11.3Mm3 and 19Mm3 nationally. A trade-off between sugar and ethanol must be considered in the short term, since ethanol production tends to decrease when the world sugar market overheats, especially when prices of fossil fuels are low.
In 2009 the State of São Paulo passed its Policy on Climate Change law, and in 2011, the first version of the São Paulo Energy Plan to 2020. This plan has targeted renewable sources to reach 69% of the energy mix by 2020. The set targets have since been revised, since in the context of an economic recession, the higher marginal costs of renewable supplies imply lower growth in their relative participation in the energetic mix.
While investment in the expansion of hydropower used to be mostly state-based, thanks to state-owned companies such as CESP in São Paulo, investment in biomass cogeneration and biofuel production, as well as in other renewable sources, is mostly private.
New challenges for expanding renewable sources involve not only the direct investment in generation but also the connections to the regional and national grid. Renewable electricity is not economically competitive at the moment with conventional sources. Widespread distributed generation then emerges as a valid alternative, since the extra costs are compensated by direct supply beyond the grid.
The São Paulo State policy on energy combines different approaches to promote direct private investment in renewable sources and the expansion of power supply from natural gas – to help realise a greater share of renewable energy in the energy matrix as a whole.
With regard to regulation, the main challenge has been to integrate state strategies with the national regulatory systems of electricity and oil & gas and, more generally, the regulated branches of networked services with environmental regulation.
Related News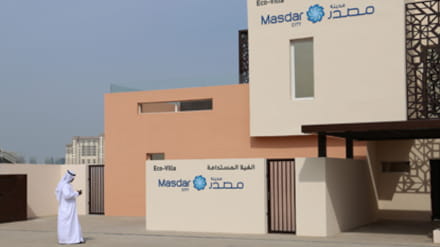 22 JUL 2017
Eco-Villa prototype opens its doors at Masdar City
UAE national family to move into the property in April 2017
Masdar to monitor building's energy, water and waste performance
Abu Dhabi, United Arab Emirates, January 19, 2017 – Masdar City's Eco-Villa , a pilot project incorporating water and energy-saving technologies, has been completed and a UAE national family will soon live in the prototype sustainable dwelling, it was announced today at Abu Dhabi Sustainability Week 2017.
The Eco-Villa was launched in the presence of His Highness Sheikh Dhiyab bin Mohamed bin Zayed Al Nahyan; His Excellency Suhail Mohammed Al Mazrouei, UAE Minister of Energy; His Excellency Dr Sultan Ahmed Al Jaber, Minister of State and Chairman of Masdar; His Excellency Sheikh Abdullah bin Mohammed Al Hamed, Head of the Energy Council and Member of Abu Dhabi's Executive Council; and Mohamed Jameel Al Ramahi, Chief Executive Officer of Masdar, Abu Dhabi's renewable energy company.
The 405 square-metre Eco-Villa is the first villa to achieve a 4 Pearl rating according to the Abu Dhabi Urban Planning Council's Estidama Pearl Building Rating System. It will use around 72 per cent less energy and 35 per cent less water than a typical comparably sized villa in Abu Dhabi, displacing an estimated 63 tonnes of carbon dioxide annually.
The cost of construction is similar to that of a conventional home of the same size; its energy and water efficiency will also reduce running costs substantially. The four-bedroom property is expected to consume just 97 kilowatt hours (kWh) of electricity per square metre.
Fully equipped with 87 rooftop solar panels, the prototype is capable of supplying as much as 40,000 kWh of electricity to the national grid. A suite of passive energy and water-saving design features further reduce its impact on the environment.
"People expect a sustainable design option to be more expensive, but our Eco-Villa concept challenges this misconception," said Yousef Baselaib, Executive Director of Sustainable Real Estate at Masdar.
"The Eco-Villa stays true to Masdar City's principles of sustainable urban development in that it is cost-efficient, environmentally sensitive and culturally appropriate in both its design and function. Because of its energy and water-efficient design, residents of the Eco-Villa will receive significantly reduced power and water bills."
22 JUL 2017
Abu Dhabi Sustainability Week 2017 delivers on promise to provide practical steps towards a sustainable future
THE FUTURE SUSTAINABILITY SUMMIT 2019-ADSW2019
Abu Dhabi, January 22, 2017: Abu Dhabi Sustainability Week (ADSW) 2017, hosted by Masdar, Abu Dhabi's renewable energy company, came to a successful conclusion on 21 January after further building on its reputation as a significant platform for international dialogue, cooperation and action among governments and businesses.
This year's edition, which ran under the theme "practical steps towards a sustainable future", was the first global gathering dedicated to sustainability since the COP22 climate change conference in Marrakesh, Morocco, last November. It was appropriate, therefore, that ADSW 2017 began by bringing together government officials and policy makers at two key events: the Atlantic Council Global Energy Forum on 12-13 January, held in partnership with the UAE Ministry of Energy and ADNOC; and the fifth General Assembly of the International Renewable Energy Agency on 14-15 January.
The Opening Ceremony for ADSW, on 16 January, was attended by His Highness Sheikh Mohammed bin Zayed Al Nahyan, Crown Prince of Abu Dhabi and Deputy Supreme Commander of the United Arab Emirates Armed Forces. Six heads of state, from Kazakhstan, Montenegro, Costa Rica, Paraguay, Seychelles and Nepal joined the event, as well as former presidents of Iceland and Mexico.
ADSW 2017 also welcomed 73 government ministers and 4,080 senior executives – an increase of 12% compared to 2016 – from 125 countries. International pavilions were hosted from 20 different countries, representing an 11% increase on last year, and initial indications show that the total number of attendees was consistent with pre-show estimates of around 38,000 visitors from 175 countries.
During the week, 15 global events were held including five exhibitions; three conferences; two country focused events; three leadership events; and two policy events. Business meetings were up by more than 60% year on year, totaling 8,600, showing that Abu Dhabi Sustainability Week is now truly established as a global platform where commercial agreements are made.
The ninth edition of the Awards Ceremony for the Zayed Future Energy Prize also took place, honouring the achievements of winners from across the world for their leadership in renewable energy and sustainability. Once again, this important event attracted significant media attention, with around 1,200 local and international print and online articles, while reaching more than 2 million Twitter users and 50,000 Facebook users.
The World Future Energy Summit (WFES), the anchor event of ADSW, celebrated its 10th edition this year from 17-19 January. This took place alongside the fifth International Water Summit and the fourth EcoWASTE exhibition.
For the first time, ADSW welcomed a major delegation from the Kingdom of Saudi Arabia, which was designated as a WFES Country Partner. The Saudi delegation was led by His Excellency Khalid A. Al-Falih, Minister of Energy, Industry & Mineral Resources of Saudi Arabia and Chairman of Saudi Aramco, who used the platform of ADSW to announce plans to invest up to $50 billion (Dh183.50 billion) in renewable projects by 2023 to generate 9.5 gigawatts, mainly from wind and solar plants.
The Saudi delegation's 700 industry professionals, which included 405 chief executives, held more than 2,000 meetings with ADSW participants during the week. In addition, 14 workshops and business round tables were organised, while more than 100 investors and developers from five countries took part in a private investment meeting hosted by officials from the Kingdom.
In addition to Saudi Arabia, the other WFES Country Partner was India, whose senior-level delegation was led by Shri Piyush Goyal, the Minister of State for Power, Coal, New & Renewable Energy and Mines. India's clean energy plans make it one of the world's most exciting markets for developers; its delegation provided details about the country's target to have an installed capacity of 100GW of solar energy, 60GW of wind, plus 15GW from other renewables by 2022. In addition, high level meetings were held with Masdar and Dubai Water and Electricity Authority (DEWA).
As host of ADSW, Masdar used the occasion to announce a series of key business milestones on the sidelines of the event. These included: the purchase of a 25% stake in Hywind, an innovative floating offshore wind project in Scotland, from Norwegian oil and gas company Statoil; a 300,000-tonne waste-to-energy plant in Sharjah with environmental management company Bee'ah; a solar power project in the Seychelles; and an industry competition to devise new sustainable mobility solutions to serve Masdar City.
Together with DEWA, Masdar also announced the ground-breaking of Phase 3 of the Mohammed Bin Rashid Al Maktoum Solar Park. The company signed a co-operation agreement with Qatar Electricity and Water Company and Nebras Power to develop renewable and sustainable energy projects, and announced the appointment of International Finance Corporation (IFC) to oversee the funding of Jordan's largest solar photovoltaic (PV) project. And on Thursday 19 January, Masdar unveiled its new Eco-Villa prototype at Masdar City – an energy and water-saving residential property that will set a new benchmark for sustainable real estate in the UAE and beyond.
ADSW also took the sustainability message into the community, staging the youth-themed "Student Exclusive" to more than 600 young people from across the UAE, and the Women in Sustainability, Environment & Renewable Energy (WiSER) conference – both events were being held for the second consecutive year. To round off a very busy and successful week, the Festival at Masdar City offered fun, food and live entertainment for all the family.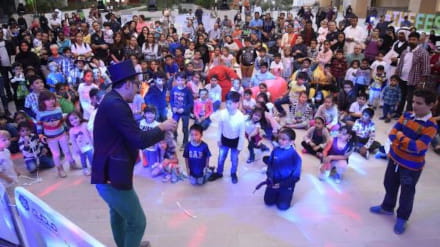 21 JAN 2017
The Festival at Masdar City takes sustainability into the community for fourth straight year
Abu Dhabi, UAE; January 21, 2017 – The Festival at Masdar City attracted its biggest crowds ever as this year's Abu Dhabi Sustainability Week drew to a successful close this weekend.
Visitors enjoyed a fun-packed weekend of family-themed games, activities and live entertainment, as well as stalls selling arts, handicrafts and souvenirs, and delicious food and treats.
A sustainability message ran through all the attractions, and this year's Festival also celebrated 2017 as the UAE's "Year of Giving".
Launched in 2014, the Festival at Masdar City promotes community awareness of sustainability and the adoption of more sustainable behaviour.
This year's event also marked the launch of Masdar Park, an outdoor dining destination with outlets housed inside recycled shipping containers powered by solar panels. Open until April, the Park features a recycled musical instrument wall and a bicycle-powered cinema – it is also the starting point for a new 2.6km-long cycle and running track.
Activities at The Festival this year were divided into 10 different zones reflecting the 10th anniversary of Masdar in 2016 (and the 10th world future energy summit).
"It was a pleasure to see so many UAE residents join us for the fourth Festival at Masdar City; without doubt, it was the biggest yet," said Dr Nawal Al Hosany, Executive Director for Sustainability & Brand at Masdar, Abu Dhabi's renewable energy company.
"Each year the Festival proves that sustainability can be fun, and that it is easy to incorporate into our everyday lives," she added. "Masdar City is the ideal venue to take the sustainability message into the community. And with the Masdar Park now up and running, we hope to welcome even more visitors to Masdar City in the months ahead."
The Festival marks the end of Abu Dhabi Sustainability Week 2017. This year's event featured the Atlantic Council Global Energy Forum, the seventh General Assembly of the International Renewable Energy Agency (IRENA) the ninth Zayed Future Energy Prize and the tenth World Future Energy Summit. A global platform for renewable energy policy and business, ADSW 2017 saw a 35% increase in exhibitors and a 19% rise in attendees compared to last year.