24 JAN 2022
Abu Dhabi Sustainability Week 2022 delivers global commitment to accelerate climate action as countdown to COP27 & COP28 begins
• ADSW opening ceremony – held as part of Expo 2020 Dubai – attended by His Highness Sheikh Mohammed bin Rashid Al Maktoum, Vice President, Prime Minister and Ruler of Dubai; HE Moon Jae-in, President of the Republic of Korea; HE Armen Sarkissian, President of the Republic of Armenia; HE Hussein Ali Mwinyi, President of Zanzibar; HE Wavel Ramkalawan, President of the Republic of Seychelles; and HE Ibrahim Mohamed Solih, President of the Republic of Maldives
• Throughout the week, ADSW hosted 30,000 participants from 150 countries, including eight country Presidents and Prime Ministers, over 50 government ministers and more than 600 global speakers
• Over 300 international exhibiting companies; with country pavilions from China, India, Japan, South Korea, Germany, France, Italy, Netherlands, Austria, Switzerland, Nigeria, and more
Abu Dhabi Sustainability Week (ADSW), the global platform for accelerating sustainable development hosted by Masdar, has successfully concluded with a resounding commitment to accelerate climate action and net-zero efforts.
As the first major sustainability event following the COP26 climate conference, ADSW 2022 brought together the global community, with participants including country presidents and prime ministers, policy makers, industry specialists, technology pioneers and young sustainability leaders.
Setting the tone for the year ahead, ADSW hosted a special COP session at the ADSW Summit, featuring: HE Dr. Sultan bin Ahmed Al Jaber, Minister of Industry and Advanced Technology, UAE Special Envoy for Climate Change and Chairman of Masdar; HE Sameh Shoukry, Minister of Foreign Affairs for Egypt and President Designate COP27; and Rt. Hon. Alok Sharma MP, COP26 President. During the session, the leaders discussed their ambitions to use these critical editions of COP to drive the global sustainability agenda forward by translating policies, strategies, and plans into real tangible results, and scaling up viable solutions around the world.
The ADSW speaker program featured more than 600 global leaders and decision-makers, including: HE Iván Duqe Márguez, President of the Republic of Colombia; HE Halimah Yacob, President of the Republic of Singapore; HE Mark Rutte, Prime Minister of The Netherlands; HE Armen Sarkissian, the President of Armenia; HH Sheikh Nasser Bin Hamad Al Khalifa, Representative of His Majesty the King for Humanitarian Works and Youth Affairs of Kingdom of Bahrain, President, Bahrain Olympic Committee; António Guterres, Secretary-General of the United Nations; John Kerry, U.S. Special Presidential Envoy for Climate; Dr Tedros Adhanom Ghebreyesus, Director-General of the World Health Organization; H.E. Khaldoon Khalifa Al Mubarak, Managing Director and Group CEO, Mubadala Investment Company; HE Ban Ki-moon, President of the Assembly and Chair of the Council of the Global Green Growth Institute, Eighth Secretary-General of the United Nations; and HE Mariam bint Mohammed Saeed Hareb Al Mheiri, UAE Minister of Climate Change and Environment.
Throughout the week – which acted as a countdown to COP27 in Egypt and COP28 in the UAE – ADSW hosted 30,000 participants from 150 countries, including eight country Presidents and Prime Ministers, and 50 government ministers.
For more than a decade, ADSW has provided a sustainable platform for the global community that has grown through its initiatives and events to emerge as a thought leader and catalyst for sustainability. The week is aligned with the 'Principles of the 50', which charts the strategic roadmap for the UAE's new era of economic, political and social growth.
The opening ceremony of ADSW, which took place at Expo 2020 Dubai – was attended by His Highness Sheikh Mohammed bin Rashid Al Maktoum, Vice President, Prime Minister and Ruler of Dubai, with the keynote speech delivered by His Excellency Moon Jae-in, President of the Republic of Korea. During his opening speech, HE Dr. Sultan bin Ahmed Al Jaber highlighted Masdar's goal of delivering 100 gigawatts (GW) of clean energy projects around the world.
During the ceremony, the 10 winners of the Zayed Sustainability Prize were announced, recognizing sustainability pioneers from around the world. The Prize winners across its five categories included: Mamotest from Argentina (health), S4S Technologies from India (food), SOLshare from Bangladesh (energy) and Wateroam from Singapore (water). In the final category of global high schools, there were six winners from different regions across the world – with each school securing up to US$100,000 to start or further expand their project.
Other major events taking place at ADSW included the IRENA Assembly, the supreme decision-making body of the International Renewable Energy Agency, which took place virtually under the pertinent theme of 'Energy Transition: From Commitments to Action.' IRENA, which is headquartered in Abu Dhabi and has more than 170 member states, explores how renewable energy can alleviate climate change and increase sustainability.
The World Future Energy Summit (WFES), which took place at the Abu Dhabi National Exhibition Centre, welcomed around 8,000 attendees and hosted over 300 exhibiting companies, alongside dedicated pavilions from nations including China, India, Japan, South Korea, Germany, France, Italy, Netherlands, Austria, Switzerland and Nigeria. The exhibition was fully powered by clean energy through a partnership with Emirates Water and Electricity Company (EWEC).
Innovate, a new global Masdar City initiative, provided a platform at WFES for innovation-focused companies to showcase their technologies to international investors. With a focus on the key areas of urban mobility, clean energy, artificial intelligence, and agritech and food security, Innovate grants exclusive access to the dynamic Abu Dhabi technology ecosystem for companies.
On the concluding day of ADSW, the Abu Dhabi Sustainable Finance Forum – a flagship initiative by Abu Dhabi Global Market – was held under the theme 'Plotting the Path to Meet Net-Zero Targets: Energizing Efforts for Action'. The event is representative of the UAE financial sector's commitment to assisting the nation in delivering on its national climate goals and programs – notably the Net Zero by 2050 Strategic Initiative, the first national net-zero target in the Middle East and North Africa region.
ADSW also hosted a series of Masdar led strategic initiatives, aimed at engaging young people and women at a grassroots level. The Youth 4 Sustainability Forum held inspiring and thought-provoking sessions around a variety of topics, including reimagining and futureproofing education, accelerating social entrepreneurship and innovation, and youth inclusion in climate solutions.
The annual 'Women in Sustainability, Environment and Renewable Energy' (WiSER) Forum was held under the banner 'Energy Access for All: Empowering Women to Accelerate Sustainable Development'. The Forum examined how improving women's access to energy has the potential to supercharge the global economy and accelerate action to combat climate change.
ADSW welcomed a series of high-level commercial agreements, including Etihad 7, a multi-billion dollar strategic program launched by the UAE Ministry of Foreign Affairs and International Cooperation (MoFAIC) aimed at securing funding for renewable energy projects across Africa. The Etihad 7 program aims to supply clean electricity to 100 million people by 2035.
During the World Future Energy Summit, a series of multi-million dollar projects and partnership agreements were signed. These included Aldar, the real estate development, management and investment company, launching a new global program to reduce its energy consumption by 20% across 80 of its assets worldwide, realizing more than US$10 million in cost savings per year. During the exhibition, TAQA also reiterated its commitment to invest over US$10 billion in infrastructure development as it focuses on expanding its renewable energy portfolio.
As the host of ADSW, Masdar further demonstrated its global leadership in the sustainability sector by announcing a series of global projects and agreements. These included a collaboration agreement between Masdar, ENGIE and Fertiglobe to explore the development of a green hydrogen facility in the UAE, with a capacity of as much as 200 megawatts (MW) to support the production of green ammonia.
Masdar also announced an agreement with Cosmo Energy Holdings Co., one of Japan's largest energy companies, to explore the development of renewable energy initiatives, including offshore wind projects, in the Far East nation. Masdar also formed a joint venture with Indonesia's Mitrabara to target commercial and industrial customers in the island nation, and signed a Memorandum of Understanding (MoU) with Singapore's Tuas Power, France's EDF Renewables, and PT Indonesia Power, around the development of renewable energy within Indonesia for export to Singapore.
At part of its Real Estate Investment Trust (Reit), Masdar City signed a financing deal worth US$200 million with First Abu Dhabi Bank to expand its sustainable real estate portfolio through additional property acquisitions in Masdar City.
ADSW was supported by Abu Dhabi Department of Energy; Aramex, Bloomberg Media, Bee'ah, Crédit Agricole, Emirates Nuclear Energy Corporation; Emirates Water and Electricity Company; Engie, Etihad Airways, General Electric, InvestCorp, McKinsey & Company, Mubadala Investment Company, PepsiCo, Power China; Tabreed, and the UAE Space Agency.
Related News
11 APR 2022
ADSW Talks: Advancing Argentina's sustainability agenda
Argentina, which recently committed to a 2050 Net Zero target, has been implementing new regulatory frameworks and laws to advance the electrification of its mobility sector, expand electricity interconnectors, and ensure that environmental education is part of the curriculum across schools in the country.
In the latest edition of ADSW Talks, HE Santiago Cafiero, Minister of Foreign Affairs for the Argentine Republic, shares insight into how the second-largest country in South America is modifying regulation to advance its sustainability agenda.

The ADSW Talks series hosts influential figures from across the sustainability sector to share their perspectives on the most pressing sustainability challenges facing the world and the collective willpower and solutions needed to build a more sustainable future for all.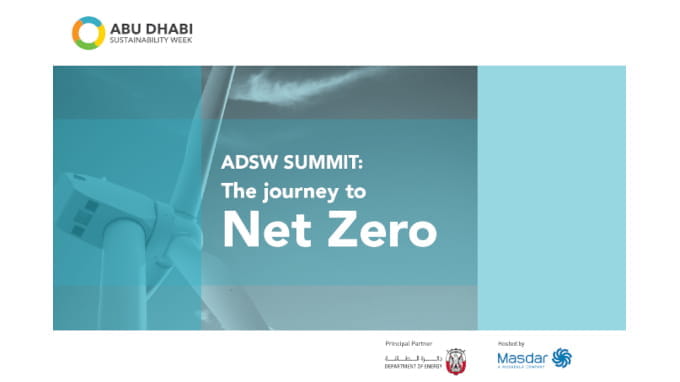 06 APR 2022
ADSW Summit white paper sets out pathway to Net Zero
Abu Dhabi Sustainability Week, the sustainability platform hosted by Masdar, has produced a white paper highlighting some of the key findings from the ADSW Summit 2022, held in January. The Journey to Net Zero reflects the key themes of the event: Global Collaboration & Leadership, Innovation and Technology, and Sustainable Finance.
Attended by more than 80 specialists, heads of states, policy makers, global CEOs and leaders of international organizations, the ADSW Summit 2022 tackled the vital energy conversation, as well as the transition to sustainable economies and societies.
"Today, world leaders have a responsibility towards the global population to act on climate," the white paper states in its conclusion. "This includes mitigation measures, phasing out coal, focusing on the energy mix to bring in green technologies and green jobs, and reducing emissions to set forth the net zero path. Investing in energy, connectivity, and food systems, while using the necessary resources to make the required sustainable changes and ensuring jobs are at the heart of it, will render such a path all-inclusive."
For more information on the ADSW Summit, its sessions and to download The Journey to Net Zero, please visit www.adsw.ae.
Abu Dhabi Sustainability Week will return from January 14-21, 2023.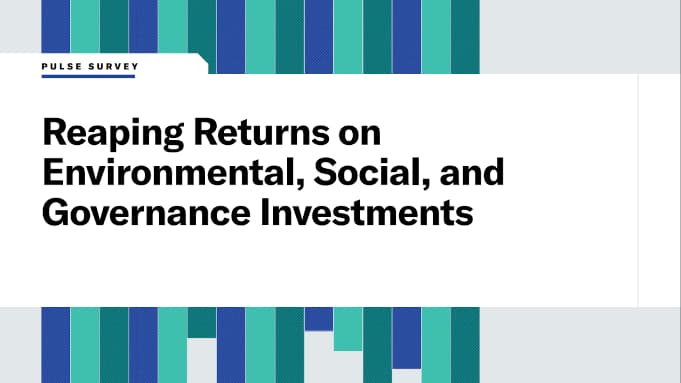 04 APR 2022
Masdar partners with Harvard Business Review to research ESG adoption
Abu Dhabi Sustainability Week, hosted by Masdar, partnered with Harvard Business Review to conduct survey-led research into issues around the adoption of environmental, social and governance (ESG) practices and try to understand just how businesses are implementing ESG strategies.
The report, Reaping Returns on Environmental, Social and Governance Investments, which surveyed 249 executives from global businesses across a range of industries, found that interest in ESG adoption is strong, with 83 percent of respondents indicating that their organization will increase investment in ESG initiatives over the next 12 months. While only 9 percent of respondents said they have already seen a financial return on their ESG investment, most organizations believe this will lead to future financial benefits, with 22 percent saying they will see this within a year, although 41 percent said it would take two to five years.
According to the report, "strong tailwinds of change are encouraging organizations to assume greater corporate responsibility for their impact on the world's natural resources, the well-being of employees, and ethical decision making in the boardroom." However, developing an ESG strategy, one that evaluates and addresses issues that affect an organization's operations and practices – and potentially its value – is still proving challenging, with 27 percent of respondents indicating that they have yet to put a formal ESG strategy in place, and 10 percent saying they are not currently working on improving their ESG performance.
To support the research, Abu Dhabi Sustainability Week recently hosted Alex Clemente, Founding Managing Director of Harvard Business Review Analytic Services who examined the report findings and discussed ESG in more detail. Moderated by Zainab Al Ali, Head of Outreach and Stakeholder Relations at Masdar, the virtual session can be watched here: https://www.youtube.com/watch?v=ebzyckDlASk
More information on the topic of ESG, including the full Harvard Business Review report can be found at adsw.ae.