06 APR 2023
How Focusing on the Future can Help Navigate Current Uncertainties
Marc Antaki, Head of Portfolio Strategy, Mubadala
As business leaders and global investors navigate an increasingly complex landscape, never has it been more important to maintain a long-term perspective and understand megatrends; the powerful and large-scale structural shifts that are shaping our world.
Difficult financial conditions, recessionary pressures, supply chain disruptions, energy and food security concerns, and a host of other issues are challenging business leaders like never before. They must look beyond the day-to-day and focus on the future transformative changes that will have the biggest impact on the way we live, work, and invest.
For long-term investors like Mubadala, understanding megatrends can help identify growth opportunities, mitigate risk, and capitalize on emerging trends that have the potential to disrupt traditional industries and create new ones. We adopt a forward-leaning investment strategy and allocate capital in line with our long-term views on megatrends, to shape our portfolio and generate long-term sustainable performance while delivering positive impact to current and future generations.
As part of Mubadala's periodic strategy review, we regularly test our convictions about the trends we see to ensure that we stay ahead of the curve. This year, to help better understand market perceptions from East to West and across generations, we commissioned a research study with Bloomberg Media. The study gathered and compared opinions from 1,800 people from the West (United States, United Kingdom, France) and the East (India and China), as well as the UAE. In those countries we looked at three distinct groups – seasoned investors, engaged and informed Millennials, and members of Generation Z who represent the latest and largest cohort as workers and consumers. We looked specifically into five megatrends that are affecting economic, social and environmental outcomes – namely climate change, big demographic shifts especially aging societies and generational shifts, digital and disruptive technologies, urbanization and inequality.
According to the findings, climate change represents the greatest risk to the well-being of the world, outstripping all others. It impacts health, degrades the environment and harms business performance, underlining the case for greater levels of investment in the energy transition to low-carbon economies. Our study shows the climate is also seen by all groups polled as the biggest opportunity for companies to change the world for the better.
Mubadala invested early in the energy transition, for example, establishing Masdar in 2006 which has grown to become one of the world's most prominent renewable energy companies. Masdar now operates in over 40 countries developing, commercialising and deploying renewable energy solutions, with a goal to provide 100GW of renewable power by 2030.
Digital technologies were rated by survey respondents as the megatrend that will have the most relevance to investors and businesses. Across the world, technology acts as an enabler, supporting people, businesses and society to develop solutions to tackle environmental concerns and help eradicate food scarcity, poor sanitation, lack of access to education, poverty and other health and social issues.
Mubadala invests heavily in breakthrough technological innovation including semi-conductors, Artificial Intelligence, advanced mobility and autonomous driving, and increasing digitalization across sectors. The same also applies to our work with Hub71, which is supporting Abu Dhabi in positioning itself as a global hub for startups and innovation, including in climate tech, fintech and healthtech, to name a few.
Across age groups there was concern about demographic shifts impacting the quality of life, the talent pool, poverty levels and public-sector spending. But investors see demographic shifts as the most important of the megatrends to their business today. Ageing societies are producing challenges for some countries, and helping to drive new business opportunities and ways of working.
Mubadala leverages the demographics trend by investing in health, with a focus on wellness and longevity, as well as new ways of living and changing patterns of consumption with a focus on experiences, sustainability and tech-compatibility. In healthcare, Mubadala has supported Abu Dhabi in developing a robust, world-class healthcare sector with the creation of Cleveland Clinic Abu Dhabi, as well as a broader network of world-class healthcare facilities that provide a wide range of services across more than 60 medical specializations. This has helped to address the specialist healthcare needs of Abu Dhabi and the UAE, reducing the need for people to travel abroad for treatment.
Overall, our study reinforced the belief that companies that factor megatrends into their business strategies typically benefit from improved overall performance. Indeed, respondents expect businesses to play a big role in responding to megatrends. India and the UAE feel this most strongly at 95 percent and 91 percent respectively, followed by the US where the number was 85 percent.
Mubadala invests in megatrends by identifying investment opportunities that align with our long-term investment approach and our focus on generating sustainable returns over time. We continue to deploy capital locally and internationally with best-in-class partners who shares similar beliefs and convictions and with whom we can help accelerate growth and create a positive impact for current and future generations. Here in the UAE, at the centre between East and West, we embrace partnering with link-minded leaders to foster collaboration and help to find pragmatic solutions to tackle some of the world most pressing challenges.
Related News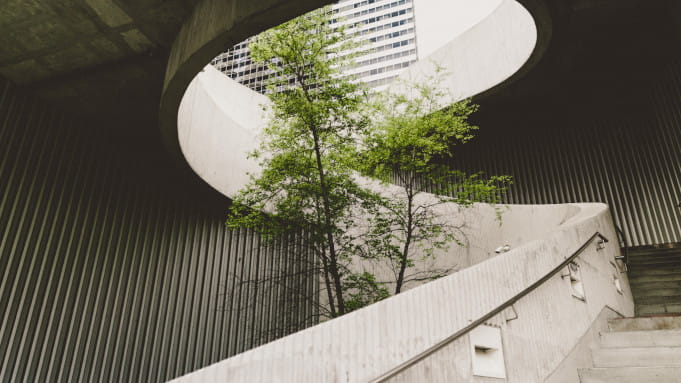 15 SEP 2023
Small enterprises with big impact – how the road to net zero is paved with SMEs
Small and medium-sized enterprises are green powerhouses –investing in them is investing in everyone's future.
Globally, small to medium sized enterprises (SMEs) make up 90% of businesses and account for around 50% of employment.
This means that while Amazon, Coca cola, Apple and other brand behemoths make bold net-zero projections, it's important to support the millions of firms with 250 or fewer employees that are also driving the sustainability agenda – arguably even further and faster. This is especially true for SMEs in the renewable energy sector who will play a leading role in bringing down global emissions.
Challenges of transitioning
SMEs across all sectors understand the importance of acting on sustainability. In one survey, an overwhelming 89% of SMEs in the UK recognized sustainability as a business issue. It's this acute awareness which has prompted fellow SMEs to build and offer renewable energy solutions.
But working with fewer employees and resources, SMEs must balance the need to innovate with the need to grow. Particularly in the developing world, SMEs are confronted with daily challenges; wrangling bureaucracy, limited access to stable finance and skills shortages. Smaller firms are also more vulnerable to climate change impact. Lacking the financial buffers of global brands, they must thrive to survive.
The result is too many SMEs with minimal margin for innovation and little protection against disaster - including those whose very business model is built upon enabling climate change action.
What SMEs want
A recent Twitter poll by ADSW asked SMEs in the renewable energy sector what support they needed to succeed economically and environmentally:
37% required funding.
32.8% asked for incentives.
30.3% highlighted incubator programs.
Across all sectors, SME respondents echo the same findings. In a survey from the SME Climate Hub, 40% of small business owners globally reported delaying climate action because of time limitations, two-thirds admitted feeling unequipped to tackle the climate crisis – and 70% needed faster access to external funds to reduce their emissions.

The case for investing in SMEs
The World Bank predicts 600 million jobs are already needed in 2023 to absorb the growing global workforce. This should put SMEs, as a major employer, at the top of the priority list for governments around the world - and argue the International Trade Center's case for $1 trillion global investment in annual SME investment.
It would be money well spent.
Smaller enterprises can react with greater agility than the world's giants. A surprising study by ScienceDirect found that climate change has had a significant positive impact on innovation among SMEs, leading to an average increase of 6.6% in R&D development investment.
Indeed, many SMEs thrive on the challenge – such as Charm Industrial, a US-based SME which converts plant waste into bio-oil and then stores it underground, locking carbon away for 1 million years. The company made headlines in 2022 for signing a $53 million deal to remove over 100,000 tons of carbon dioxide from the atmosphere.
But for those with minimal support or funding, a surge in innovation is hard to achieve.
SMEs in pursuit of SDGs
Despite the unlevel playing field, SMEs all around the world are leading the way.
In India, solar-powered clean irrigation has positively impacted more than 38,000 small farms. Award-winning SME Claro has installed 60MW of power and 16,850 solar pumps. Its work has so far benefited 7,650 women farmers and avoided an estimated 30,000 metric tons of CO2 emissions.
The award-winning SME Genevos is advancing the mission for zero emissions at sea. Based in France, the firm is a front-runner in championing green hydrogen and on a mission to drive the marine sector towards a net zero future.
In South Africa, G7 Renewable Energies has been in the business of grid-connected wind farms and solar parks since 2008. With 37 interns over the past decade, the company is investing in the future by enrolling undergraduates, graduates and post-graduates in its youth development program. Thinking younger still, its Head of Environment has helped create When I Grow Up, a children's book of inspiring stories from people working in green energy.
And SMEs don't need to be in the renewables sector to have big impact. In Tanzania, honey producer SuBeHuDe has partnered with the Global Evergreen Alliance on a project of landscape restoration, supporting livelihoods in the area. The nonprofit focuses on training in sustainable beekeeping practices alongside promoting access to inclusive education, healthcare and clean water. The name is a shortening of Sustainable Beekeeping and Human Development and SuBeHuDe has built a social, economic and environmental framework which has positively impacted thousands.
Small businesses, big impact
SMEs may not be big, but they are powerful. Collectively they can accelerate the green transition and benefit everyone on the planet, but only if they can access funding and have a supportive environment, with policy frameworks and incentives to boost their green development.
Small businesses may be our biggest hope.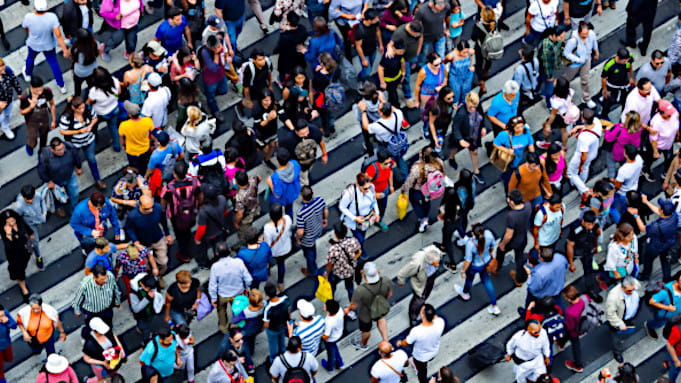 14 SEP 2023
Understanding population patterns can help us tackle climate change
Climate change and demography share deep ties but their relationship is more complex than it might seem. Population growth is just one side of a story that, when we dig a little deeper, reveals some cause for optimism in the face of adversity.
There are three times more people on Earth today than there were in the 1950s. With a population of eight billion that looks set to continue growing into the middle of this century, we often think about the negative environmental impact of population growth when we consider the relationship between demography and climate change. Whilst the impact of this rapid expansion has been undeniable, it's not the only side to the story.
The connection between population patterns and climate change is a complex matrix that includes not only population growth, but also food systems, urbanization and displacement. Negativity dominates the headlines, but there are more than a few causes for hope in this story. Ahead of COP28 and the vital decisions that need to be taken to slow the impacts of climate change, exploring the intricate connections between population dynamics and climate change uncovers reasons for optimism and pathways towards a more sustainable future.
The urban paradox
Rapid urbanization is a defining characteristic of our time. Over half of the world's population lives in cities, 80% of GDP is generated in urban areas, and cities account for over 70% of global CO2 emissions. This concentration of people, wealth and resource consumption paints a picture of cities as major emitters and, while this is true, the reality is more complex. Urbanization increases household carbon footprints in developing countries, but studies suggest that the inverse can be true in developed economies thanks to more efficient energy and transport infrastructure. Turku and Dijon, for example, are lowering household and municipal emissions through the installation of quadruple glazed windows and solar panels.
Designing more sustainable urban areas with efficient public transportation and green infrastructure could significantly reduce global emissions and improve quality of life, but only if access to these innovations is equitable for all countries. Furthermore, the sheer number of people and resources in cities means they can serve as hubs of innovation, fostering the development and implementation of sustainable technologies and policies. Cities are some of our largest polluters, but they have the potential to be the source of our greatest sustainability successes.
Reclaiming the climate refugee narrative
Extreme weather events, rising sea levels and ecological disruption are creating climate refugees. According to UNHCR, 21.5 million people have been displaced by weather-related sudden onset disasters – like floods and wildfires – every year since 2008.
But there could be a glimmer of hope. This adversity is compelling governments and individuals to find solutions, develop sustainable practices, and create stronger, more inclusive societies. Marshallese community members and artists, for example, are strengthening ties to their traditional culture and fostering national pride by resisting the narrative that they are helpless in the face of climate change. And climate refugees in Bangladesh are building new lives in climate-resilient areas like Mongla that provide them with jobs, housing and a renewed sense of purpose. Displacement due to climate change will challenge our societies in new ways, but the movement of people has always been a fact of human existence. We can work to create positive outcomes for those affected by it.
Feeding the future
Addressing the nexus between population patterns, climate change and food security is at the top of the sustainability agenda. As many as 811 million people faced hunger in 2020 and that number is continuing to rise. Extreme weather events – like flooding in Pakistan and drought in the Horn of Africa – are threatening more people with starvation through the destruction of crops and livestock, while the environmental impact of food production continues to grow: agriculture accounts for a quarter to a third of global emissions.
Solving world hunger and reducing emissions from food production seem to be totally at odds but there's significant potential for sustainability success. Eco-friendly farming practices – such as agroforestry, organic farming, and precision agriculture – can help mitigate emissions while enhancing productivity and resilience. Increasing attention is also being given to the sustainable agricultural practices of indigenous peoples, paving the way for greater social cohesion and inclusion of historically marginalized communities. The USDA, for example, is engaged in a national project to revive the indigenous American practice of planting several different crops alongside each other, and new research suggests that indigenous farming knowledge is key to the creation of sustainable food systems. Embracing sustainable agriculture has the potential to increase food security and reduce pressure on natural resources in the same stroke, allowing us to feed future generations.
Optimism amidst challenges
The complex interconnectedness of demography and climate change presents formidable challenges and demands our immediate attention, but the opportunities for positive change are also great. Governments, businesses, and individuals are recognizing the urgency of addressing these issues and are taking action. COP28 will provide an historic opportunity to enable a unified approach to global sustainability efforts and a chance to accelerate positive change.
Optimism is not only possible but necessary if we are to effectively tackle the challenges of climate change and shifting populations together. In many cases, a solution to one is a solution to another – the pursuit of sustainability is inevitably the pursuit of a healthier, happier and more prosperous society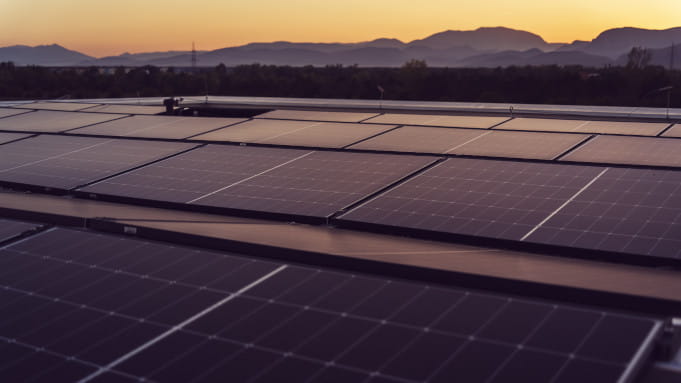 13 SEP 2023
How can the Global South turn solar potential into solar power?
Many countries of the Global South are perfectly placed to take advantage of the world's cheapest energy source – the sun. With COP28 on the horizon, we look at the promise of this cleanest of energy sources, as well as the implementation barriers to be overcome.
Most of the Global South could meet its energy needs with less than 0.1% of its land covered by solar panels. This staggering statistic from Energy Monitor gives us much cause for optimism.
However, it's not as simple as putting panels on the ground and plugging them into the grid.
While there is enormous potential for solar energy across the Global South, in many countries a lack of funding, infrastructure, economic instability and a range of other factors stifle its growth.
How can the Global South overcome these barriers and capitalize on this abundant resource to power its future?
The current state of solar
Solar energy now offers the cheapest form of electricity the world has ever seen. Its price has plummeted by around 85% over the past decade, making it cheaper than fossil fuels in 60% of countries around the world. At the same time, new innovations have emerged that allow panels to float on water or rise to preserve space for food production.
As a result, solar has become an increasingly viable energy source. According to IEA analyst Heymi Bahar, it "accounts for almost 60% of every power installation that will be built in the coming five years." Currently, though, solar makes up just 3.6% of the global electricity matrix, so there is a lot to be done to make it the world's go-to source of power.
Nowhere is this more apparent than in the Global South.
Many developing countries – particularly in the Middle East, Northern and Sub-Saharan Africa – have the perfect geographical conditions to develop strong solar networks.
They receive the highest concentration of solar radiation. They also have access to sunshine consistently throughout the year while other parts of the world experience seasonal shifts. In Ethiopia, for example, covering just 0.005% of its land with solar panels could meet current energy needs.
Equally strong are the incentives to expand solar. Developing countries are bearing the brunt of the climate crisis, disproportionally affected by its most devastating impacts. They are already grappling with rising sea levels, droughts, floods and an array of other extreme weather conditions which are only likely to intensify as the planet warms. Fast-tracking the decarbonization of the global energy system could save countless lives in the long run.
At the same time, 80% of people in the Global South live in countries which import fossil fuels from abroad. This leaves them susceptible to massive fluctuations in the price of oil, natural gas and coal. Solar energy offers an opportunity to release the developing world from its dependence on imported fuel and build up its energy autonomy.
Barriers to the solar transition
If the conditions and incentives are there, what is blocking the expansion of solar energy in the Global South?
While the cost of solar-generated electricity is low, the upfront costs to install it remain high. Few governments – developed or developing – can afford to fund renewable projects on their own, so around 86% of investment worldwide comes from the private sector. To secure the level of finance required for a large-scale solar project, energy companies must demonstrate to investors that the necessary conditions are in place to make it financially viable.
This is where developing countries run into difficulties.
Many are hamstrung by instability. Unstable currencies, political unrest and corruption not only have tangible consequences for citizens, these factors make much of the developing world a 'no-go zone' for investors.
Even in more stable regions, developing countries are often hampered by slow-moving regulatory bodies. Others lack the infrastructure to transmit and distribute the electricity efficiently once generated. Some do not have workforces with the technical skills to build key components or carry out the necessary maintenance work.
Under these conditions, getting hold of finance is all but impossible and most solar projects are defeated before they can even begin.
Solutions to scale-up solar
But this status quo is changing rapidly. Solar projects are popping up all over the world and each one that comes online brings positive insights to apply elsewhere.
As the World Bank identifies, the process starts with government leadership and a strong commitment to the clean energy transition.
Governments in the Global South must 'de-risk' their economies and create a policy environment in which solar projects can become commercially viable. That could mean stamping out corruption, strengthening their electricity networks or streamlining approvals processes. Once these kinds of conditions are in place, it will be much easier for projects to secure private financing.
The Global South cannot do this alone. It needs far greater financial assistance than is currently available.
Historically, funding has come from the UN, World Bank and regional development banks, as well as international organisations like the Global Infrastructure Hub. But these channels are not equipped for the scale of the challenge we now face.
The International Renewable Energy Association (IRENA) has called for an overhaul of these institutions' current project allocation processes to deliver funding on a far larger scale. Later this year, it will publish an extensive report alongside Masdar exploring how to make this – and other radical initiatives – possible, with the goal of tripling global renewable capacity by 2030.
Such a seismic shift can only happen with political buy-in from developed nations. Their funding is essential to provide investment funds with the resources they need to develop solar at scale.
That's why many in the Global South will be looking towards COP28 with eager anticipation.
At COP26, a number of wealthy nations pledged to double or triple their climate finance contributions, finally committing to $100 billion in climate finance in June 2023. Yet their contributions still fall far short of what the developing world has requested.
The upcoming summit in Dubai is another vital opportunity to get around the negotiating table and take this commitment to the next level.
With time running out, it's an opportunity the world cannot afford to squander.