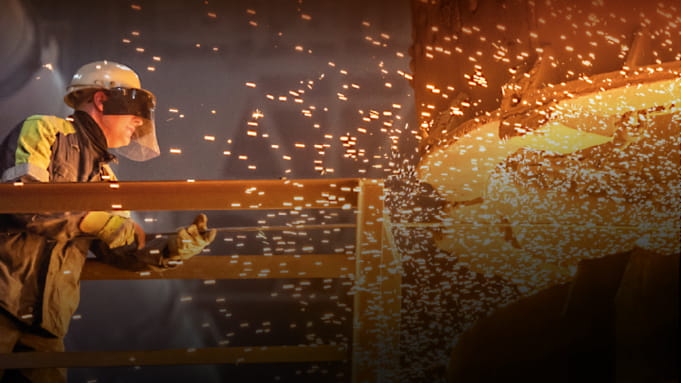 Featured
28 FEB 2023
Carbon Intensive Industries Call for Financing to Support Decarbonization
• Abu Dhabi Sustainability Week and Masdar-produced report finds decarbonization budgets are significant source of concern, with less than a third of executives believing their funds are adequate
• 60 percent of organizations taking steps to reduce emissions but have not yet set net-zero targets, with reliable financing the main barrier to accelerating commitments
• Half of industry executives now believe net zero is more feasible than previously but call on governments to boost support

Executives from 'hard-to-abate' industries have called for increased financing to support decarbonization efforts, following the release of a landmark report that outlines less than a third believe they have adequate budgets to do so, and over half have not yet set net-zero targets.
Reducing emissions in the hard-to-abate industries – cement, steel, aluminum, petrochemicals, shipping, aviation, heavy industry, and manufacturing – is vital in the effort to combat climate change, with industry and transport accounting for almost half of global emissions.
The findings from 'Hard to Abate, Ready to Start', published today by Masdar, the host of Abu Dhabi Sustainability Week (ADSW), in partnership with FT Longitude, furthers the discussion on decarbonization by identifying the biggest hurdles, and what is needed to drive greater action in the lead up to the 2023 United Nations Climate Change Conference (COP28) in the UAE.
Although challenging, the report finds that half of senior industry leaders are more confident that net zero in their business is more achievable today compared to a few years ago.

HE Dr Sultan Al Jaber, UAE Minister of Industry and Advanced Technology, COP28 President-Designate, and Chairman of Masdar, said "COP28 will see the conclusion of the Global Stocktake, offering a review of progress against the Paris Agreement. We know that the results will show a significant gap in where we are and where we need to be. The UAE is committed to addressing this, to reigniting momentum and to bringing the goal of 1.5 within reach. Addressing carbon emissions in hard-to-abate sectors is a priority in that regard. There is simply no path to net-zero that does not include decarbonizing these essential industries."

Despite the optimism that exists across the industry, and the emergence of innovative new technologies to capture and store carbon, reliable finance remains a major barrier for accelerating progress for many senior executives. Despite strong progress across the sector over the past decade, 60 percent of organizations surveyed across Europe, Asia-Pacific, the Middle East, and North America have still not set decarbonization targets, and leaders from those organizations cite a lack of reliable finance as the main barrier for committing to targets. 83 percent and 62 percent of senior executives from the Middle East and Asia-Pacific respectively highlighted that they are taking steps to reduce emissions but have not set a target date for completion. Further, only 30 percent of senior executives overall, indicated their budgets will be able to meet decarbonization needs, and more than 50 percent are concerned about the impact of global economic headwinds on decarbonization investment.

Ahead of COP28, the UAE Presidency has made clear that access to finance and capital will be a priority, noting that both governments and private sector partners require the resources needed to commit to transformative action. This includes investing in the breakthrough technologies and innovations needed to drive ambition, such as carbon capture and storage, and other forms of decarbonization.

In addition to financing hurdles, the report also highlights the disparity in available technologies to accelerate decarbonization. Despite the progress made in recent years, the research outlines the gap in "frontier" technologies available at a commercial scale, delaying energy-intensive industries in ramping up decarbonization efforts.
Mohamed Jameel Al Ramahi, Chief Executive Officer of Masdar, said "Building on important momentum gained during ADSW 2023, this report is a vital tool to drive forward decarbonization in hard-to-abate industries. Masdar, a global clean energy powerhouse, will continue to play a leading role by fostering global collaboration amongst governments and private sector partners. We intend to seize the opportunity of utility-scale renewable energy and focus our investments in frontier technologies like sustainable aviation fuel and green hydrogen to help accelerate global progress ahead of COP28 and beyond."
As well as calling for greater industry collaboration, the report highlights the importance of increased public sector support and calls upon global governments to deliver innovative incentives across funding, legislation, and taxation to support national net-zero targets. As highlighted in the report, only 24 percent of senior executives expect to receive funding from government funds or incentives and 41 percent believe that without greater incentives and funding they will be unable to meet their domestic market's net-zero targets.

Publication of today's report comes ahead of the UAE's preparations to host COP28 later this year. This global event will act as a major milestone in progressing conversations and inclusive solutions across all sectors, including those hard-to-abate industries. In convening key players from this sector, COP28 will aim to accelerate climate action and deliver concrete outcomes and solutions for climate change.

In his role as COP President-Designate, Dr Al Jaber has emphasized the need to address gaps by bringing public and private partners together in a "COP of Action, and a COP for All". The UAE is firmly committed to an inclusive approach to climate action that includes industry leaders, civil society, academics, women, youth, and indigenous peoples.

In addition to COP28, 'Hard to Abate, Ready to Start' will help frame discussions at the upcoming International Energy Week in London and S&P CERA Week in Houston, Texas.

Abu Dhabi Sustainability Week (ADSW) is a global initiative championed by the UAE and its clean energy powerhouse Masdar, to accelerate sustainable development and advance economic, social, and environmental progress. Established in 2008, ADSW provides a global platform for all who have a stake in the future of our planet. ADSW brings together leaders from across governments, the private sector and civil society, to discuss and engage on bold climate action and the innovations that will ensure a sustainable world for future generations.
Read the full report here.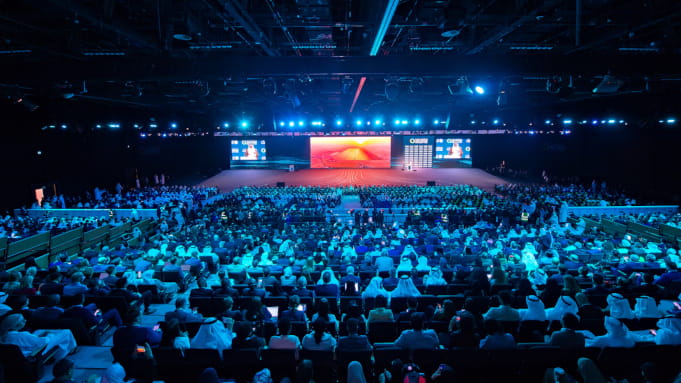 Featured
24 JAN 2023
Abu Dhabi Sustainability Week 2023 Successfully Concludes Setting UAE on Road to COP28
• Held under the patronage of UAE President, His Highness Sheikh Mohamed bin Zayed Al Nahyan, ADSW 2023 opening ceremony was attended by His Highness and 13 heads of state and prime ministers
• Across six days, a series of landmark agreements were signed, positioning the UAE as a leader on climate action
• Anchor event, ADSW Summit, covered the upcoming COP28, pathway to net zero, transformative tech, financing climate action, and food and energy security
• ADSW's first Green Hydrogen Summit convened global leaders to discuss the development of the UAE hydrogen economy, green energy in Africa and hydrogen's value chain
• ADSW 2023 hosted 36,000 participants from 170 countries, including 13 heads of state and more than 600 global speakers
Abu Dhabi Sustainability Week (ADSW), successfully concluded its fifteenth edition, with a resounding show of commitment to climate action ahead of the United Nations Climate Change Conference (COP28), to be held in the UAE later this year.
Under the theme of 'United on Climate Action Towards COP28,' the six-day event was the first global sustainability gathering of a critical year, and it served as the first official platform for the recently announced COP28 leadership team, led by H.E. Dr. Sultan Ahmed Al Jaber, UAE Minister of Industry and Advanced Technology, COP28 President-Designate, and Chairman of Masdar. In his keynote at the Opening Ceremony, H.E. Dr. Al Jaber called for the world to come together around COP28 to cooperate and collaborate and turn rhetoric into tangible results.
Global dignitaries, including 13 heads of state and a record number of attendees, convened to progress dialogue on the transition to a net-zero future. The event was held under the patronage of His Highness Sheikh Mohamed bin Zayed Al Nahyan, President of the UAE who attended the opening ceremony with Yoon Suk Yeol, President of the Republic of Korea, and Ilham Aliyev, President of Azerbaijan delivering keynote speeches.
Championed by the UAE and its clean energy powerhouse, Masdar, ADSW 2023, also welcomed world leaders including: Kassym-Jomart Tokayev, President of the Republic of Kazakhstan; Wavel Ramkalawan, President of the Republic of Seychelles; João Manuel Lourenço, President of the Republic of Angola; Hakainde Hichilema, President of the Republic of Zambia; Nana Akufo-Addo, President of Ghana; Yoweri Museveni, President of the Republic of Uganda; Surangel Whipps Jr., President of the Republic of Palau; Filipe Jacinto Nyusi, President of the Republic of Mozambique; Aziz Akhannouch, Prime Minister of the Kingdom of Morocco; Abiy Ahmed, Prime Minister of Ethiopia; and Tiemoko Meyliet, Vice President of the Republic of Côte d'Ivoire.
During the opening ceremony, 10 winners of the Zayed Sustainability Prize from five continents were recognized for their achievements in driving innovative and scalable sustainability solutions.
Other major events that took place throughout the week included the 13th IRENA Assembly, the supreme decision-making body of the International Renewable Energy Agency. IRENA members confirmed their readiness to support the UAE's COP28 presidency and committed to leveraging international cooperation through the Agency's global platform.
The Atlantic Council Global Energy Forum, which annually convenes the world's top energy and foreign policy decisionmakers hosted its seventh meeting at ADSW. Guests including H.E. Dr. Sultan Al Jaber, the Rt. Hon. Grant Shapps MP, Secretary of State for Business, Energy, and Industrial Strategy for the UK, John Kerry, U.S. Special Presidential Envoy for Climate, and Bernard Mensah, President of International for Bank of America discussed the geopolitical and geo-economic implications of the energy transition.
The flagship ADSW Summit brought together global decision-makers and thought leaders in sustainability to discuss innovative pathways to net zero, practical solutions to finance climate action, and transformative tech for food and energy security. The event featured past and present leaders of COP, including H.E. Razan Al Mubarak, the UN Climate Change High-Level Champion for COP28, H.E. Laurent Fabius, President of France's Constitutional Council, H.E. Sameh Shoukry, Egypt's Minister of Foreign Affairs and COP27 President, and Simon Stiell, Executive Secretary of the UNFCCC. Collectively they highlighted the need to build on past successes and leverage the COP process to deliver on the Paris Agreement, ahead of the UAE's hosting of COP28 and the highly anticipated Global Stocktake.
The inaugural Green Hydrogen Summit was also held during ADSW. Hosted by Masdar's green hydrogen business, the Summit convened more than 50 leading global hydrogen players, gathering key representatives across regulation, policy and the green hydrogen value chain.
Masdar, the host of ADSW, announced multiple global projects and agreements showing it is on track to meet the target of 100 GW of clean energy by 2030. These included up to 5GW of renewable energy projects with three African nations under the Etihad 7 UAE-backed funding umbrella.
Also announced were agreements with the Kyrgyz Republic's Ministry of Energy to develop renewable projects with a capacity of up to 1 GW, an agreement with the Kazakhstan Investment Development Fund to develop a wind power plant with up to 1 GW capacity, and an agreement with Azerbaijan state oil company SOCCAR to develop up to 4 GW of renewable energy projects.
A first wave of investment of US$20 billion was also announced as part of the US-UAE Partnership to Accelerate Clean Energy (PACE), with Masdar and a consortium of US private investors leading the funding and development of 15 GW of clean energy projects in the US by 2035.
ADSW provided a platform for engaging and empowering young people and women in sustainability in the lead-up to COP28. The Youth 4 Sustainability (Y4S) Hub brought together more than 3,000 leaders, experts, entrepreneurs, and young delegates to discuss ways to advance youth engagement across climate action. The annual Women in Sustainability, Environment and Renewable Energy (WiSER) Forum hosted influential figures from around the world for a roundtable discussion on 'Empowering Women to Lead Climate Adaptation'.
Returning to an in-person format this year, Abu Dhabi Global Market hosted the fifth edition of the Abu Dhabi Sustainable Finance Forum to conclude the week's events. It convened 50 global institutional investors, government leaders, regulators, and financial institutions.
ADSW was supported by the Abu Dhabi Department of Energy, COP28 UAE, Abu Dhabi National Oil Company, TAQA, Environment Agency – Abu Dhabi, Mubadala Investment Company, Dubai Electricity and Water Authority, General Electric, The Climate Pledge, Investcorp, Expo City Dubai, TotalEnergies, Abu Dhabi Convention & Exhibition Bureau, Schneider Electric, 1PointFive, Fertiglobe, PepsiCo, Emirates Development Bank, HSBC, Baker Hughes, BEEAH, UAE Ministry of Climate Change and Environment, Ne'ma, Emirates Water and Electricity Company, McKinsey and Etihad Airways.