27 APR 2021
Abu Dhabi Sustainability Week releases "Care & Engage", the second in the series of three white papers capturing the key takeaways of the 2021 ADSW Summit
Abu Dhabi Sustainability Week has released the second in the series of three white papers, which capture the key takeaways from the 2021 ADSW Summit.

Each white paper will feature insights and quotes from global leaders across government, business and industry. To watch sessions from the ADSW Summit, please visit the ADSW YouTube channel.

The "Care & Engage" white paper examines how the measures put in place around the world to tackle the spread of Covid-19 have resulted in short-term benefits to the environment. Care & Engage goes on to highlight the technological solutions and political frameworks that will need to be adopted over the next decade to mitigate the challenges relating to climate change.


Download the white paper from here.
Related News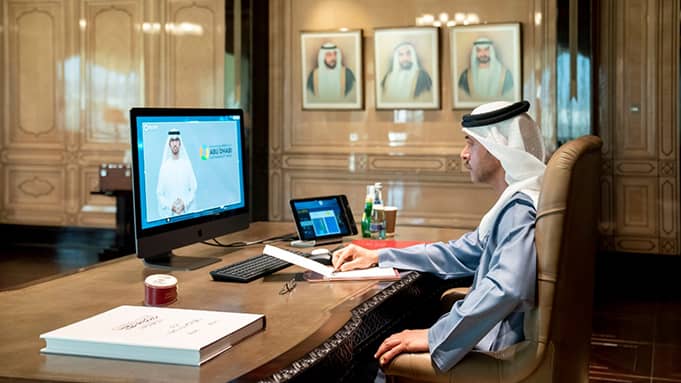 19 JAN 2021
Abu Dhabi Sustainability Week Summit discusses ways to achieve a sustainable post-COVID-19 recovery
Abu Dhabi, United Arab Emirates, January 19, 2021:
In the presence of His Highness Sheikh Hazza bin Zayed Al Nahyan, Vice President of the Abu Dhabi Executive Council, the Abu Dhabi Sustainability Week Summit got underway this morning as part of ADSW 2021, the global platform for accelerating the pace of sustainable development. Hosted by Masdar, the event is being held virtually this year due to restriction in place to manage the COVID-19 pandemic.
His Highness welcomed the leaders, officials and experts participating in the sessions of this year's summit to discuss how to enact a 'green recovery' to help economies rebound from the pandemic and build a more sustainable future for all.
His Highness Sheikh Hazza bin Zayed Al Nahyan emphasized that the UAE is continuing its efforts under the leadership of His Highness Sheikh Khalifa bin Zayed Al Nahyan, President of the UAE, and with the support of His Highness Sheikh Mohammed bin Zayed Al Nahyan, Crown Prince of Abu Dhabi and Deputy Supreme Commander of the UAE Armed Forces, to stimulate sustainable development, and said that ADSW is particularly relevant this year as it represents a global platform for dialogue and setting the sustainable development agenda based on the principles of the green recovery.
His Highness said: "In light of the exceptional circumstances that the world is experiencing, there is an urgent need to take practical steps and initiatives that contribute to accelerating the application of the principles and foundations of sustainable development, with the need to take proactive steps, plan for a more flexible future and strengthen capabilities in order to efficiently face the existing and emerging challenges.
"The Emirati initiatives, present to the world a practical model on the economic feasibility of renewable energy, stressing the importance of cooperation and joint work to achieve tangible progress in the field of reducing the repercussions of climate change".
His Highness said that Abu Dhabi continues, year after year, to consolidate its position and pivotal role as a platform that brings together the international community to discuss key issues in sustainability. He said that he hoped that this year's ADSW would be the starting point for constructive global dialogue on building a secure and stable future for current and future generations.
H.S.H. Prince Albert II, Sovereign Prince of Monaco, delivered the Summit's keynote speech, thanked Abu Dhabi for hosting this event under these circumstances and said: "I believe the crisis we are experiencing is urging us to reinvent the ways we live, produce and travel in a more radical manner. It is urging us to rethink our relationship with nature and to reevaluate our priorities. In this respect, the coming year will be full of opportunities which we need to grasp."
His Excellency Dr. Sultan bin Ahmed Al Jaber, UAE Minister of Industry and Advanced Technology, Special Envoy for Climate Change and Chairman of Masdar, delivered a speech in which he welcomed the guests and participants of the Summit, praising the wise leadership's support for sustainable development.
His Excellency said that the COVID-19 pandemic was a wake-up call to humanity as a whole, and that it demonstrated the importance of sustainability in its broadest sense, and revealed the interdependence between health and food and resource security. His Excellency explained how efforts made by the UAE to face the pandemic, through proactive measures enacted by the wise leadership, focused on enhancing resource security and supporting vital supply chains.
His Excellency stressed the concept of cooperation and building bridges of dialogue and communication, noting that the country will host the Dubai Expo later this year, with sustainability and the future as the main themes of this event.
His Excellency touched on the Zayed Sustainability Prize and its role in promoting global sustainability efforts, as it has achieved a positive impact on more than 350 million people around the world. He said that the award has a special place among the UAE's leadership because it embodies the values and principles of the founding father, Sheikh Zayed bin Sultan Al Nahyan, and especially his commitment to sustainable progress. His Excellency explained that the award will return in its usual form next year, with a focus on aspects of innovation and recovery for the post-COVID period.
The ADSW Summit comprises three sessions of two hours each, and focuses on three topics: restoring the circle of life (Live & Move), enhancing responsibility and interaction (Care & Engage), and doing business and investment (Work & Invest). Each topic addresses the main issues and topics that would open the way for the many social, economic and technological opportunities to achieve a post-pandemic green recovery.
As well as the Summit, ADSW, which runs from January 18-21, hosts a series of high-level virtual activities, including the General Assembly of the International Renewable Energy Agency (IRENA), the Abu Dhabi Forum for Sustainable Finance, and the Global Energy Forum of the Atlantic Council. the virtual forum for the "Youth for Sustainability" platform, and the World Future Energy Summit forums.
In addition to His Serene Highness Prince Albert II of Monaco; speakers at the summit include: His Royal Highness Prince Khalid bin Al-Waleed bin Talal Al Saud, Chairman of the Board of Directors of "KBW" Investment; His Excellency Khaldoon Khalifa Al Mubarak, Chairman of the Executive Affairs Authority, Group Chief Executive Officer, and Managing Director of Mubadala Investment; Grace Fu, Minister of Sustainability and Environment of the Government of Singapore; Sheikha Bodour bint Sultan Al Qasimi, Chairman of the Sharjah Investment and Development Authority (Shurooq), and founder and CEO of Kalimat Group; His Excellency Engineer Aweidah Morshed Al Marar, Chairman of the Abu Dhabi Department of Energy; Francisco Lacamera, Director General of the International Renewable Energy Agency (IRENA); Maymouna Mohamed Sharif, Executive Director of UN-Habitat; Noel Quinn, CEO of HSBC Holding Group; Lawrence Fink, Chairman and CEO of BlackRock; And Dr Lucas Juba, CEO of Environmental Practices at Microsoft,.
Through its various initiatives and events, ADSW advances the process of exchanging knowledge, implementing strategies, and developing realistic solutions to face the challenges of sustainability and climate change. As the first major global event in 2021, the year in which the UAE celebrates its 50th anniversary, the week contributes a pioneering role in enhancing cooperation between the public and private sectors in order to achieve the United Nations' Sustainable Development Goals.
Since the launch of its activities more than a decade ago, ADSW has grown to become one of the largest gatherings concerned with sustainability in the world. The 2020 edition of Abu Dhabi Sustainability Week attracted more than 45,000 participants from more than 170 countries, and saw the participation of 10 heads of state, in addition to 160 ministers and ambassadors.
To view the full program of ADSW 2021, please visit
www.abudhabisustainabilityweek.com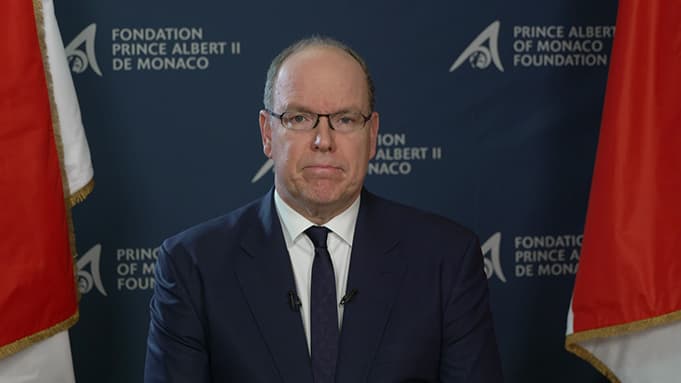 26 JAN 2021
Reimagined Abu Dhabi Sustainability Week concludes with global commitment to deliver green recovery in 2021
ADSW welcomes royal addresses from H.R.H, Charles, The Prince of Wales and H.S.H Prince Albert II of Monaco, Head of State, Principality of Monaco
Flagship ADSW Summit took place in the presence of HH Sheikh Hazza bin Zayed Al Nahyan, Vice President of the Abu Dhabi Executive Council
ADSW featured more than 500 global leaders from government, business and technology
Abu Dhabi, United Arab Emirates; January 24, 2021: Abu Dhabi Sustainability Week (ADSW), the global platform for accelerating sustainable development, hosted by Masdar, concluded on Thursday with a resounding global commitment to deliver a green recovery in 2021. From January 18 to 21, ADSW took place in a reimagined virtual setting and attracted more than 100,000 views across its online platforms from 175 countries, reiterating its importance as the annual global sustainability event that sets the agenda for the year.

ADSW comprised high-level virtual events: ADSW Summit, which took place in the presence of His Highness Sheikh Hazza bin Zayed Al Nahyan, Vice President of the Abu Dhabi Executive Council; IRENA's 11th Assembly; Abu Dhabi Sustainable Finance Forum; Atlantic Council Global Energy Forum; Youth 4 Sustainability Virtual Forum; and World Future Energy Summit Back to Business Webinar Series.

The ADSW speaker program featured more than 500 global leaders and decision-makers from policy, industry and technology, including: H.E. Dr Sultan Al Jaber, Minister of Industry and Advanced Technology, and Special Envoy for Climate Change, and Chairman of Masdar; H.R.H, Charles, The Prince of Wales; H.S.H Prince Albert II of Monaco, Head of State, Principality of Monaco; António Guterres, Secretary-General of the United Nations; H.E. Khaldoon Khalifa Al Mubarak, Managing Director and Group CEO, Mubadala Investment Company; Rt. Hon. Alok Sharma MP, COP26 President; Laurence Fink, Chairman and CEO, BlackRock; Bernard Looney, CEO, BP; Brian Moynihan, Chairman of the Board and CEO, Bank of America; and Mark Carney, Finance Adviser to the UK Prime Minister for COP 26 and UN Special Envoy for Climate Action and Finance.

These global leaders spoke across ADSW's high-level event platforms, each designed to focus on different elements of the global sustainability agenda.

The International Renewable Energy Agency held its 11th IRENA Assembly, which brought together heads of state, government, ministers and energy decision-makers to discuss the global energy transition and the further adoption of renewable technologies.

The flagship ADSW Summit featured more than 90 global leaders from around the world and ran over three sessions focusing on the pillars of "Live & Move," "Care & Engage," and "Work & Invest," with each pillar exploring social, economic and technological opportunities for delivering a green recovery.

The third edition of Abu Dhabi Sustainable Finance Forum hosted by Abu Dhabi Global Market was held under the theme 'Financing Sustainable Recovery and Future Resilience' and highlighted the importance of a sustainable and equitable approach to rebuild the global economy.

The Atlantic Council's Global Energy Forum and World Future Energy Summit Webinars highlighted the opportunities for advancing the energy transition and race to net zero.

Masdar's Youth 4 Sustainability Virtual Forum was led by members of the global youth community and explored ways for young people to play an active role in the implementation of United Nations Sustainable Development Goals and the UAE's 50-year Development Plan. The forum covered topics across leadership and sustainability, skills and future of work, and innovation challenges including the Ecothon Pitch, which was supported by Abu Dhabi's Department of Energy, Khalifa Fund and The Catalyst, a venture fund in partnership with Masdar City and BP.

ADSW 2021 also featured The Global Innovation Award, which is organized on behalf of the UAE Ministry of Climate Change and Environment, named Cambrian Innovation from the US the overall winner of Award.

The week welcomed several commercial announcements relating to the adoption and development of hydrogen in the UAE. Mubadala Investment Company, Abu Dhabi National Oil Company and ADQ announced the signing of an MoU to establish the Abu Dhabi Hydrogen Alliance (the Alliance), with the view to establish Abu Dhabi as a trusted leader of low-carbon green and blue hydrogen in emerging international markets.

Building on the Alliance, Masdar, the world's leading renewable energy companies, announced it would join forces with Abu Dhabi Department of Energy, Etihad Airways, Lufthansa Group, Khalifa University of Science and Technology, Siemens Energy, and Marubeni Corporation, in an initiative designed to support the development of the green hydrogen economy in Abu Dhabi. The initiative aims to establish a demonstrator plant at Masdar City.

Building on the 2020 Abraham Accords, Masdar also signed a strategic agreement with French group EDF Renewables to explore renewable energy opportunities in Israel and support the country's clean-energy objectives. Israel is targeting 30 percent of its energy coming from renewable sources by 2030, up from a previous target of 17 percent, as it looks to phase out coal use. Achieving the new target will require an additional 15 gigawatts (GW) of solar capacity being developed over the period.

Masdar also released during ADSW its 2020 Annual Sustainability Report, which revealed it had more than doubled its clean energy capacity in the last two years, generating enough electricity to power over four million homes.

For over a decade, Abu Dhabi has provided a sustainable platform for the global community that has grown through its initiatives and events to emerge as a thought leader and catalyst that accelerates sustainable development around the world.

As a manifestation of the UAE's proactive, forward thinking approach to sustainability and mitigating the impact of climate change, ADSW is committed to the sharing of knowledge, implementation of strategies and the delivery of real-world solutions. As the first global event in the UAE's Golden Jubilee year, ADSW provides a global platform to set the sustainability agenda for the year and help deliver the United Nations Sustainable Development Goals.


15 JAN 2016
World Future Energy Summit Launches Future Cities Forum for Global Insights on Middle East's Urbanization
Delivering global insights and best practices for Middle East cities to sustainably manage their long-term urbanization, the World Future Energy Summit announced today the launch of the new Future Cities Forum.

The Future Cities Forum, on Wednesday, 20 January 2016, will be held on the theme of "Shaping the Urban Future Together: Creating Sustainable and Resource Efficient Communities". Attendees can hear from leading global government experts on best practices in managing complex, long-term urban challenges and the latest innovations across energy, water, transport, urban planning, and mitigating climate change.

Sixty six percent of the world's population is projected to live in urban areas by 2050, up from 54 percent in 2014, according to the United Nations. To meet the challenges of urbanization, governments around the world are using advanced technology to develop Smart Cities, with Frost and Sullivan predicting a USD1.56 trillion marketplace by 2020. The Middle East and North Africa hosts among the world's most ambitious smart city plans, including Abu Dhabi's Masdar City, Qatar's Lusail City, The Kingdom of Saudi Arabia's four Economic Cities, and Morocco's largest city of Casablanca. Thanks to smart buildings, a pedestrian-focused layout and technology cluster, Masdar City consumes 40 percent less energy and water than built-up areas of a comparable size.

Masdar City recently inaugurated a solar power storage system with Energy Nest, and signed an agreement with Chinese real estate firm Vanke on a research and development project. "Masdar City is a 'green-print' for sustainable urban design – and what we will focus on at the Future Cities Forum is the need for global cities to integrate both environmentally friendly policies and commercial opportunities to drive sustainable development," said Anthony Mallows, Director of Masdar City.

Smart Dubai is working with the United Nations' International Telecommunications Union to develop the world's first smart city key performance indicators, and the Dubai Clean Energy Strategy 2050 aims to generate 75 percent of power from clean energy over the next 35 years. "Dubai is undergoing a seismic shift in developing and encouraging smart city solutions – and at the Future Cities Forum we will focus on the power of public private partnerships, government innovation, and data-based analytics for smart buildings, transportation, and utilities that will support Dubai as a leading global smart city," said Dr Aisha Bin Bishr, Director General, Smart Dubai Office.

Atkins, the international design, engineering and project management consultancy, will share best practices from supporting the future-proofing of cities in the GCC, China, the United States, and the United Kingdom. "With the population of the MENA region expected to double by 2050, at the Future Cities Forum we'll be sharing our expertise which is helping to maximize the value of our clients' built assets by ensuring they're holistically planned, sustainable, resilient and appropriate for the long term, taking careful consideration of the drivers for change across the region, and how the resulting opportunities can be harnessed and risks can be mitigated," said Simon Moon, chief executive officer, Middle East of Atkins.

"The tools and insights which are accessible to us today mean we're able to develop a much better understanding of how buildings, infrastructure and their environment really do interact and perform, and to make well informed decisions to support their lifecycle – it's essential that we apply this knowledge today for the benefit of our future urban and social environments," added Simon Moon.

Many Smart Cities across the region are diversifying their energy mix to include renewables, especially solar power. "An approach to Smart Cities involves many aspects that will result in more sustainable urban living. From water and energy conservation to better use of public transport, more efficient air conditioning solutions and renewable energy generation are all part of a holistic plan to optimize the use of resources," said Roberto De Diego Arozamena, CEO, Abdul Latif Jameel Energy and Environmental Services, which will be one of the key sponsors of the World Future Energy Summit 2016 in Abu Dhabi, UAE.

"A good example of such a plan is the Dubai Clean Energy Strategy 2050, announced by HH Sheikh Mohammed bin Rashid Al Maktoum, Vice President of the UAE and Ruler of Dubai, which includes the intention to have solar energy in every rooftop in Dubai by 2030," added Roberto De Diego Arozamena.

Global consulting, design and program management firm C2HM, a WFES sponsor, will showcase its vision for smart, sustainable cities and infrastructure, and share best practices from its recent delivery experiences in the Middle East, India, and Europe. "At CH2M, our vision for future cities is based on creating vibrant, accessible, financially sound communities that attract business and provide a rich social fabric and environment where people want to live and work. As the competition between global cities increases, the need for talent, investment and resources will become critical," said Neil Reynolds, Senior Vice President and Regional Managing Director, MENA and India.

"More than ever, cities will need to focus on enhancing their economics, as well as the environment and the quality of life they can offer. Smart infrastructure is the key – whether transportation, water, energy or waste – and CH2M has the smart city solution that can help," added Neil Reynolds.

The Future Cities Forum will also host the Habitat III Sustainable Energy Thematic Meeting, determining the policy agenda for the United Nations New Urban Agenda. Hosted by Masdar, The World Future Energy Summit 2016 is held at the Abu Dhabi National Exhibition Centre from 18-21 January 2016, co-located with International Water Summit and EcoWASTE.