27 APR 2021
Abu Dhabi Sustainability Week releases "Work & Invest", the last in the series of white papers capturing the key takeaways of the 2021 ADSW Summit
Abu Dhabi Sustainability Week has released the final white paper in a series, which capture the key takeaways from the 2021 ADSW Summit.

Each white paper features insights and quotes from global leaders across government, business and industry. To watch sessions from the ADSW Summit, please visit the ADSW YouTube channel.

The "Work & Invest" white paper examines how Covid-19 pandemic has greatly impacted and redirecting the way we conduct business, with companies increasingly focusing on sustainable investments. Sustainability has emerged at the top of business agenda, as research has revealed that Environmental, Social and Governance (ESG) investments outperformed non-ESG investments in almost every month from January to September 2020.


Download the white paper from here.
Related News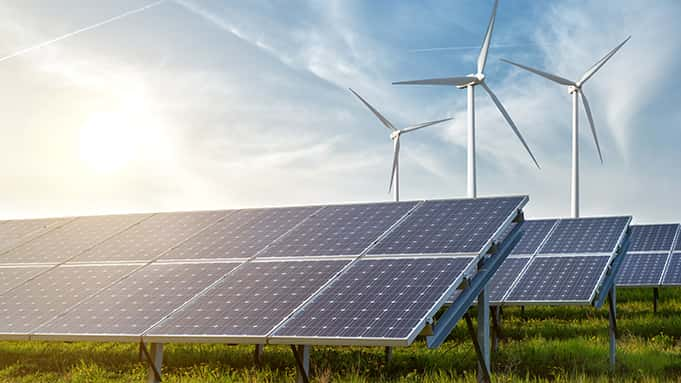 15 JAN 2016
World Future Energy Summit Launches Future Cities Forum for Global Insights on Middle East's Urbanization
Delivering global insights and best practices for Middle East cities to sustainably manage their long-term urbanization, the World Future Energy Summit announced today the launch of the new Future Cities Forum.

The Future Cities Forum, on Wednesday, 20 January 2016, will be held on the theme of "Shaping the Urban Future Together: Creating Sustainable and Resource Efficient Communities". Attendees can hear from leading global government experts on best practices in managing complex, long-term urban challenges and the latest innovations across energy, water, transport, urban planning, and mitigating climate change.

Sixty six percent of the world's population is projected to live in urban areas by 2050, up from 54 percent in 2014, according to the United Nations. To meet the challenges of urbanization, governments around the world are using advanced technology to develop Smart Cities, with Frost and Sullivan predicting a USD1.56 trillion marketplace by 2020. The Middle East and North Africa hosts among the world's most ambitious smart city plans, including Abu Dhabi's Masdar City, Qatar's Lusail City, The Kingdom of Saudi Arabia's four Economic Cities, and Morocco's largest city of Casablanca. Thanks to smart buildings, a pedestrian-focused layout and technology cluster, Masdar City consumes 40 percent less energy and water than built-up areas of a comparable size.

Masdar City recently inaugurated a solar power storage system with Energy Nest, and signed an agreement with Chinese real estate firm Vanke on a research and development project. "Masdar City is a 'green-print' for sustainable urban design – and what we will focus on at the Future Cities Forum is the need for global cities to integrate both environmentally friendly policies and commercial opportunities to drive sustainable development," said Anthony Mallows, Director of Masdar City.

Smart Dubai is working with the United Nations' International Telecommunications Union to develop the world's first smart city key performance indicators, and the Dubai Clean Energy Strategy 2050 aims to generate 75 percent of power from clean energy over the next 35 years. "Dubai is undergoing a seismic shift in developing and encouraging smart city solutions – and at the Future Cities Forum we will focus on the power of public private partnerships, government innovation, and data-based analytics for smart buildings, transportation, and utilities that will support Dubai as a leading global smart city," said Dr Aisha Bin Bishr, Director General, Smart Dubai Office.

Atkins, the international design, engineering and project management consultancy, will share best practices from supporting the future-proofing of cities in the GCC, China, the United States, and the United Kingdom. "With the population of the MENA region expected to double by 2050, at the Future Cities Forum we'll be sharing our expertise which is helping to maximize the value of our clients' built assets by ensuring they're holistically planned, sustainable, resilient and appropriate for the long term, taking careful consideration of the drivers for change across the region, and how the resulting opportunities can be harnessed and risks can be mitigated," said Simon Moon, chief executive officer, Middle East of Atkins.

"The tools and insights which are accessible to us today mean we're able to develop a much better understanding of how buildings, infrastructure and their environment really do interact and perform, and to make well informed decisions to support their lifecycle – it's essential that we apply this knowledge today for the benefit of our future urban and social environments," added Simon Moon.

Many Smart Cities across the region are diversifying their energy mix to include renewables, especially solar power. "An approach to Smart Cities involves many aspects that will result in more sustainable urban living. From water and energy conservation to better use of public transport, more efficient air conditioning solutions and renewable energy generation are all part of a holistic plan to optimize the use of resources," said Roberto De Diego Arozamena, CEO, Abdul Latif Jameel Energy and Environmental Services, which will be one of the key sponsors of the World Future Energy Summit 2016 in Abu Dhabi, UAE.

"A good example of such a plan is the Dubai Clean Energy Strategy 2050, announced by HH Sheikh Mohammed bin Rashid Al Maktoum, Vice President of the UAE and Ruler of Dubai, which includes the intention to have solar energy in every rooftop in Dubai by 2030," added Roberto De Diego Arozamena.

Global consulting, design and program management firm C2HM, a WFES sponsor, will showcase its vision for smart, sustainable cities and infrastructure, and share best practices from its recent delivery experiences in the Middle East, India, and Europe. "At CH2M, our vision for future cities is based on creating vibrant, accessible, financially sound communities that attract business and provide a rich social fabric and environment where people want to live and work. As the competition between global cities increases, the need for talent, investment and resources will become critical," said Neil Reynolds, Senior Vice President and Regional Managing Director, MENA and India.

"More than ever, cities will need to focus on enhancing their economics, as well as the environment and the quality of life they can offer. Smart infrastructure is the key – whether transportation, water, energy or waste – and CH2M has the smart city solution that can help," added Neil Reynolds.

The Future Cities Forum will also host the Habitat III Sustainable Energy Thematic Meeting, determining the policy agenda for the United Nations New Urban Agenda. Hosted by Masdar, The World Future Energy Summit 2016 is held at the Abu Dhabi National Exhibition Centre from 18-21 January 2016, co-located with International Water Summit and EcoWASTE.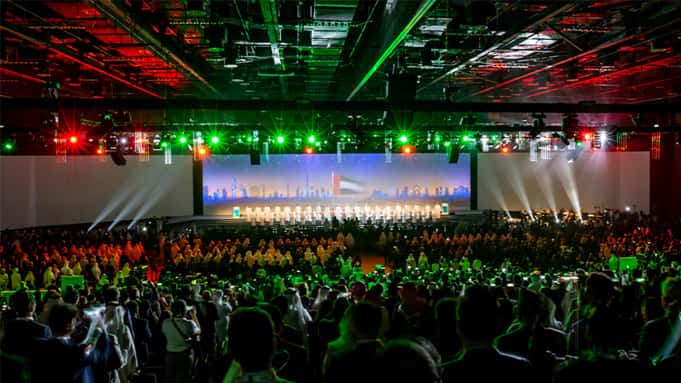 18 JAN 2021
Reimagined Abu Dhabi Sustainability Week goes live today in virtual setting to set agenda for green recovery
High-level virtual events include ADSW Summit, IRENA Assembly, Abu Dhabi Sustainable Finance Forum, Atlantic Council Global Energy Forum, Youth 4 Sustainability Virtual Forums and World Future Energy Summit Webinars
Agenda will explore the social, economic and innovation opportunities for delivering a green recovery, bringing together global leaders from policy, industry and technology
First day starts with program dedicated to energy, youth and closes with 11th session of IRENA Assembly
Flagship ADSW Summit will feature over 70 high-level speakers from around the world
Abu Dhabi, United Arab Emirates; January 18, 2021: Abu Dhabi Sustainability Week (ADSW), the global platform for accelerating sustainable development, hosted by Masdar, goes live today until 21 January 2021 in a reimagined virtual setting. Over the course of four days, global leaders from policy, industry and technology will explore social, economic and technological opportunities for delivering a green recovery in a post-pandemic world.
ADSW 2021 will feature a series of high-level virtual events, including the ADSW Summit, IRENA Assembly, Abu Dhabi Sustainable Finance Forum (ADSFF), Atlantic Council Global Energy Forum, Youth 4 Sustainability (Y4S) Virtual Forums and the World Future Energy Summit (WFES) Webinars.
The first day of ADSW kicks off with the WFES Webinars, Y4S Forum, followed by the 11th session of the IRENA Assembly that brings together heads of state, government, ministers and energy decision-makers, as well as global stakeholders and private actors to discuss the energy transition as an investment in our collective future.
The flagship ADSW Summit on January 19th will feature more than 70 high-level speakers from around the world and will broadcast online across different time zones to engage audiences across various geographies and markets. The agenda runs over three two-hour sessions that focus on the pillars of "Live & Move," "Care & Engage," and "Work & Invest," with each pillar exploring social, economic and technological opportunities to set and support a sustainable recovery.
The speakers at the one-day virtual ADSW Summit include: H.S.H. Prince Albert II of Monaco, Head of State, Principality of Monaco, who will give a keynote speech on national resilience in the context of Coivid-19; H.E. Dr. Sultan Ahmed Al Jaber, UAE's Minister of Industry and Advanced Technology and Special Envoy for Climate Change and Chairman of Masdar; H.R.H Prince Khaled bin Alwaleed bin Talal Al Saud, Founder and CEO, KBW Ventures; H.E. Khaldoon Khalifa Al Mubarak, Managing Director and Group CEO Mubadala Investment Company; The Rt Hon. Alok Sharma MP, COP 26 President and UK Secretary of State for Business, Energy and Industrial Strategy; H.E. Grace Fu, Minister for Sustainability and the Environment of the Republic of Singapore; H.E. Sheikha Bodour bint Sultan Al Qasimi, Founder & CEO, Kalimat Publishing Group; H.E. Eng. Awaidha Murshed Al Marar, Chairman of Abu Dhabi Department of Energy; Francesco La Camera, Director General, IRENA; Maimunah Mohd Sharif, Executive Director UN-Habitat; Noel Quinn, Group Chief Executive Officer, HSBC Holdings; Laurence Fink, Chairman and CEO BlackRock; and Dr. Lucas Joppa, Chief Environmental Officer, Microsoft, in addition to many other high-level speakers.
The third edition of ADSFF hosted by Abu Dhabi Global Market (ADGM) will be held under the theme 'Financing Sustainable Recovery and Future Resilience' on January 20th. It will highlight the importance of a sustainable and equitable approach to rebuild the global economy. ADSW 2021 will conclude on January 21st with the last sessions of Y4S, Atlantic Council's Global Energy Forum and WFES.
Through initiatives and events, ADSW is committed to the sharing of knowledge, implementation of strategies and the delivery of real-world solutions to address the challenges related to sustainability and climate change. As the first global event in the UAE's Golden Jubilee year, ADSW 2021 will help galvanize further collaboration among government, business and community stakeholders to achieve the United Nations Sustainable Development Goals
For over a decade, Abu Dhabi has provided a sustainable platform for the global community that has grown through its initiatives and events to emerge as a thought leader and catalyst that accelerates sustainable development around the world.
The 2020 edition of Abu Dhabi Sustainability Week hosted around 45,000 attendees from 170 countries, with more than 500 high-level speakers from around the world.
To ensure the safety of all participants, ADSW 2021 and all related high-level events will take place virtually. The physical program of ADSW will return in 2022.
Register now for the ADSW Summit at www.adsw.ae