11 APR 2022
ADSW Talks: Advancing Argentina's sustainability agenda
Argentina, which recently committed to a 2050 Net Zero target, has been implementing new regulatory frameworks and laws to advance the electrification of its mobility sector, expand electricity interconnectors, and ensure that environmental education is part of the curriculum across schools in the country.
In the latest edition of ADSW Talks, HE Santiago Cafiero, Minister of Foreign Affairs for the Argentine Republic, shares insight into how the second-largest country in South America is modifying regulation to advance its sustainability agenda.

The ADSW Talks series hosts influential figures from across the sustainability sector to share their perspectives on the most pressing sustainability challenges facing the world and the collective willpower and solutions needed to build a more sustainable future for all.
Related News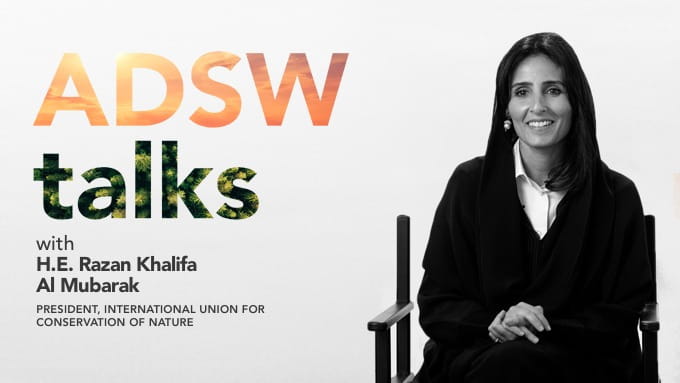 17 NOV 2022
"Nature can be our ally in the fight against climate change," H.E. Razan Khalifa Al Mubarak tells ASDW talks.
Climate change and biodiversity loss should be tackled together, said Her Excellency Razan Khalifa Al Mubarak.
For billions of years our planet, its climate and the fabric of life have evolved together, said H.E. Razan, President, International Union for Conservation of Nature.
But in the past 150 years this "rich tapestry of life" has started unravelling, she added in her ADSW talk about climate change and biodiversity loss.
"Nature, the foundation upon which life is based, is in a state of crisis," she said. "We see it in the rapid decline of species and habitats, and this is happening at a time when we realize that we need nature now, more than ever."
She called for urgent action to address climate change and biodiversity loss on a local and global scale.
H.E. Razan said that the UAE has long recognized the critical role that "natural capital" plays in the nation's development and well-being.
That is why the UAE has committed to protecting 30 percent of its land and sea by 2030, by investing heavily in its fisheries and wildlife, she added.
"We need to protect our wild spaces, and restore our degraded habitats, so that nature can be our ally in our fight against climate change," she said.
The UAE's role as host of COP28 next year also presents an opportunity for the country to see climate change as a driver of its economic transformation.
H.E. Razan said Abu Dhabi Sustainability Week, which is in its 15th year, has demonstrated its capacity to convene, to communicate and to inspire collaboration on climate action issues and innovation.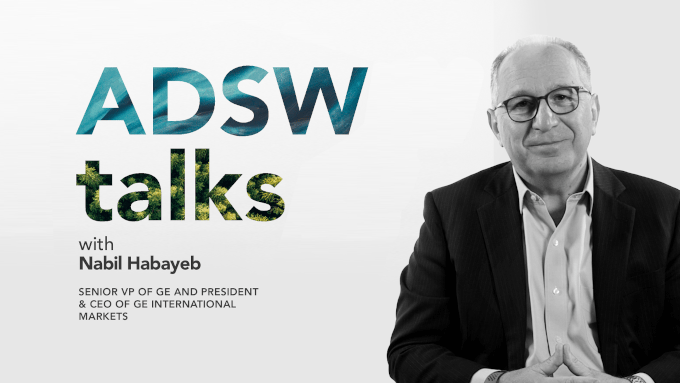 08 AUG 2022
Focus on technology to solve "energy trilemma" GE's Habayeb tells ADSW Talks
Greater technological innovation is required to solve the "energy trilemma," Nabil Habayeb, GE Senior Vice President and President & CEO of GE International Markets, said in the latest edition of ADSW Talks.
The "energy trilemma" is the term coined by the World Energy Council referring to the need to ensure that energy is affordable, secure, and sustainable. "I'm committed to the sustainability effort and to making a difference around the energy trilemma," Habayeb said. "The energy trilemma is about three parts. It's about affordability, reliability, and sustainability. There are millions and millions of people that have no access to electricity, let alone affordable electricity, and let alone making it sustainable. Those three elements have to come together."
Addressing that challenge, as well as others, requires technological innovation. "[What is really] important is the focus on technology, building upon the existing technologies to reduce emissions, for the purpose of reliability, affordability, and sustainability of energy in the future, but also investment into new technology -- renewable, nuclear, grid, and digital. I think this is where it all comes together," he explained.
When asked how GE was supporting the global climate change agenda, Habayeb shared details on the company's sustainable aviation fuel projects and added: "GE has made a commitment that by 2030 we will be net zero in our operations and by 2050 we have the ambition to achieve net zero in scope 3 with our products that we provide our customers. GE also made a commitment last year to exit new coal plants and to focus more on improving the emissions from gas turbines and combined cycle applications."
In climate change mitigation, scope 1 refers to direct emissions from a company's owned or controlled sources, scope 2 refers to indirect emissions from the company's purchased electricity, steam, heating and cooling, and scope 3 is all other indirect emissions that occur in a company's value chain.
The GE leader explained that another important way to accelerate climate action is through meaningful dialogue and collaboration, which is being facilitated through events like the Abu Dhabi Sustainability Week (ADSW). "ADSW is a great forum... We feel it is important because it brings the different stakeholders that can really make a difference together, with diverse and different ideas, thoughts, debates, commitments, and this is what the world needs. We need the decision-makers in the countries, the technology providers, the experts, the suppliers, we need everyone to come together toward a common goal," Habayeb revealed.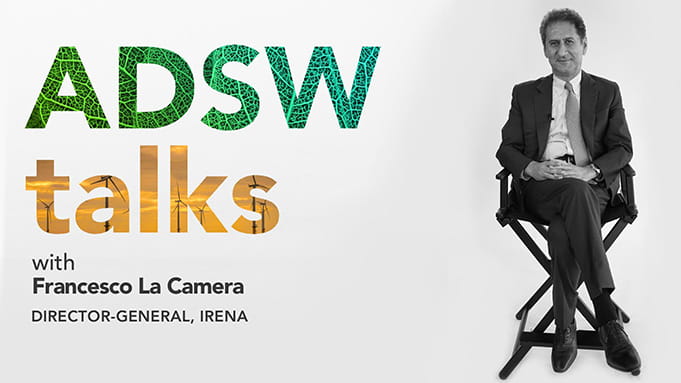 01 JUL 2022
IRENA's La Camera discusses global energy transition and COP28
​Francesco La Camera, Director-General of the International Renewable Energy Agency (IRENA), features in the latest edition of ADSW Talks, where he discussed the renewable energy technologies needed to achieve climate objectives and highlighted the UAE's leadership in the global energy transition.
"Technology innovations is a very important aspect of our work, we made very clear in our most recent World Energy Transition Outlook 2022, that two main drivers in the energy transition are the electrification of the energy system and energy efficiency, so reducing the demand," La Camera told ADSW Talks, a series of digital talks hosted and managed by Abu Dhabi Sustainability Week (ADSW), where influential figures from across the sustainability sector share their perspectives on the most pressing sustainability challenges.
"The technologies that are enabling this transition are renewables, so the new system will be dominated by renewables and complimented by hydrogen, mainly green hydrogen, and sustainable biomass," he added. "Innovation is how to make these technologies work more effectively but we have now the technology we need to achieve the Paris Agreement goals."
The UAE "is making history" through its leadership in the global energy transition, La Camera stated in the ADSW Talks episode, highlighting the UAE's hosting of the COP28 United Nations climate change conference next year.
"The UAE is supporting climate action through action. In this country, we have 70 percent of the renewables in the Gulf region. It is a matter of fact that the UAE is leading the process, where the intention is not just to unplug the old system but to build the new one. The biggest renewable plants are here, [as well as] experiments and pilot studies in green hydrogen. They have already started to export ammonia to the east part of the world, so they are leading by example," La Camera said.
Regarding the next two upcoming COPs, he said: "The COP27 in Egypt will be a very important one and I think the countries are already working together. The Egyptian one will be the African COP. And the COP28 will be the one with the West talking to the East, and the North talking to the South. I am proud that we are starting to collaborate strongly with the UAE, and I think it will be a very important next two years to show the UAE's [sustainable leadership]."